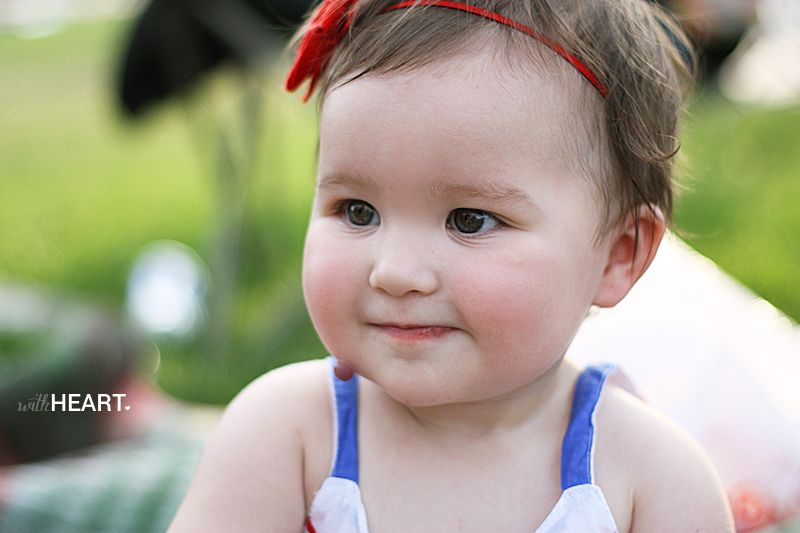 This is a post I've been hesitant to write for some time, as it involves my most precious little person whom I always want to protect from everything, really. But, I figure addressing it is better than not. It's hardly a big deal, but I've received a few inquiries, so I thought a post was in order.
By now, you've likely noticed the red mark on the lower side of Ruby's right cheek. And you've likely wondered what it is. It's called a hemangioma. A whaty-what? A hemangioma (we call it "mangi" around here) is a gathering of blood vessels. It's very common in babies. She wasn't born with it, like a birth mark. I first noticed a tiny red dot on Ruby's cheek when she was about a month old. What was it? Chicken pox? An allergic reaction (she has a dairy allergy)? She has quite a few of them– tiny little things. A few on her fingers, two on her back, one on her head… but unfortunately, the only one that has grown has been the one in the most visible spot. Because she has several, our doctor suggested we go to a children's hospital to have an ultrasound on her internal organs when she was about 3 months, just to make sure there weren't any growing inside that could cause problems. But nope. None in there, thank goodness. Just a more prominent one on her face. We have deemed it "Ruby's Ruby."
So, what can be done about a hemangioma? They typically grow until they hit a certain point (usually age 1), then start reversing all on their own and go away. All by themselves. But, they can take a long time. She could have it until she is as old as 9. You can have them removed, but there is a chance of a scar. We have gone to see a pediatric dermatologist, but I wasn't thrilled with her, so we are currently looking for another doctor for a second opinion. I don't know what we will ultimately decide– to let it just do its thang, or have it removed.
The truth is, it drives me a little crazy. Not because I notice it's there. We barely see it. But because other people do. I've had more strangers than I can count ask me "what happened to her face." A lot of kids, which I of course understand is just their curiosity, and I don't mind answering their inquiries. I had an employee at a grocery store grab her face and try to wipe it off. And then I karate chopped her right in the crotch. Not really, but I wanted to. Again, I know this is such a small thing, but I want people to see only how beautiful she is. How funny, and sweet, and pure my Ruby is. Not be concerned she has some sore on her cheek. Another employee (same grocery store– sensitivity training, anyone?) ask me very loudly on a crowded isle if my daughter had a boil on her face. Seriously people?
Well, there you have it. Wonder no more. She doesn't seem to mind it, and so we don't really either. Except when strangers try to wipe it off her face (come on, who touches someone else's child without permission?!?). Then I have to restrain myself from going all kung-foo.