Utah spring weather is hot and cold.  One minute you're pulling out the flip flops and shorts, and the next your pulling back out the winter coat and craving something warm and comforting.  This carrot soup is perfect.
I love to start a meal with a creamy, flavorful soup and this soup has all the qualities needed. While most carrot soups that I have found use carrots that are boiled and then pureed, this soup actually oven roasts the carrots and other vegetables first to bring out the flavor. The difference in taste is amazing! And because the base of the soup is the roasted vegetables and broth instead of cream, it has less fat than a traditional cream based soup. We served this soup with our Moist Irish Soda Bread as a starter at our St. Patricks Day lunch and it was a wonderful start to a delicious meal!

Adapted from Everyday Food
1 large onion
1 bunch carrots (about 1 pound), peeled and cut into 2-inch chunks
3-4 celery stalks, cut into 2-inch chunks
2 tablespoons olive oil
1/2 teaspoon coarse salt, plus more for seasoning
1/4 teaspoon freshly ground pepper, plus more for seasoning
1 bay leaf
2-3 cups homemade or low-sodium store-bought chicken stock, plus more for thinning
1/2 cup heavy cream or half&half
sour cream
chives
Preheat oven to 450°. Cut onion into 8 wedges. Toss onion, carrots, celery, oil, salt and pepper in medium bowl. Transfer to a rimmed baking sheet and spread in a single layer. Roast vegetables, turning occasionally, until edges are deep golden brown, about 30 minutes.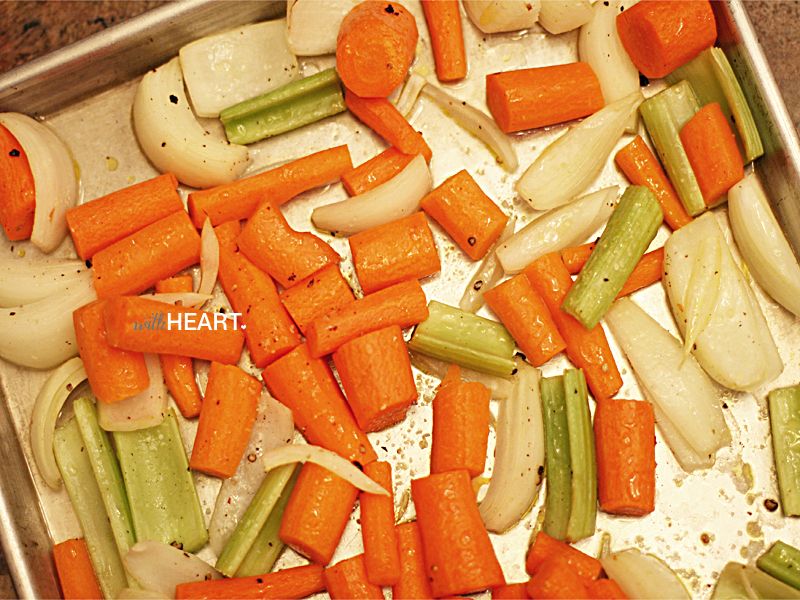 Transfer all vegetables to a large saucepan and add bay leaf. Add enough stock to just cover (2-3 cups). Bring to a simmer and cook until carrots are very soft, about 30 minutes. Let cool slightly and discard bay leaf.
Puree vegetables and stock in a blender until smooth (work in batches, if necessary, to avoid filling blender more than haflway).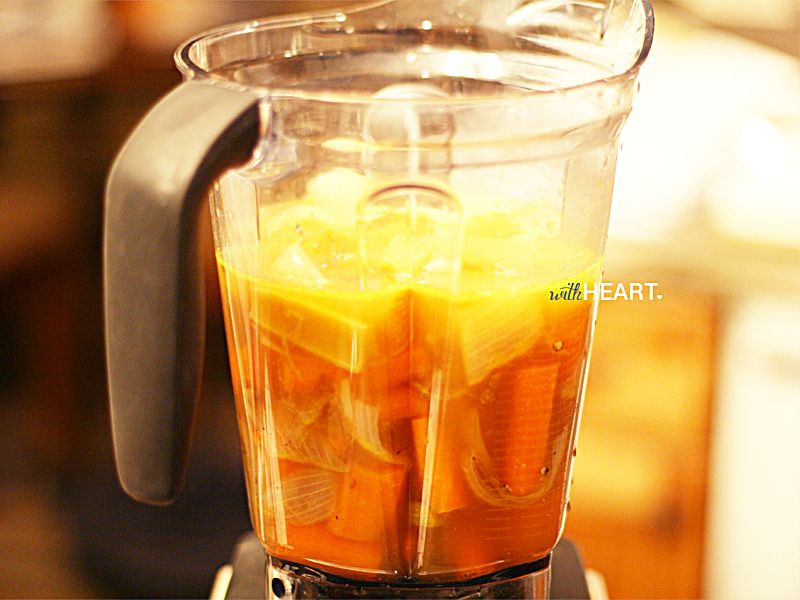 Transfer puree to a clean pan and place over low heat. Stir in cream; add stock to thin soup to desired consistency. Season with salt and pepper. Serve with a dollop of sour cream on top and cut small sections of chives for top.
Enjoy!