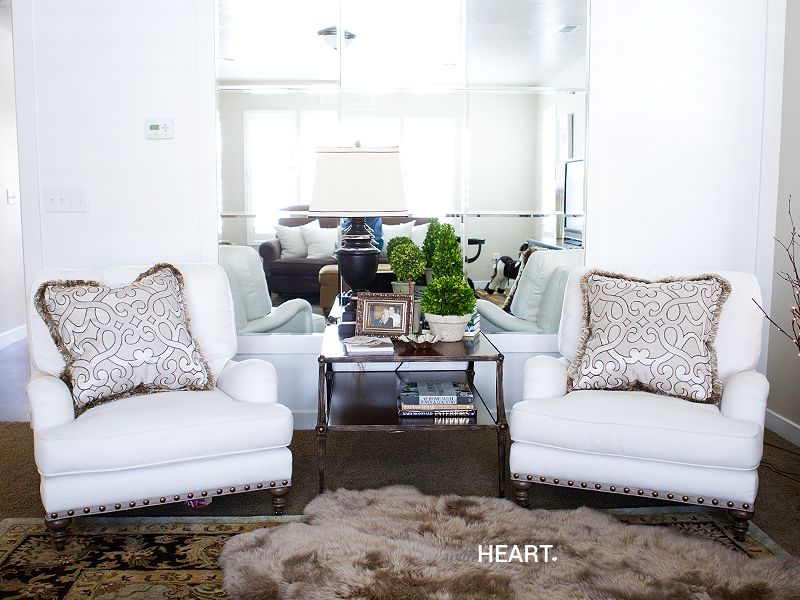 I use the word "rich" to describe the living room of interior designer, Lauren Oviatt, because that is the first word that comes to mind when I see it.  The soothing color choices, the luxe fabrics, and the rugs– the RUGS!  Lauren knows how to make a living room just that– a room you want to live in.  It needs to be pretty, but it also needs to be functional.  And she's got it all figured out.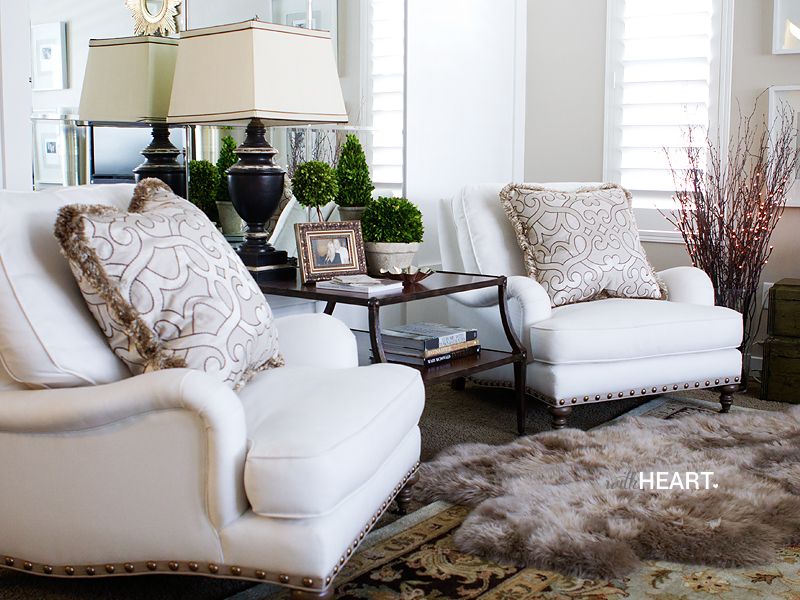 1) What do you think a living room should have and what do you think homeowners should keep in mind when designing the space?
I think every living room needs a large sofa to anchor the space. Instead of buying a matching loveseat, choose a pair of upholstered chairs to give interest and variation to the room. It gives you a chance to play with your furniture arrangement and the opportunity to introduce more shape and pattern. Never under scale your sofa – choosing apartment-sized pieces is almost always a mistake. Finally, take the time to carefully consider the room's layout so you'll know the space you're working with and what you want to incorporate in it… then abide by it! It will make shopping SO much less stressful.
2) It can be difficult to strike that balance between pretty and functional. What's the key?
The key for me is in the shape of the furniture. Making things pretty comes in during the accessorizing phase, in the artwork, table accessories, drapes and more. The upholstery in a family room should always have an easy, relaxed feel while still feeling very gracious. This doesn't mean that you have slouchy furniture, but don't stress about buying stiff, upright, formal furniture that you will never enjoy sitting on. The best rooms are those that invite you to sit and stay a while.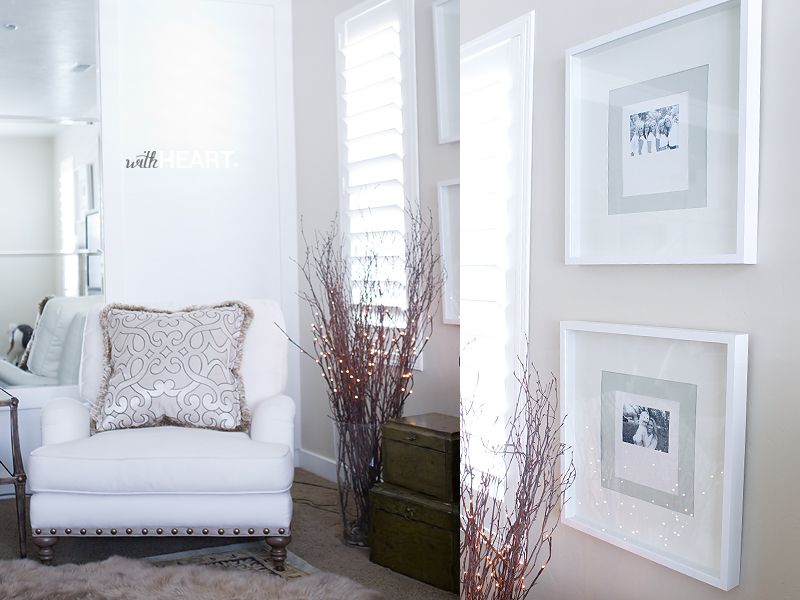 3) Each room of your home has an easy feeling transition. At times homeowners can look at each room as an individual space and design. How do you keep the overall feel and look of your home consistent from room to room?
I believe that you have to identify your own design personality. Once you know what you love and how you want to live in your home, it makes design decisions easier. Having spaces that jump from one style to another feels very contrived and can be jarring to guests and those that live in your home. You can achieve 'flow' in your spaces by incorporating similar color palettes from room to room or by carrying through certain design elements. If painted furniture is your thing, carry that theme through. If white slipcovers are your thing, carry that theme through. If you are drawn to dark- framed artwork, cabinetry and tables, carry the theme through. It allows you to give variety to your spaces while still maintaining that flow and allowing your spaces to reflect your design sensibilities.
4) Any tips for designing a living/family room with children in the home?
You have to consider the wearability of the fabrics and rugs you use and the safety issues that arise from using certain pieces of furniture. If you are choosing a lighter colored fabric for your sofa or chairs, make sure it is washable or can be spot treated. Ask for samples of the fabric before you take the plunge in ordering. The pair of chairs in my living room are covered in a white Sunbrella. I tested it with ketchup, chocolate, mustard and many other things before I bought them. I now have the peace of mind that they really can't be ruined. Tweed fabrics and those that have a bit of varied texture or color are going to hide stains so much better than fabrics that are smooth and solid in color.
Soft upholstered ottomans and footstools are much safer than glass-topped or iron tables for toddlers and hyper children that may be jumping from surface to surface. Also beware of heavy planters, console tables and floor lamps that could be easily tipped over. You should be able to let your children play without worrying about all sorts of safety concerns and spills.
5) Final thoughts before homeowners taking the plunge and investing in furniture?
Once you move into a home where you plan to stay a while, it's time to get serious about furnishing the home and really finishing your spaces. I can guarantee you'll be beyond thrilled in seeing your rooms and spaces come together. Quality furniture is usually expensive for a reason. Fine upholstery has hand-tied springs, hardwood frames and all sorts of custom inner-workings that ensure it's durability. You'll most likely get sick of it before you'll ever have to replace it due to wear. Likewise, you get what you pay for when it comes to expensive casegoods (read: tables, chests, dressers, other wood pieces). Take your time, get a firm grasp of your design personality and how you want to live in your spaces. This will make the shopping process easier and help you to create cohesive spaces. Anchor your rooms with beautiful pieces that mean something to you. It's okay to fill in the gaps with inexpensive accent tables, art, or other things. I once heard a designer say, "I mean to border my white drapery with chocolate grosgrain ribbon someday, but one can't have everything one wants all at once." I love that! Design truly is never done. And that's okay! Have fun with it – it is meant to be a joyful experience, at least most of the time. I think everyone deserves a space that makes them happy and where it really feels like home.
Love her "work in progress" philosophy. Certainly pertains to my design mentality!
For furniture and design details, you can contact Lauren through the design firm, Oviatt Design.  And for you Utah peeps, Lauren will be on Studio 5 next Tuesday talking mirrored walls like the one in her living room.
Photos by Veronica Reeve