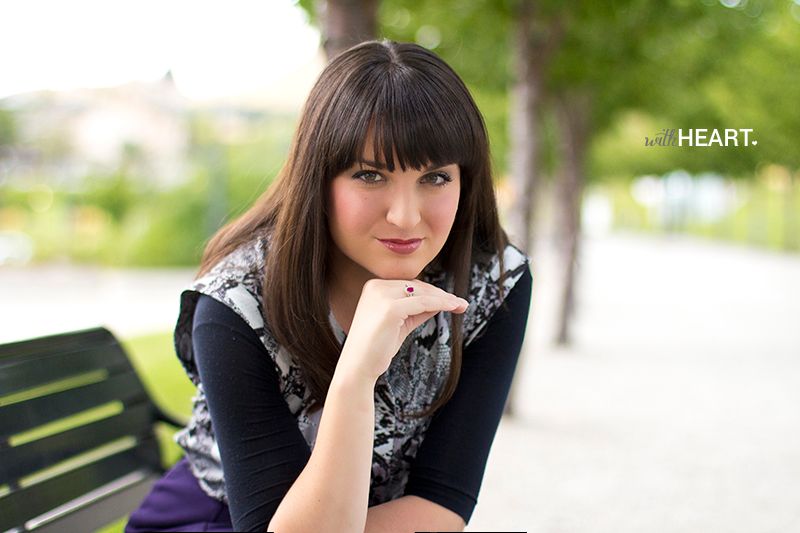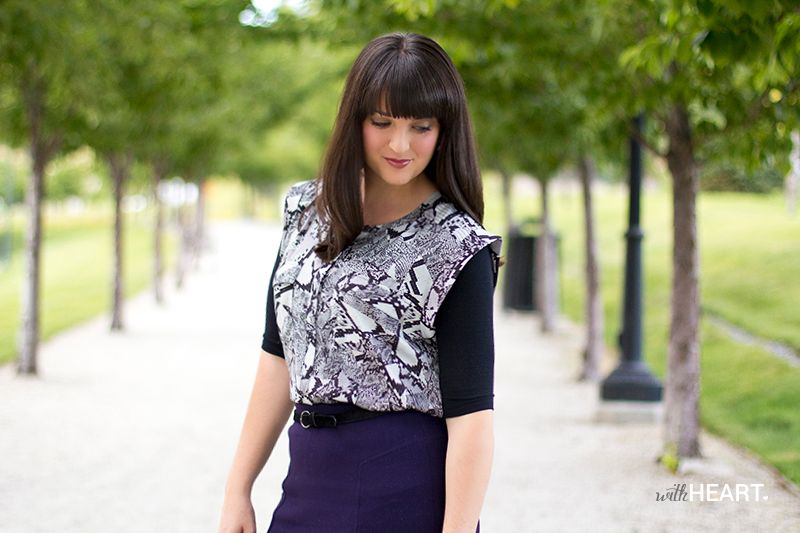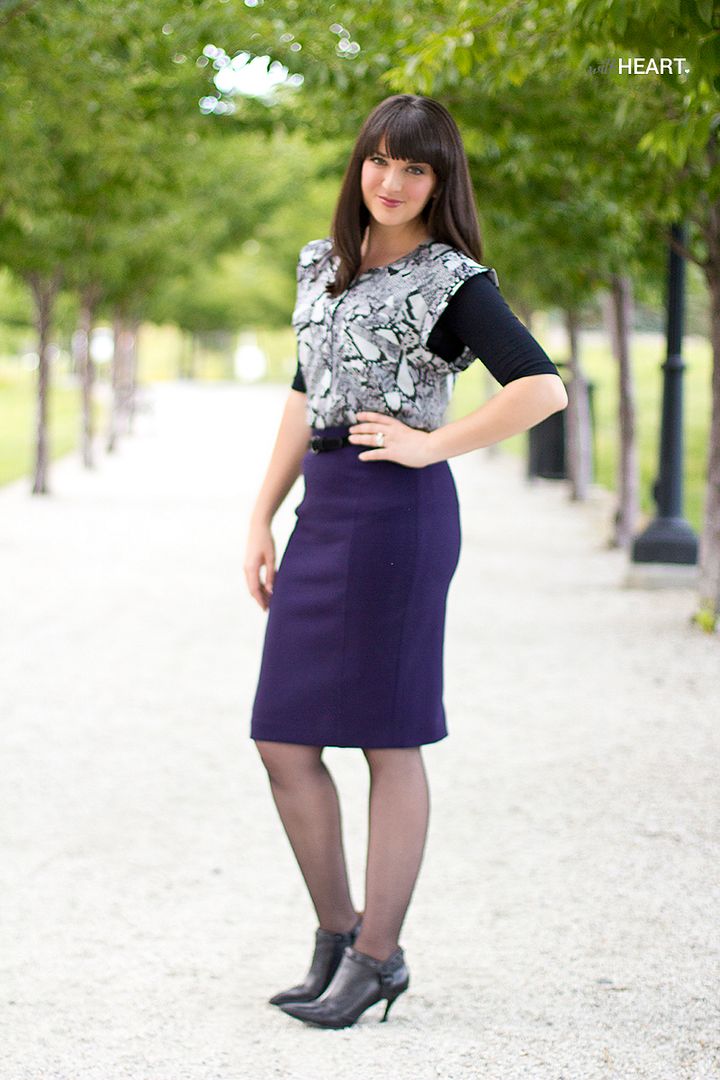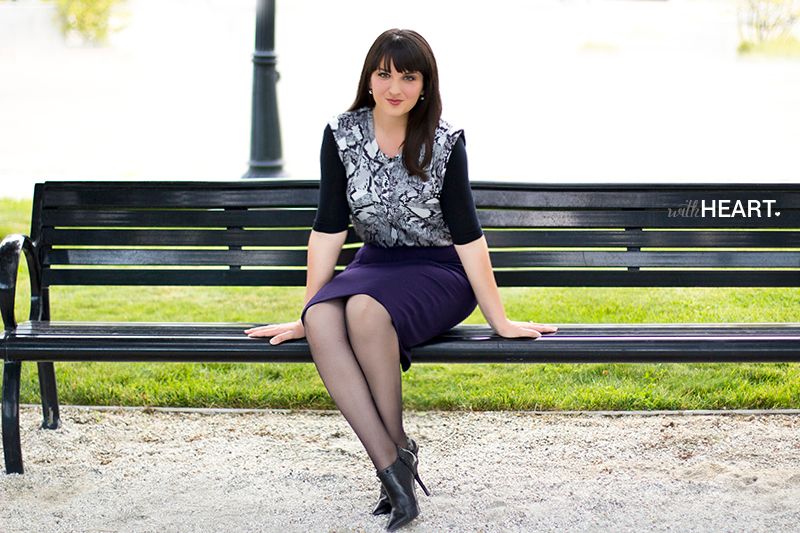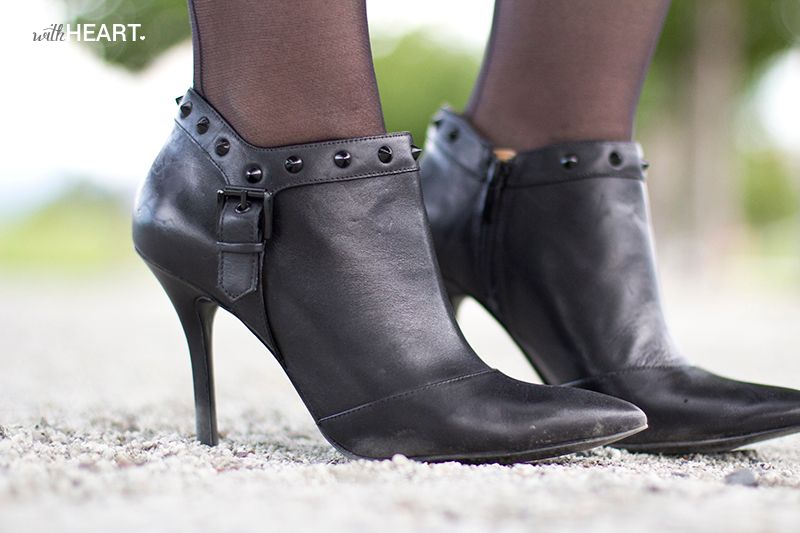 Top (0n sale) | Undershirt (similar) | Skirt (on sale) | Tights | Booties | Belt (similar)
 Photos by James Young
Happy Monday!  We just got back from a long weekend with family in Southern Utah.  The weather was perfect, Ruby was in heaven with playing with her cousins, and it was fun to just escape and relax for a few days.
It seems fall decided to make its move while I was away.  I came back to crisp, cool air, rain, and a feeling that the leaves are going to change colors at any moment.  Hooray!  Fall is my favorite season.  It's boot season.  And bootie season, in today's case.  Double hooray!
And speaking of favorites, today I'm teaming up with Lulu Style and a slew of other bloggers to share some of my current faves.  Here are a few things I'm loving right now!
1)  Lately, I've been scanning the internet for Halloween costume ideas for Ruby.  Last year, she was a peacock and I'm not sure how we can top it.  Pottery Barn has some great new additions to their kids and baby costume lineup this season, if you want something no fuss that still looks like there was a lot of fuss involved.  And their treat bags are the cutest, imo.  Ruby has one with her name embroidered on it.
2)  Ann Taylor's new fall collection is so so so my style.  I love every look in their "must-have" looks section.
3)  You know what fall means– pumpkin spice!  Pumpkin cookies, donuts, drinks, and maybe my favorite of all, pumpkin shakes.  Ahhhhhhh.  I've been working on a few recipe creations for you…. can't wait to share soon!
4)  I cannot get over this insanely well done birthday party my girl, Allison, planned for her mother.  My, that is one lucky mama!  The details are to die for.  I especially loved the library card thoughts from guests.  Allison, won't you plan every party for me always, for the rest of all time?  Preeeeettttty please???
Check out the other favorites over on Lulu's blog.  I had so much fun scanning through the other posts!
Tomorrow… I'm giving you a little tour of my guest room.  I just love having house guests.  Really, I'm just selfish and love having visitors.  Putting together a pretty room for them to sleep in draws them in.  I'm sneaky like that.
Until then…