Have you ever stayed in someone's home and felt completely at ease?  Like you're staying in a hotel, but more relaxed, comfortable, and at home?  That's the feeling I want our guests to have when they stay in our small guest suite.
Guest rooms sometimes get the "hodgepodge" treatment, don't they?  Hand-me-down furniture that doesn't go, thrown together in a bedroom that's more a place for storage and anything you don't know what to do with finds a home in the spare bedroom– does this sound like your home?  It sure sounded like mine for, well, ever until we moved into our current home.  But when I found out I was expecting, I knew we would have family stay with us occasionally.  And while the budget was small to design this room (it is a guest room, after all!) I think we were able to put together a sweet, comfortable space for anyone who passes through.  It's also important to me to have a space for our parents to stay if they're over for dinner and get caught in a snowstorm, or a friend or family member is visiting from out of state.  And so, I give you the guest room.
Before we get into what it looks like after, let's discuss the before.  Green walls that were just… special.  90's bright green.  There was a lot of green in this house.  Green and purple.  Together at times.  It was baffling.
This room is green no more!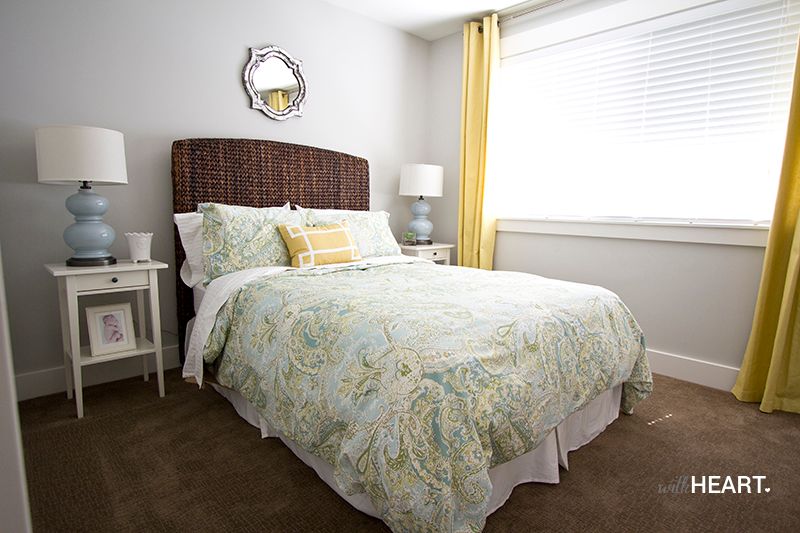 Isn't she pretty?  We replaced all of the moldings, baseboards, and reframed the window.  The paint color is Gray Owl, by Benjamin Moore.  It's the same shade we have in our office.  And our garage, for that matter.  Just because Jon felt like we needed a clean slate when we park our car.  That's my man.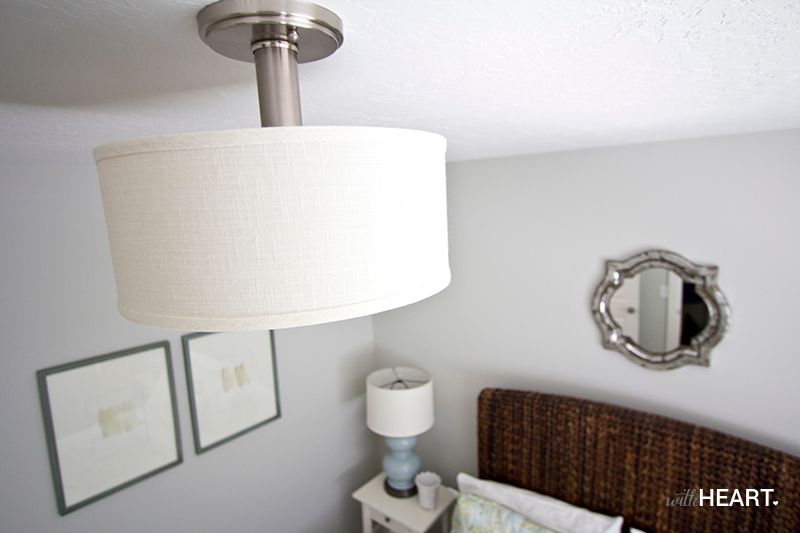 I wish I could take credit for the pretty light fixtures, but Jon found them at Lowe's and I couldn't be happier!  I hate the ever popular dome light that strangely resembles a part of the female anatomy.  Drum shades, you're welcome here!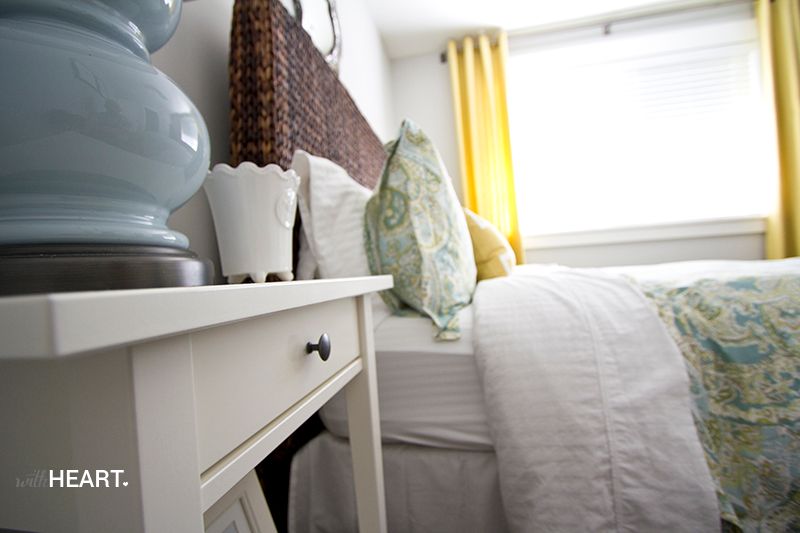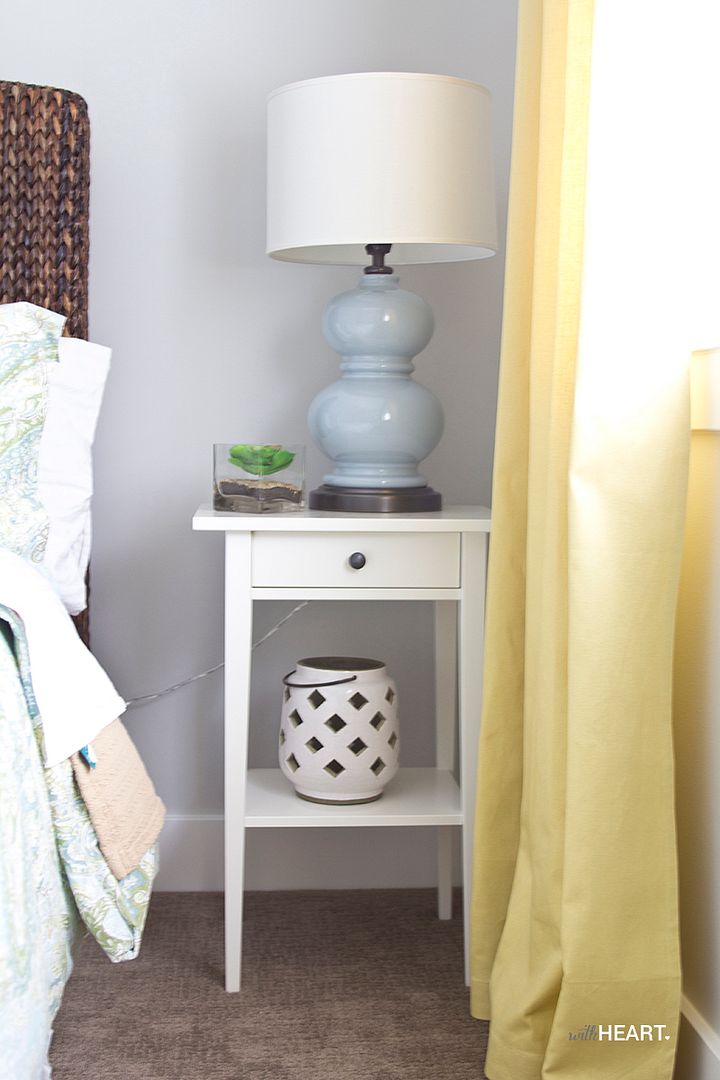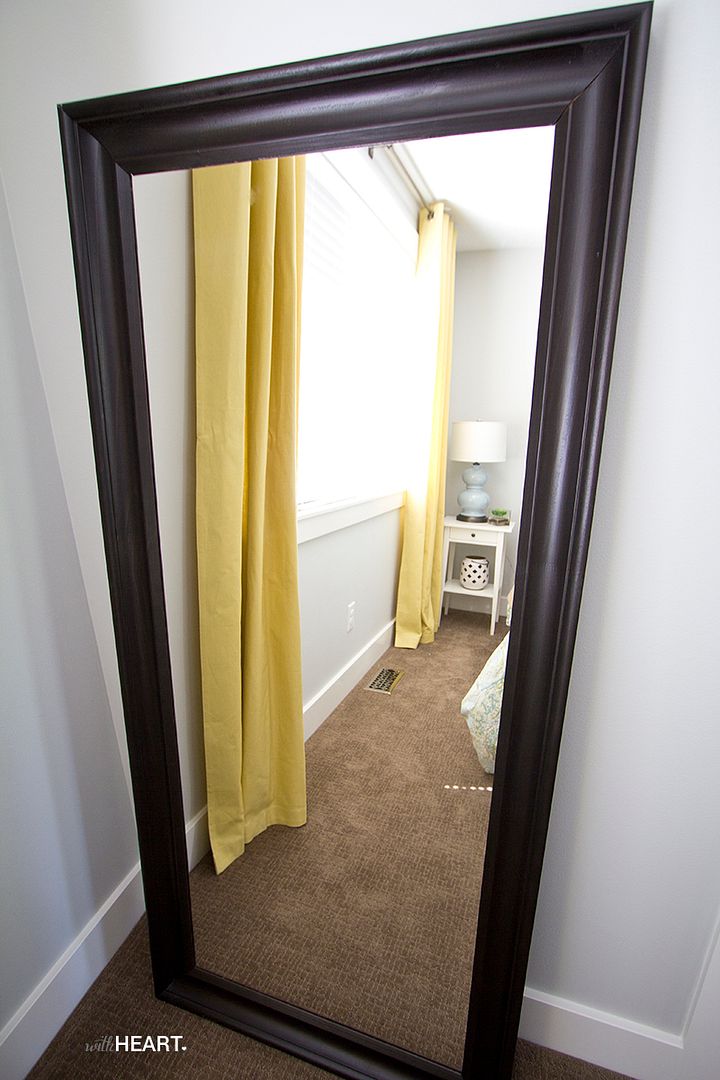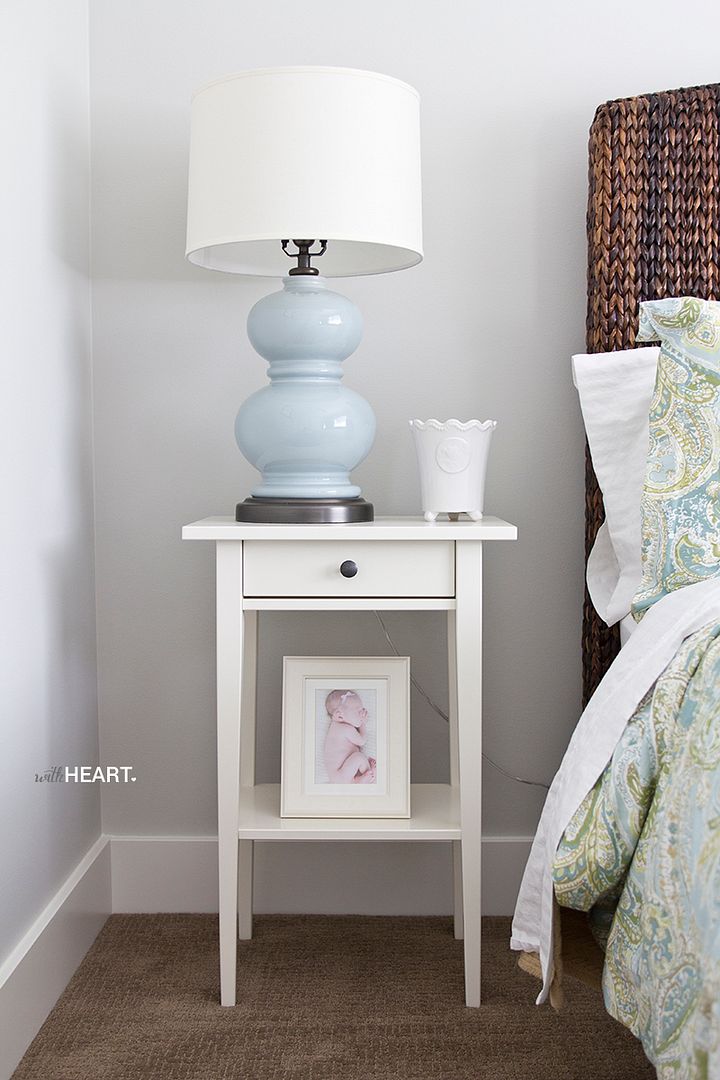 We purchased the headboard a few years ago at a Pottery Barn furniture outlet (great price!), and they still sell it.  I wanted a breezy, kinda coastal feel in here.  I didn't want the room to be too trendy, as the grandparents are our most frequent sleepers.  The paisley bedding is classic and clean and fresh.  And would the room be complete without a tiny newborn sleeping Ruby photo?  I think not.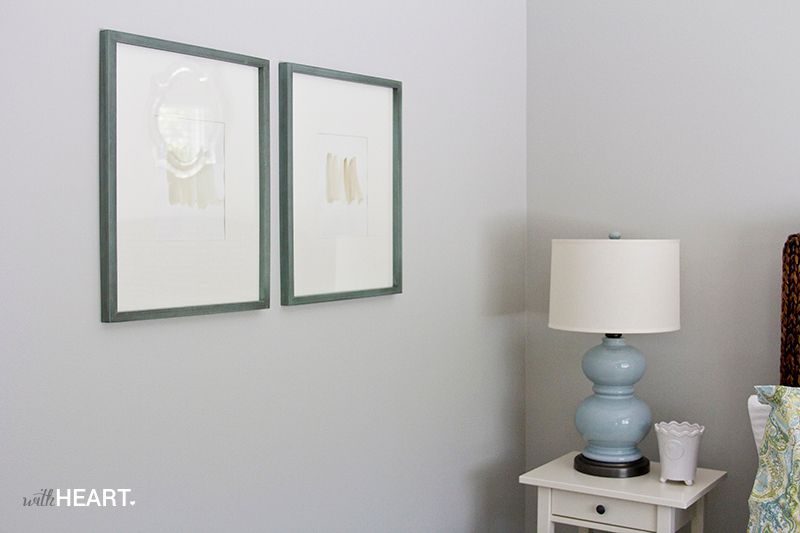 Most of the items we already had, but we just needed the finishing touches.  The artwork is from Etsy.  It was super inexpensive (like $15), but honestly, I wish I would have just made it myself.  It was so simple.  But, I do like the neutral yet modern feel it adds.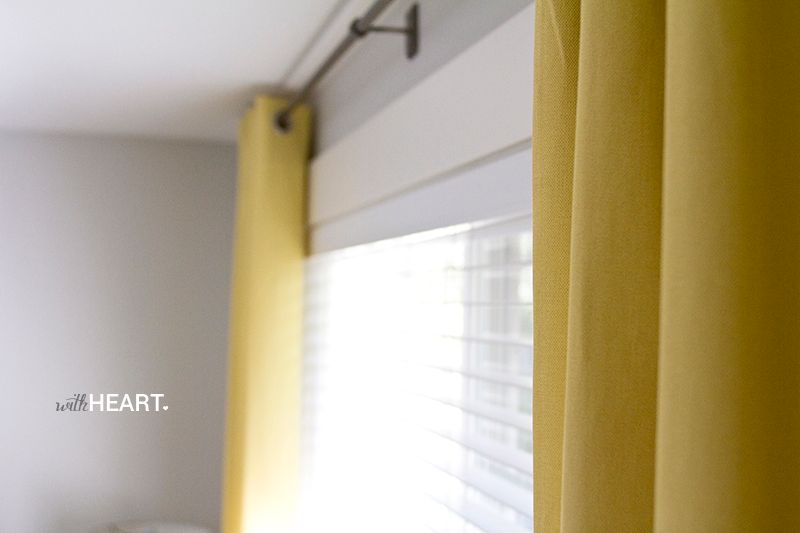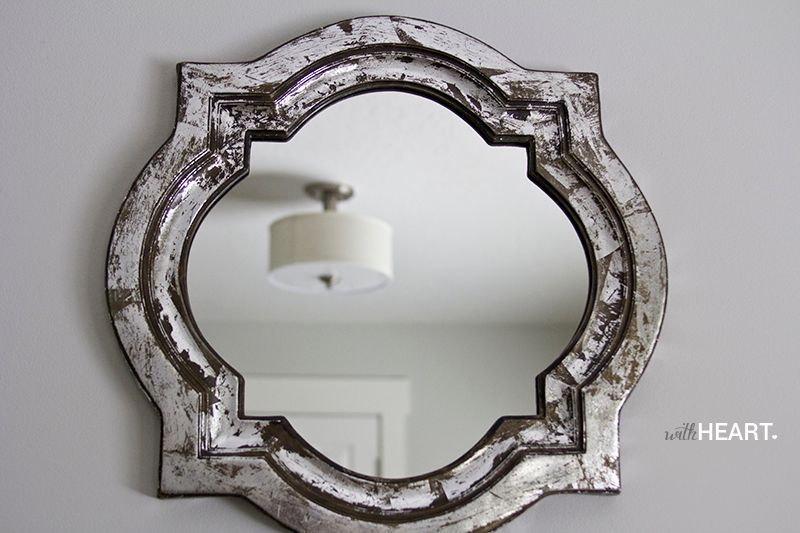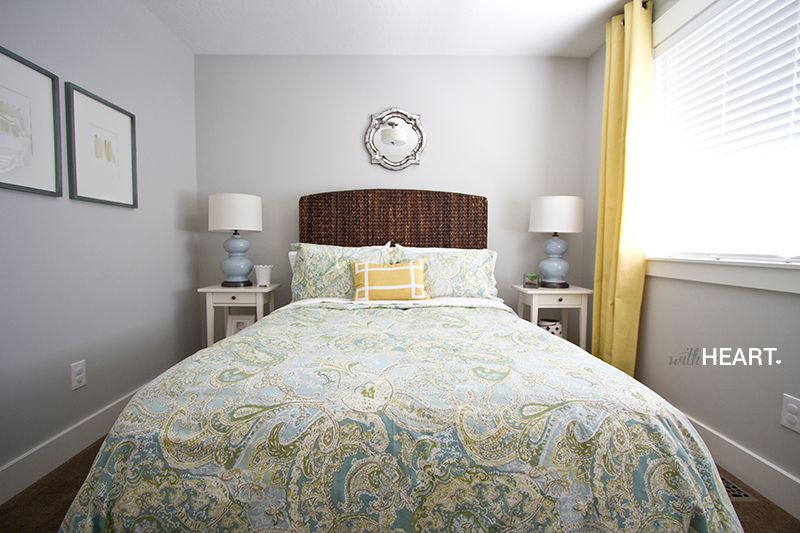 PHOTOS BY JAMES YOUNG
 And there you have it!  Now my friends have somewhere to stay when they come through Salt Lake City!  (hint hint)
Here are a few of my favorite tips for making your guests feel special, and like they're staying in a hotel, rather than a family member's home.
1)  I like to give them nice travel sized soaps, shampoos, and lotions.  I got this idea from one of Jon's aunts after we stayed with her in San Diego.  It made me feel so special!  Now, I usually stock up at Bath and Body Works during one of their big sales and keep it in my storage room.  When someone sleeps over, I pull one of each out.  I also hang on to sample sized moisturizers, face washes, etc. from cosmetic gift with purchases in case they need something.
2)  I always have a new toothbrush and toothpaste on hand.  Someone always forgets theirs or if it's an unexpected sleepover due to a storm, they don't have to worry about it.
3)  Fresh, clean towels, linens, and an extra blanket, just in case.
Any tips you've picked up from having/being a house guest?  I'd love to hear them!
ROOM DETAILS:
Headboard:  Pottery Barn
Bedding:  Pottery Barn (on sale)
Throw Pillow:  Caitlin Wilson
Nightstands:  IKEA
Lamps:  Pottery Barn (on sale)
Vase:  Homegoods
Lantern jar:  West Elm (on sale)
Frames:  IKEA, Homegoods
Curtains:  West Elm (color no longer available)
Curtain Rod:  Pottery Barn
Floor Mirror:  IKEA
Small Mirror:  Homegoods, similar HERE
Light fixture:  Lowe's