I'm in full remodel mode as we are now in the construction phase of our master bedroom re-do (yay!).  We've been going room by room in our home, rather than piece-mealing it.  As soon as we completely finish one room, we move on to the next.  So far we've finished Ruby's nursery, the office, the upstairs guest room (reveal next week!), and the main floor half bath (reveal coming soon!).  We just completed a big chunk of the master bedroom over the weekend (we labored a lot on Labor Day).  We painted, ripped out all of the base boards, put in some custom molding, gave the light fixture a major facelift, and put up new blinds.  My, is she pretty!  Now we're working on finishing up the furnishings and decor.  Searching for great pieces has become an obsession.
I've found some amazing deals in the most unlikely places.  I like a mix of high-end investment pieces, inexpensive items that you can dress up, and diy's.  Today for Friday Finds I'm sharing some of my favorite inexpensive pieces and I found them at of all places, JC Penny.  I know, right?  But this ain't yo mama's JCP.  The store has gone through a major transformation and while it's still working out some kinks, some of the buys are spot on.  Designer Jonathan Alder put together the most beautiful collection, and at a great price point.  Something else amazing here– with many of items, the more you buy online, the price goes down per item.  You need two lamps?  It's $25 bucks cheaper per lamp if you purchase two.  For real.
You guys, I just. love. everything.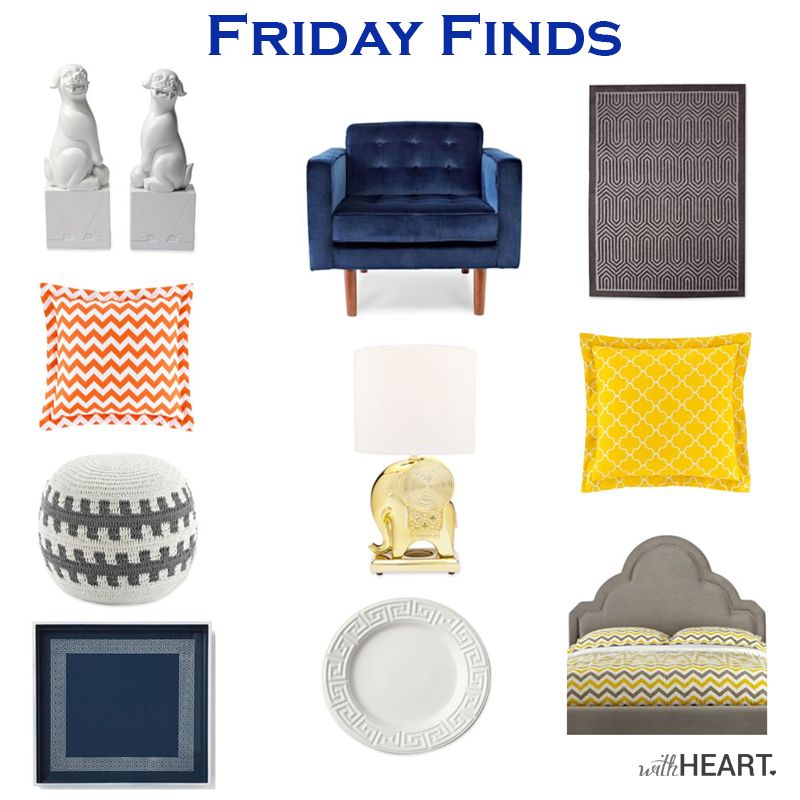 So what do you think?  I say JCP, bravo!
Hope you have a wonderful weekend.  I'm enjoying some family time in the hot sunshiny desert.  Rubes is in cousin heaven.
On a serious note, today my thoughts and prayers will be with the family of Sgt. Derek Johnson who was shot and killed while on duty this week.  We have been friends since middle school, and it was always so fun to run into each other out in the field on a story.  He was just the nicest, most sincere, kind person who treated all with respect and dignity.  His death was so senseless, and the community he served has suffered a great loss.  Today is his funeral.
Rest in peace, sweet friend.