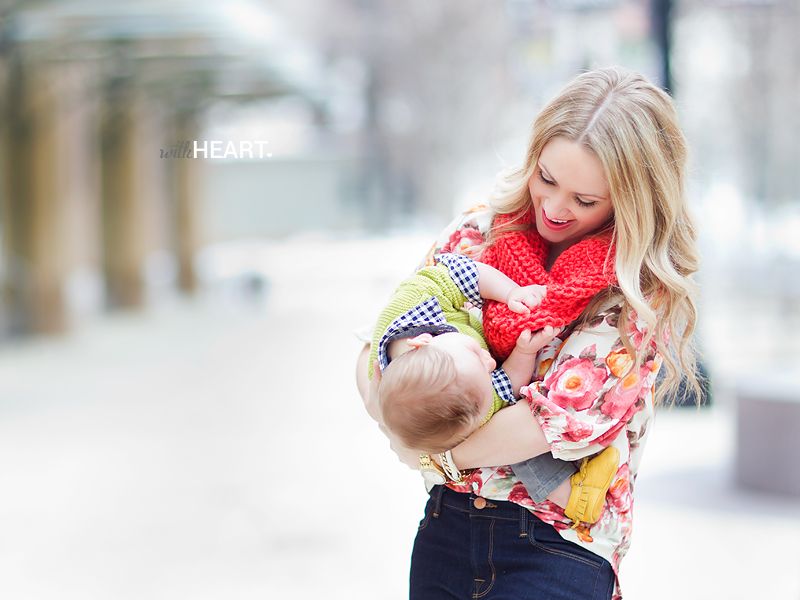 There are women who work, women who own their own companies, women who become wives, women who become mothers, and then there are a very small group who do all of the above and more, and look fabulous doing it.  Meet Megan Bailey.
Megan is the brilliant mind behind the popular sites Utah Bride Blog and Sweet Little Peanut.  She also owns her own letterpress company, Pink Piggy Designs.  And those handsome mini men?  They belong to her and her handsome big man, who also has a demanding career as a firefighter.  Phew!  I'm tired just typing it.  You'd think this would be too much for any lady to handle.  But that's just because you haven't met Megan.  I had the opportunity to pick this petite powerhouse's brain.  She continues to inspire me.  I know she'll inspire you too.
1)  You are clearly a busy woman and yet, you still manage to look chic, put together, and current– what's your secret?
Well I definitely have my fair share of sweats and comfy clothes days while working from home, but when I have meetings or lunch dates with clients, or even play dates with friends, I try to get a little more dressed up.  It actually can be pretty easy to look fancy with even a short amount of time to get ready.  I get a few key pieces that fit the current trends, then rotate them with different outfits that are easy to put together in a hurry.  On the really busy days, I tend to rock the ballet bun because it's cute, fashionable, super easy and time efficient!
2)  What is your fashion philosophy, and what inspires you? 
My fashion philosophy is wearing things that feel good and make me feel good about myself!  I'm also into having a little fun with my outfits and trying new things and new styles. Since I'm a designer and blogger, I get inspired by visual design elements like color trends and stylish patterns.  I love to blog and love reading other blogs, so I get a lot of my inspiration from lifestyle and fashion blogs.  Some of my current favorite fashion bloggers are 
Cara Loren
, 
Emily Jackson
, 
Rachel Parcell
 and 
Sydney Poulton
.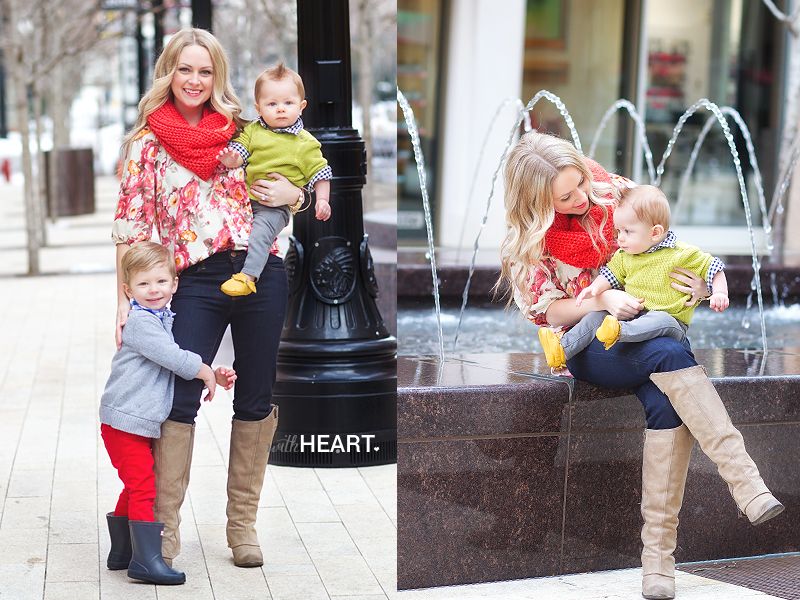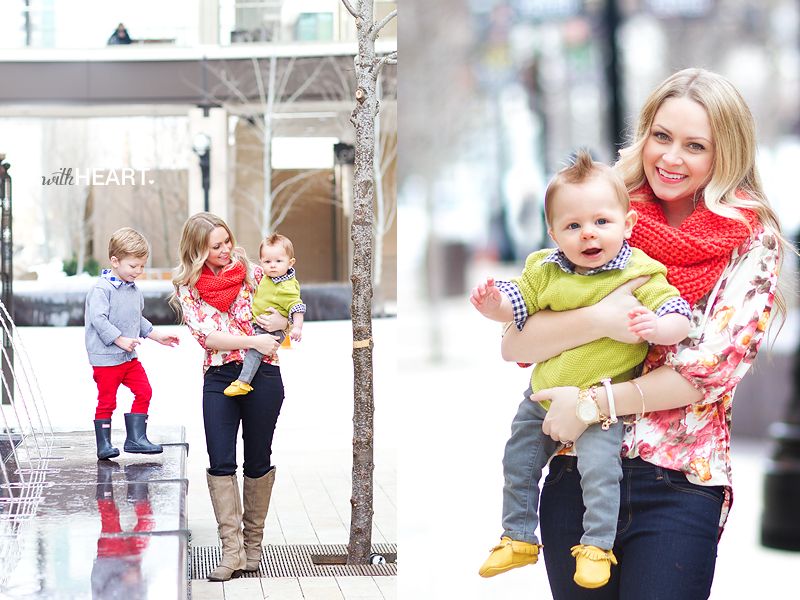 3)  What is your go-to, no-fail, product or item?
My go-to products are skinny jeans and a cute blouse.  I swear by these simple items for any busy mom who also wants to be stylish and functional.  I love a fab skinny jean and am obsessed with my
J Brand Super Skinny Stretch Jeans
.   I can pair these with any cute top and boots or flats and feel dressed up.  I just recently tried the mid rise style and LOVE how slimming they look on. And not to mention no bummy hanging out when I'm bending down or chasing the busy little boys!  My other no-fail item is a colorful baggy blouse. It's perfect for feeling polished and also for hiding that baby bump and extra skin that is left over from having kids!
4)  For a working mom, time is a valuable commodity.  How do you balance family time, work time, husband time, and time for yourself?
Time is super valuable for me and I feel like this is an area that I'm continually trying to manage and balance.  I definitely don't think I have mastered this, but I do try my best to stick to my priorities, which first and foremost, is my family.  I have had to say no to projects and learn that if something doesn't get completed on time, that it's not the end of the world.  I don't get a lot of "me time," but I do love to take a hot bath at night which really helps relax and bring me back to reality.
5)  Often times in stores, the little girl sections have much more selection than the little boy sections.  Where do you find your boys' darling wardrobes?
I'm actually kind of obsessed with little boy's clothes and tend to shop for my little boys before I shop for myself!  There really is such cute stuff for boys and equally as fun accessories as their are for girls.  It can be challenging to find fashionable boys stuff at just any store, so that's why I have a few favorites that I know will always have something I love like
Gap
,
Jcrew
,
Old Navy
and
Zara
. I currently love the colorful skinny jean look for boys and get most of my boys skinny jeans in the girls departments! They fit better and they have more color options!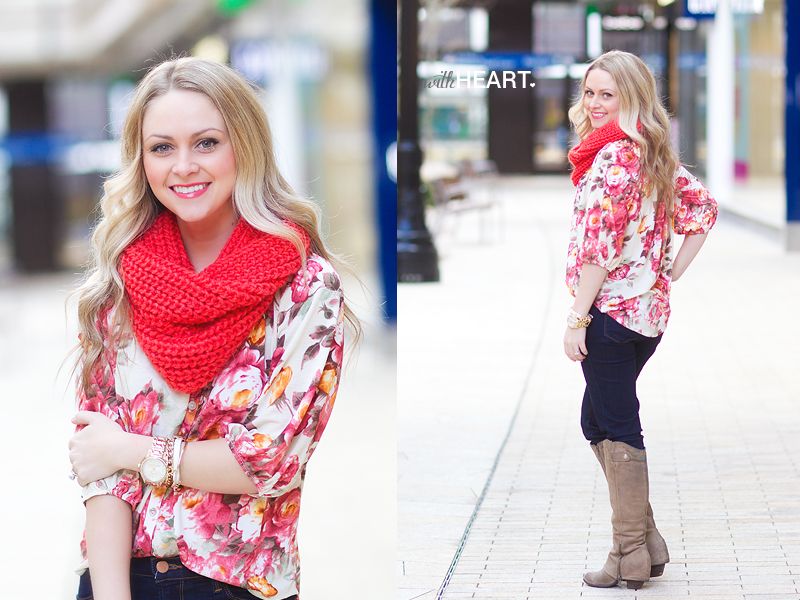 6)  What advice do you have for a mom who is striving for success in work, life, and fashion?
If there is something you want to do… go for it!  I'm a huge believer that with hard work, dedication, and balance, any woman can have it all.  I know I wouldn't be complete if I wasn't able to do both– have a family and work.  It's not always easy, but it is possible by setting priorities and by being ok with saying no to people or to projects.  Have confidence in yourself and do things that you're passionate about and make you a better person for your family.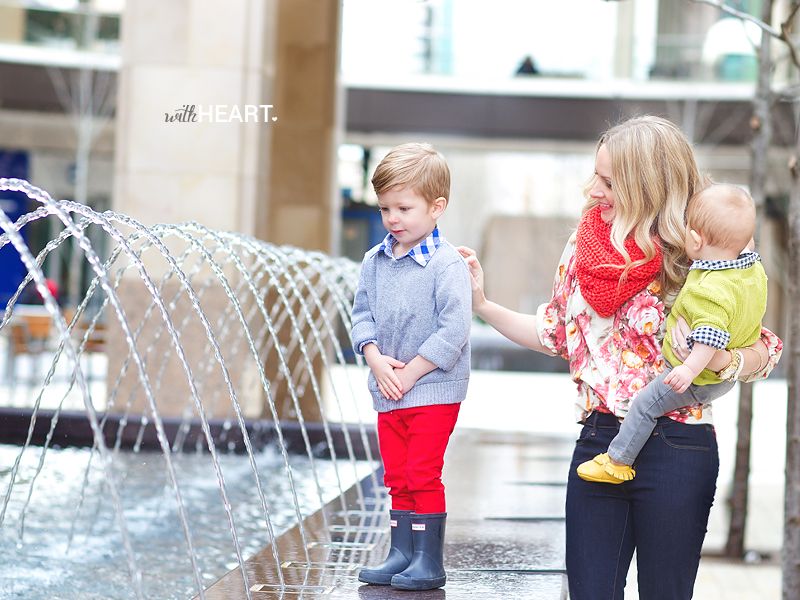 Photos by Veronica Reeve
Megan's Outfit:  Blouse, jeans, scarf: Koo De Ker SLC | Boots: Fergie | Bracelets: Posh Locket
Beckham's Outfit:  Shirt: Old Navy (similar here) | Sweater: Gap | Pants: Old Navy/Gap |  Hunter Boots
Bennie's Outfit:  Shirt: Gap (similar here) | Sweater: Gap | Pants: Gap (similar here) | Moccasins: Freshly Picked