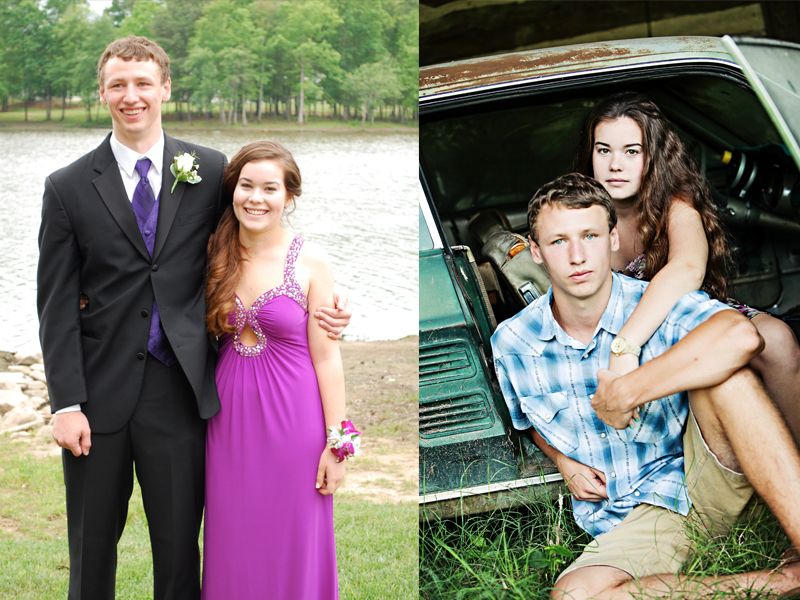 There are few forces more powerful than young love.  The feeling of falling hard for the first time is not to be trifled with.  And though it is true that love changes and evolves with age, I believe it's possible to find true love at any age.  That's why I was so touched by the sweet story I'm about to share.  The story of Morgan + Robert.
You know that boy in school who was always teasing you?  That was Robert.  Always joking, always poking fun.  And for a quiet, reserved girl like Morgan, it was difficult to see anything past that.  The more he teased, the more she pulled back.  But he wouldn't give up.  Robert was determined to get Morgan out of her shell because she says he knew she needed a friend.
Their story begins their senior year of high school in a personal finance class.  Morgan sat alone, and when Robert walked in, their eyes immediately locked.   He made his way over to her side of the room and joined her study group.  Soon, they found themselves as class partners and during each class he would pepper her with questions.  Where did she want to go to college?  What did she want to do when she graduated?  The questions were more annoying than conversational and it wasn't until she started asking him similar questions that she discovered he had much more depth than he seemed.
Morgan learned Robert volunteered at a nursing home each week.  She learned he was kind, and compassionate, and then the semester ended.  Their classes changed, and soon they realized they missed each other.  Then came prom, and Morgan figured no one would ask her.  But one day after school, Robert pulled up along side her, rolled down his window, and nervously asked her if she would be his date.  Her heart jumped.  She said yes.  And they had the time of their life.
Then came graduation, and they spent a blissful summer together before leaving for college.  Too soon, it was time to say goodbye.  They now are separated by different universities, yet their love endures.  He visits her every weekend.  She says it's his heart that makes her swoon.
"When I first met Robert, I had misjudged him for who he really was," she wrote.  "He's the most caring and thoughtful person I have ever met. He puts others before himself, helps those in need, and tries to be a friend to someone who needs one. When the elderly woman at the nursing home told me that I have someone very special, it made me realize how lucky I am to have such a caring person in my life."
Young love turned out to be true love for this adorable couple, and I was so touched by their sweet story.  It took me right back to my first love.  Thank you for sharing, Morgan!
Another love story coming your way tomorrow.  Now, everyone go back and look through your high school year book 🙂
Hearts,