It's done!  It's done!  Our master bedroom is done!  I'm excited to share the finished product with you today (after months of work). First, a sweet (and magic) master bedroom reveal video James and I put together. It really captures the space and how we use it.
If you're anything like me, your master has never really gotten the attention it deserves.  It has always been the room that we just deal with, that no one really sees, so it's always the last on the priority list.  Really, that is so backward.  For us, our master is where we probably spend the most time.  It's usually where I read to Ruby, often where we play, and typically where Jon and I work when our baby goes down for the night.  After having Ruby, I realized how much time we actually spend in that room and how much more functional and comfortable it could be if I just gave it a makeover.  Let's walk down memory lane, shall we?
Remember what it looked like when we moved it?  Hello purple!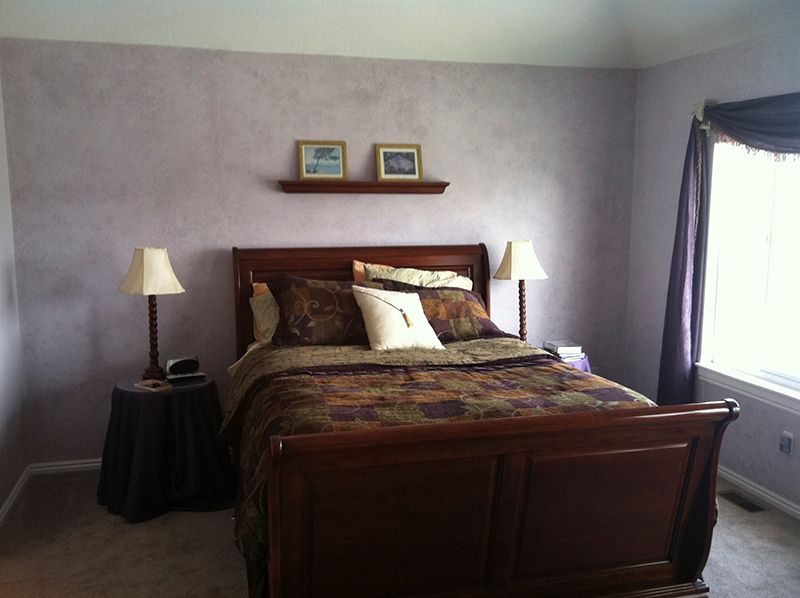 Before we moved in, we painted the entire room Benjamin Moore's Blue Heather. Picking the paint color wasn't easy. I had a few other paint colors in mind, but after putting samples on the walls (and even painting the room a completely different color), everything was reading kind of muddy. I always recommend purchasing several samples and trying them in the room, in sunlight. I had to go back to the drawing board a few times, but finally found the perfect shade of blue I was looking for.
The room sat painted and unfinished for several months. Then finally we were ready to move on to the next step, the Board and Batten Statement Wall (you can watch the video here!). The other parts of the room I've shared: the diy headboard, the spray-painted lamps, the ceiling fan makeover, the pelmet boxes and drapes, the artwork, and the spray-painted chairs. Still more details coming in the next week (including that daybed I purchased for $25 from a thrift store, among many other things). The room is a mix of old and new, sentimental and straight up inexpensive, with a few splurges mixed in. My favorite kind of design.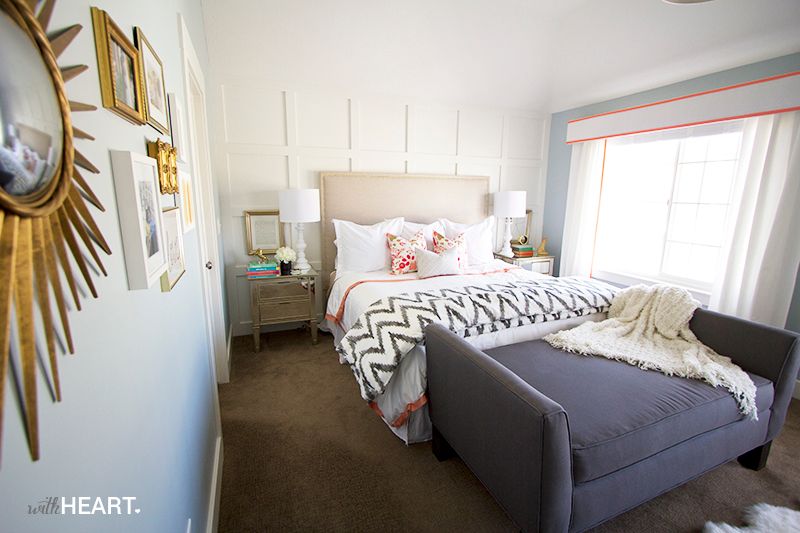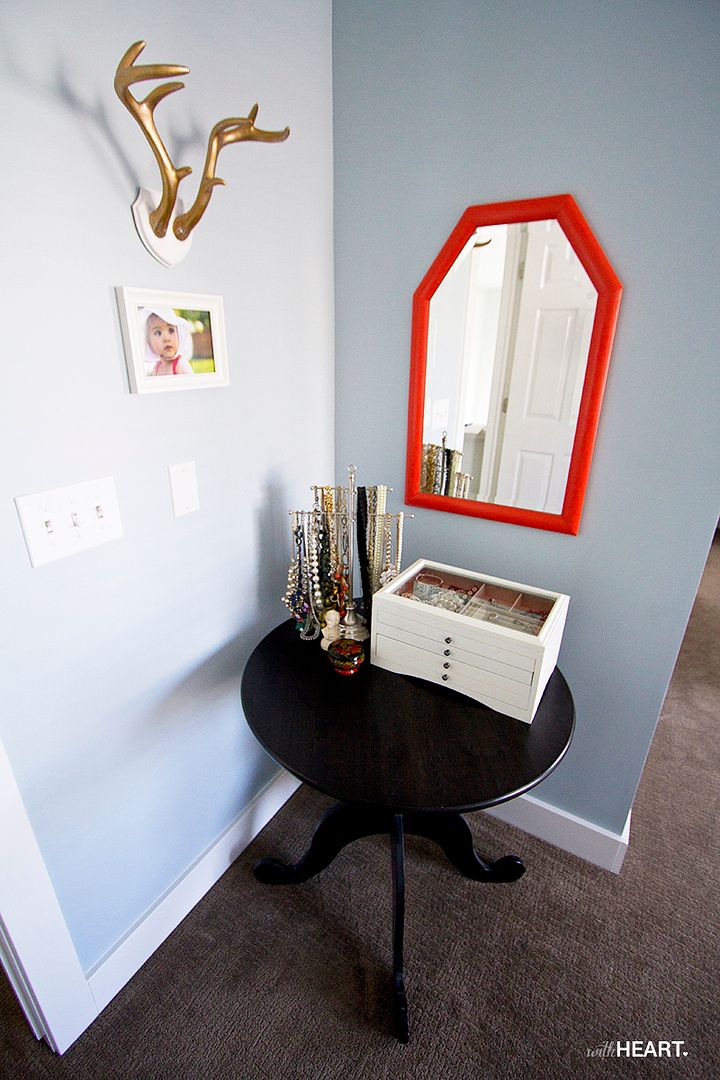 Photos/Video:  James Young
Here are a few of the room details, with more to come soon:
Bedding:  White and Coral Duvet, Crane & Canopy c/o | ZigZag Duvet, West Elm
Pillows: Goods by Grinn; Caitlin Wilson Textiles
Nightstands:  Pottery Barn, similar here
Sheepskin Rug:  Costco (yes, Costco!  Total steal, yo)
Dresser: IKEA
Starburst Mirror:  Home Depot, similar here
Antlers:  Target
Jewelry box:  Pottery Barn 
Jewelry Stand:  Pottery Barn
Can you believe it's the same room?  I know I did a good job when my husband says "I really love this room."  Mission accomplished.