Console tables are one of the versatile pieces in your home.  You can style them with a million different things and they will look great.  And during the holidays, the possibilities are endless (can't wait to show you what I'm doing with mine soon!).  But there are a few things I think go well on every console table.  I had so much fun putting mine together (thanks for your sweet response about my thrifted table transformation yesterday!).  Today I'm showing you how to style a console table.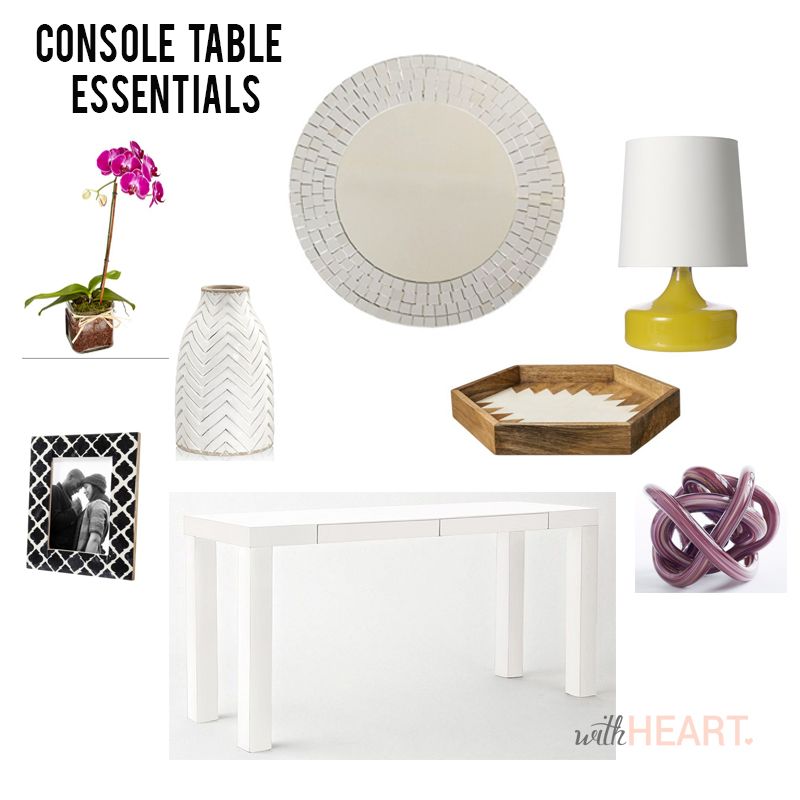 Console Table | Mirror | Lamp | Tray | Vase | Flowers | Frame | Glass Object
1)  A great mirror.  I found mine at a thrift store (more on that coming up next week!) but there are a lot of really great budget-friendly options out there, like the one I selected above.
2)  Something that smells good.  When someone walks in your home, you want it to smell lovely, right?  I have some flowers sitting on mine, but I think candles or a stylish air freshener are great too.
3)  Lighting.  Lamps can set a nice mood at night, are functional, and also add some great style to your console.  If your table is long, I suggest two– one on each side.  Mine was rather small, so one worked great.  I found mine at Z Gallerie.
4)  Somewhere to put keys, mail, and other small items.  My console has drawers, but I love a great tray on a console table.
5)  A pretty vase.  I just like vases.  That's all.
6)  An interesting decorative object.  I have a large piece of coral on mine (remember where I found it?) and also some cute antique brass ducks.
7)  A family photo/personal artwork.  This is a must for me because I want my home to look like we actually live here.  I think it warms a space up and makes it feel lived in.
And there you have it!  A styled console.  Of course come the day after Thanksgiving, my entryway will be all Christmas-ified!
Hope you're all having a wonderful week,