If you're lucky, you've found one.  A friend who is really more family.  Someone who serves as a sounding board, a fortress of secrets, a supporter of your crazy dreams, and a shoulder to cry on in your darkest moments.  A friend for life.  Emily, Nicole, and Jenna have that times three.  Meet the gals behind
Small Fry
.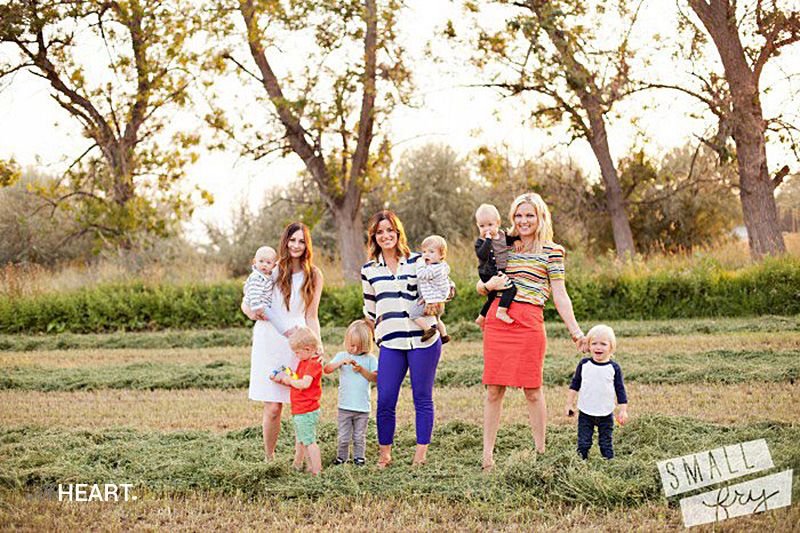 Their friendship blossomed in high school.  Nicole, the life of the party, and Emily and Jenna both newbies.  As other friendships have come and gone, theirs has stuck like super glue.  It has evolved as their lives have, with boyfriends turning to husbands and on into motherhood.  An investor approached Jenna to start a blog and Nicole and Emily were the first people she thought of.  They're now on a new adventure together– running Small Fry and doing things like wearing metallic and funky patterns and cool hats in New York.
But even if Small Fry weren't a thing (and a very cool, groovy thing at that), they would still be a thing.  For they share values and love celebrating their similarities and their differences.  Nicole and Emily love Jenna for her giving nature and dedication to all she does.  Nicole is the group bright-sider whose compliments can turn any mood around.  And Emily oozes eloquence and has a way of just "getting it."
However, just because they're so close doesn't mean there haven't been hiccups to overcome.  But the measure of a true friend isn't whether or not you never disagree, it's where you land afterward.  And they've always landed closer together than before.
"I imagine that the relationship we have is much like sisters, maybe closer," Jenna said.  "We bug each other as much as we love each other & I really wouldn't have it any other way."
"So grateful to be on the adventure with you two!" Emily added. "Thank you for putting up with my type A personality and hunger-induced snark. It's hard to love a hypoglycemic, but thank you for doing it anyway."
"People have told us a gazillion times not to go into business with friends," Nicole said.  "We knew this, and did it anyway, cause that's what we do. We have cleared some real rocky patches and have come out on top. I fairly certain most others would have given up by now, and I almost have, but these two and their ability to Dream Big have pushed me to believe in Dreaming Big, also. Love them for that."
And don't you just love
them
for that?  You can read more from these beauties
here
.
There is just truly nothing better than friend for life.