I love winter.  I love snow, and sweaters, and hot chocolate, and warm fires.  I have always been more of a cold weather person than a hot weather person, and my fashion and design choices seem to typically reflect that.
Every time the season changes, I feel the need to change things up.  After this week's massive snowstorm (you may have seen me post about it on Instagram) and now temperatures in the 20's (so cold, but so beautiful!), it is full blown winter around here and I've been itching to switch up decor, rooms, and wardrobe.
Here are some of my winter must-haves…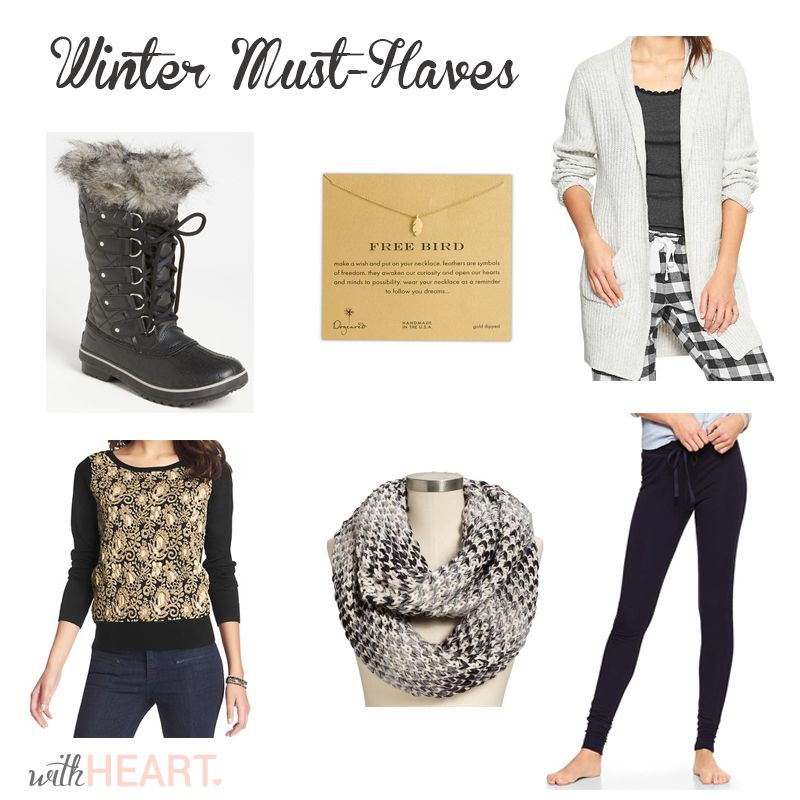 Sweater:  Loft has so many pretty sweaters right now, and all reasonably priced.  I already picked up this one for an upcoming party.
Boots: on my wish list!  So practical and cute.
Scarf:  I love these infinity scarves.  They are so soft and cozy and warm.
Leggings:  I could live in these leggings all day every day.  They are so darn comfortable!
Necklace:  I love the message behind this beautiful feather necklace.  It's so me.
I can't believe we have less than three weeks until Christmas.  I'm feeling the pressure to get moving on my to-do list!  We are pushing through the guest bathroom remodel (making progress!) and have a separate big room transformation planned just in time for the holiday– if we make the deadline!  More on that next week.
Here's to a productive weekend!