Life with a toddler is messy.  My family room is being overrun with toys and puzzles and crayons and while much of that is to be expected with a pint sized tornado going non-stop all day, it is partly my fault.  Besides her bedroom, Ruby doesn't really have a designated space all her own.  A place for her to be messy, use her imagination, and play without limits.  I'm grateful we have space in our home to create a space like this for her: our formal dining room.
While I have visions of a lovely formal dining space where my family will gather for holidays and dine on fine china, that's just not my life right now, and probably won't be for a few years.  Right now, we are all about function with design in mind.  Pretty function.  Fun function.  And a kids-off-limits-breakable-room isn't what we need.
I have another idea for the space: a pretty modern playroom where Ruby can play to her heart's content.  I have a few requirements for the space– it needs to be completely kid-centered, and since it is next to the living room and kitchen, it needs to be modern, pretty, and have a nice flow from one room to the next.  It's one of the first rooms guests will see when they enter the house so no giant cartoon characters please.  Or ever.  (I know, some of you are so disappointed!).
Here is what I have in mind for Ruby's playroom design: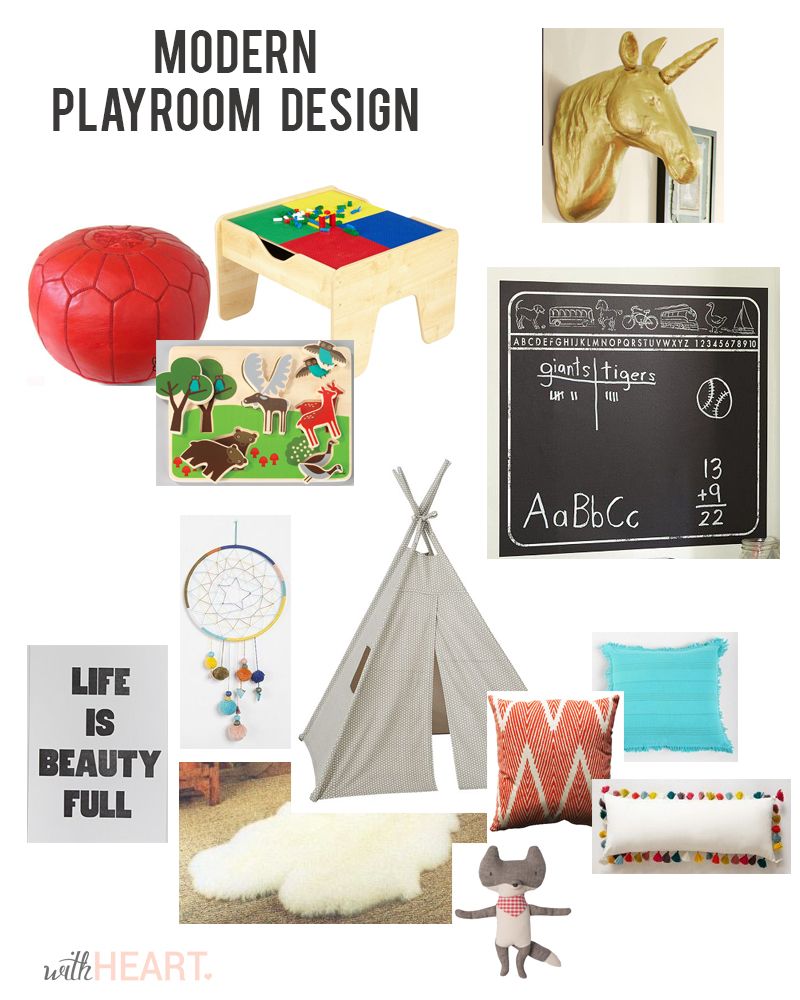 Teepee | Bali Toss Pillow | Tassel Pillow | Fringe Pillow | Unicorn Wall Mount | Dreamcatcher | Sheepskin Rug | Pouf | Playtable | Wolfie Doll | Woodland Puzzle (on sale!) | Life is Beauty Full Print

The upstairs bath is still very much under construction, so that gives us a couple of weeks to finish both the bathroom and the playroom in time for Christmas (eeek!).  I like to think I work best under pressure 🙂 It will be all worth it to see her reaction on Christmas morning.
Happy Monday!