We're continuing our home tour with interior designer, Lauren Oviatt, today with a room that tends to be a high traffic area in the home.  Her dining room is so lovely– pretty shelves, a stunning chandelier, and a neat bench.  I'm already plotting some changes in my dining space to incorporate some of the elements.
1)  The kitchen and dining room can be a catch all– school work, to do lists, bills, coupons, mail, and the list goes on.  What's the trick to keeping a clutter free and polished space?
Yes, I agree.  We don't have a formal office so our dining room/kitchen is definitely a multi-purpose space.  The key here is closed storage.  The daily mail and magazines have to be sorted instantly to keep clutter at bay.  We use our large pantry to keep overflow things like my daughter's art supplies and larger appliances like our toaster that are rarely used. The access is easy but it's a lot cleaner looking to have minimal appliances out when your kitchen area is small. No matter what you do, it still exists! What I'm saying is, don't open my cupboards.
2)  I love how you incorporated cookbooks into the shelf styling.  Where do you start when styling kitchen/dining shelves?
Start with the obvious, books.  I think bookcases without any books feel very odd.  There is a real art to accessorizing bookcases, it's not something you knock out in an hour!  Start by filling in the shelves with books. After you're finished – bring out your accessories.  As you incorporate decorative items like bookends, vases, picture frames, decorative boxes and other accessories, begin to take out books as needed.  If you only use larger accessories and objects… it will look very harsh and contrived.  There must be a visual ebb and flow that comes from using both books and decorative objects.
3)  You want your dining area to be both beautiful and functional– so you can't tuck everything behind a closed door.  How do you strike the right balance?
Turn your functional kitchen pieces into a beautiful collection, meaning create a theme.  Choose your favorite colors and begin collecting.  It will instantly pull together your display.  I love collecting whiteware, pewter and glass serveware – so that is my scheme. It may look pretty from afar, but if you look closely you'll see a punchbowl, several salad bowls, ceramic dishes, large serving trays and other pieces I pull out all the time when I cook and entertain.  Decorative items are great in a bookcase – but when they do double duty as functional pieces it is an added bonus.  Especially in a kitchen/dining space.
4)  I love love love the bench!  What inspired the unique seating?
When we first walked through this home, the dining area was completely empty. Instantly I envisioned a built-in banquette flanked by bookshelves.  I never let go of that idea.  I drew up the pieces exactly to scale and with the help of a skilled cabinetmaker, the visions inside my head came to life.  How rewarding!  It may be my favorite design "moment" in my home.  I love the element of architecture the piece adds to what was a very blank and boring area and I wanted the opportunity to use soft goods (pillows) and more fabric in the kitchen area. Sitting at the banquette for a meal is like eating dinner on comfy sofa, who doesn't love that?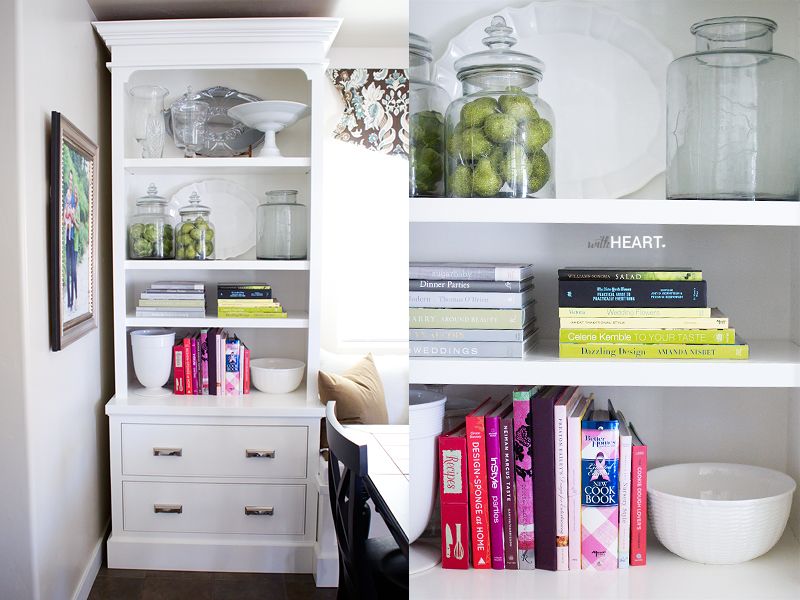 5)  What a fun chandelier!  It really brings in a different flavor into what can sometimes become a boring room.
The chandelier is vintage and dripping with glass crystals. You don't have to know me that well to know that I have a serious weakness for sparkly things! The house was furnished with your standard five arm, builder-spec fixture and I continually felt the need to replace it with something more custom, dramatic and more, well, me.   I was thrilled to find this fixture and even though it may seem a bit over-scaled, I think it really works here because of the transparency of the glass.  I like the combination of a formal, dressy light fixture paired with the more casual details of the built in and my dining table.  It keeps things interesting without feeling fussy.
6)  For someone looking for simple ways to spruce up their dining room, what's your advice?
Swap out your chandelier. And put it on a dimmer! Having the ability to control (read: dim) the light in your space can take your dining experience to a whole different level.  Trust me. Simply swapping out fixtures is easily done, and the dimmer is even easier. Yep, my mom taught me how when I was a teenager and I've been installing dimmers all over the place ever since!  No matter your budget you can find a light fixture that fits your personality and style.  Second big tip, keep an arrangement on your dining table. Whether you keep fresh flowers or a live plant in a pretty cachepot or even a good looking faux floral arrangement on the table all year round, do something.  I think an empty kitchen or dining table looks sad.  Take the opportunity to place something pretty there, I guarantee it will enhance your space and get noticed.

Photos by Veronica Reeve
ROOM DETAILS:
Chandelier : Vintage, similar here
Built-ins: Custom – by Oviatt Design
Table & chairs: old, similar
here
Vase on table: Barbara Barry for Global Views, available at
Oviatt Design