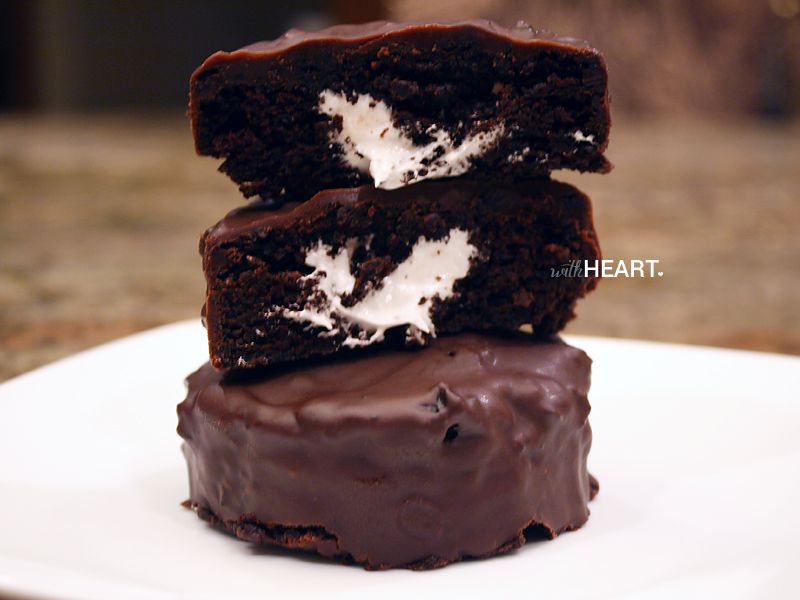 Ding Dong, Ding Dong, where for art thou, Ding Dong?  Do you find yourself wandering aimlessly on the goodie isle of the grocery store?  Opening your lunchbox only to find an empty space where your favorite childhood treat used to be?  As the hype dies down about the closing of the Hostess Factory and all of the boxes of Ding Dongs were sold off the shelves long ago, it might be a good time to tell you about a new recipe I tried recently:  Homemade Ding Dongs.  They are actually even better than the original.  Moist cake with a light, non-greasy filling and excellent, dark chocolate icing to top it all off.  There are a few steps to the process, but absolutely worth the time involved.

*Recipe adapted from Beantown Baker
INGREDIENTS FOR CAKE:
3 oz fine-quality semisweet chocolate
1 1/2 cups hot brewed coffee
3 cups sugar
2 1/2 cups flour
1 1/2 cups unsweetened cocoa powder (not dutch process)
2 tsp baking soda
3/4 tsp baking powder
1 1/4 tsp salt
3 eggs
3/4 c vegetable oil
1 1/2 c well-shaken buttermilk
3/4 tsp vanilla
INGREDIENTS FOR 7 MINUTE FROSTING:
2 egg whites
1/2 c sugar
1/4 c light corn syrup
2 T water
1 1/2 tsp pure vanilla extract
INGREDIENTS FOR GANACHE:
3/4 c heavy cream
1 T unsalted butter
16 oz semi-sweet chocolate, chopped into 1/2 ounce pieces
DIRECTIONS:
For the cake:
 Preheat the oven to 300°F and grease pans. Line the bottoms of 2 10-inch round cake pans with wax or parchment paper and grease the bottoms. If you don't have 10-inch round cake pans, you can make 2 9-inch cakes and a dozen cupcakes.
Finely chop chocolate and in a bowl combine with hot coffee. Let mixture stand, stirring occasionally, until chocolate is melted and mixture is smooth.
Sift sugar, flour, cocoa powder, baking soda, baking powder and salt into a large bowl. In a bowl of electric mixer, beat eggs until slightly thickened and lemon colored. Slowly add oil, buttermilk, vanilla and melted chocolate mixture to eggs, beating until well combined. Add sugar mixture and beat until combined well.
Divide batter between pans and bake on middle rack until tester comes out clean, approximately 1 hour.
Cool layers completely in pans on racks. Run a thin knife around edges of pans and invert layers onto racks. Carefully peel paper off the bottom of the cake and cook cakes completely. Cake layers can be made in advance and kept at room temperature for one day prior to assembly.
For the 7 minute frosting:
  Combine the frosting ingredients with a pinch of salt in a metal bowl and set over a saucepan of simmering water and beat with a handheld mixer at high speed until frosting is thick and fluffy, 6-7 minutes. Remove bowl from heat and continue to beat until slightly cooled. Use frosting the day it is made.
For the Ganache:
  Heat the heavy cream and the butter in a 3-quart saucepan over medium high heat. Bring to a boil. Place the semisweet chocolate in a 3-quart stainless steel bowl. Pour boiling cream over the chocolate and allow to stand for 5 minutes. Stir until smooth.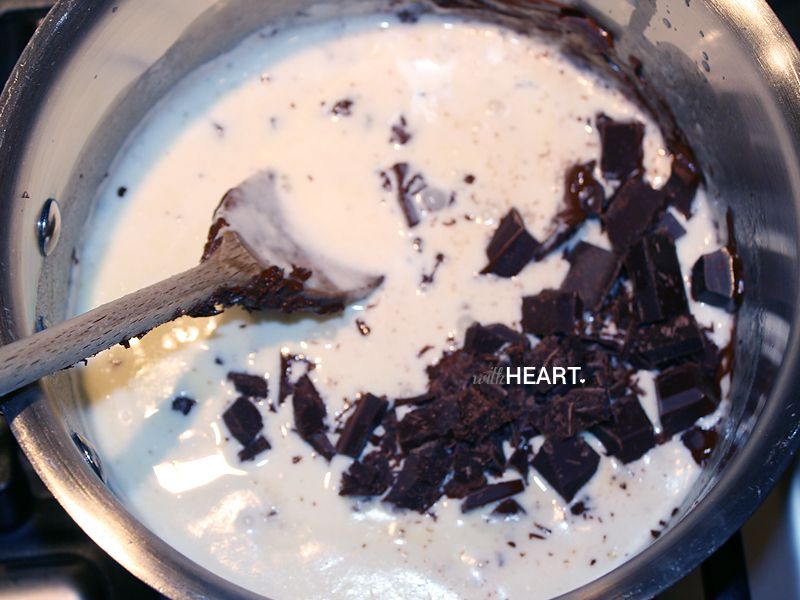 To assemble the Ding Dongs:  Once the cake layers have cooled completely, use a small round cookie cutter to cut ding dong sized circles out of the layers. Enjoy the scraps or save them for cake balls or trifle layers.
Using the cone method, scoop out a small portion of the cake from each circle. Fill with 7-minute frosting and replace top of cake.
Using a pastry brush or spoon, cover each individual cake with ganache. Allow ganache to completely set up before serving. (You can play with the thickness of the ganache by reducing the cream and adding more chocolate if you do not like the consistency here.)