Few of us buy our dream home the first time around.  Usually there are a few fillers– apartments, rentals, and condos before we get to single family home status.  Fillers can be frustrating.  Of course, you want to make your house a home, but either because money is tight, or because you aren't willing to invest in a somewhat temporary space, these in between living spaces often times don't ever feel like home.  You compromise; furniture is mismatched, and it always feels temporary.
Enter designer Danielle Oakey's home: a two bedroom, one bath, older, small condo she and her husband purchased as he started medical school.  They needed a space to raise their darling daughter, Emory, possibly add to their brood (hello baby Theo!), but couldn't break the bank.  In fact, there basically is no bank when you have a spouse in medical school.  So, forget about a decorating budget.  And that is what makes this house jaw-dropping.  You would never believe what this place looked like before she got her hands on it (or how much she spent pulling it all together).  Anyone can make a house pretty with an unlimited budget.  It takes a true talent to have a Tim Gunn "make it work" moment when money is as tight as the square footage.  And much of what you see is DIY.  For real.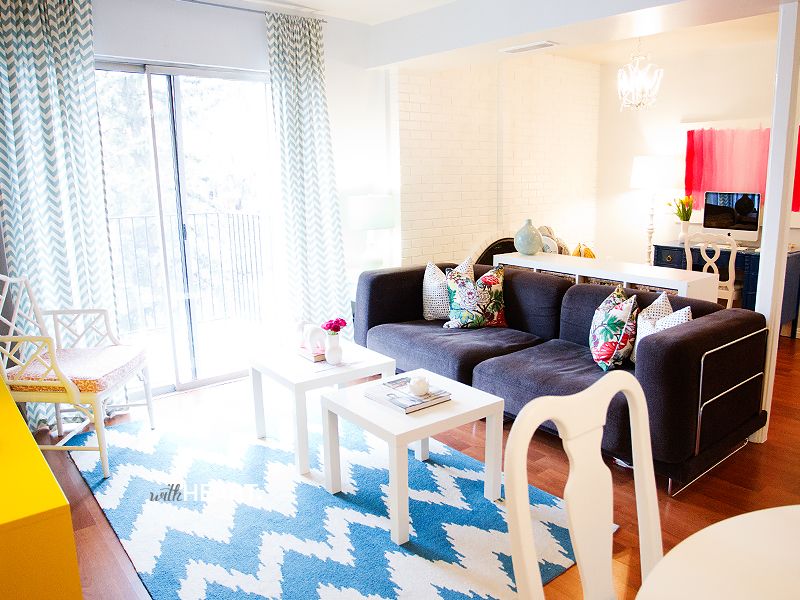 Q)  When looking for a condo to buy, what was your number one priority?
A) Layout and natural lighting. Since our budget was very small, we couldn't be too picky, but open planning and lots of natural light was a must. Both of which can't be changed with inexpensive cosmetics upgrades.
Q)  You gave the place quite the makeover.  When you walked in, could you immediately see the potential?
A) I would be lying if I said I immediately knew how great it could be, but I did realize there was big potential. The lay-out was perfect, the windows were large, and it even had a wood burning fireplace!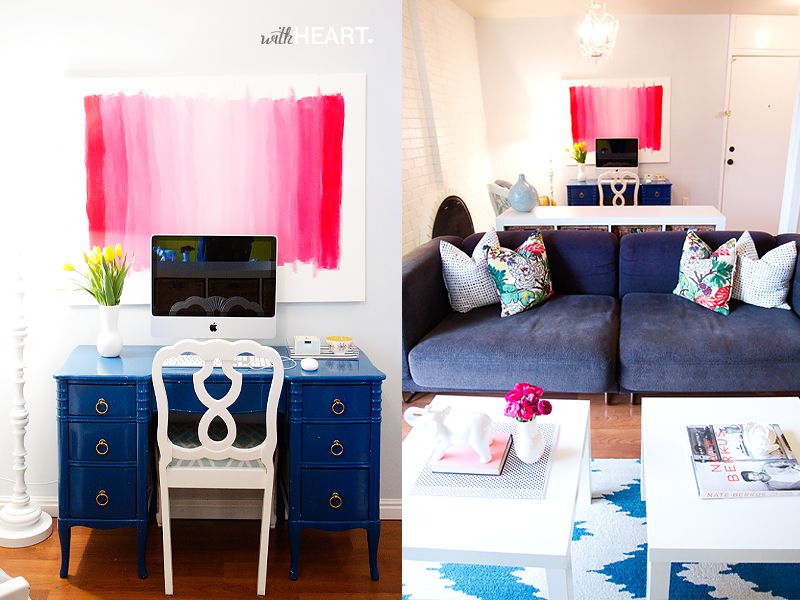 Q)  What was your inspiration?
A) Light, airy, and bright. In order to make my home feel as large as possible, I knew keeping the color scheme light and the furniture simple was a must. I am also a huge fan of stylist 
Emily Henderson
, so adding color and pattern was on my agenda.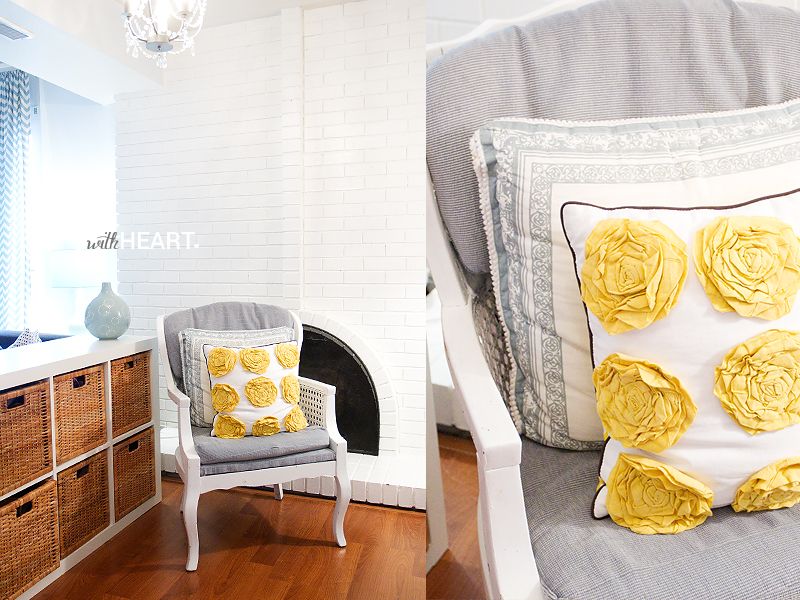 Q)  How were you able to keep the cost low. yet still keep the class level high?
A) Almost everything in my home is from discount furniture stores, thrift stores, or IKEA. I think the key to making a space work on a tight budget is to know when to pass on a DIY. A home packed full of bad DIY's looks inexpensive and crafty. Also, when thrift shopping, look for classic pieces. You can never go wrong with a mid-centry modern dresser.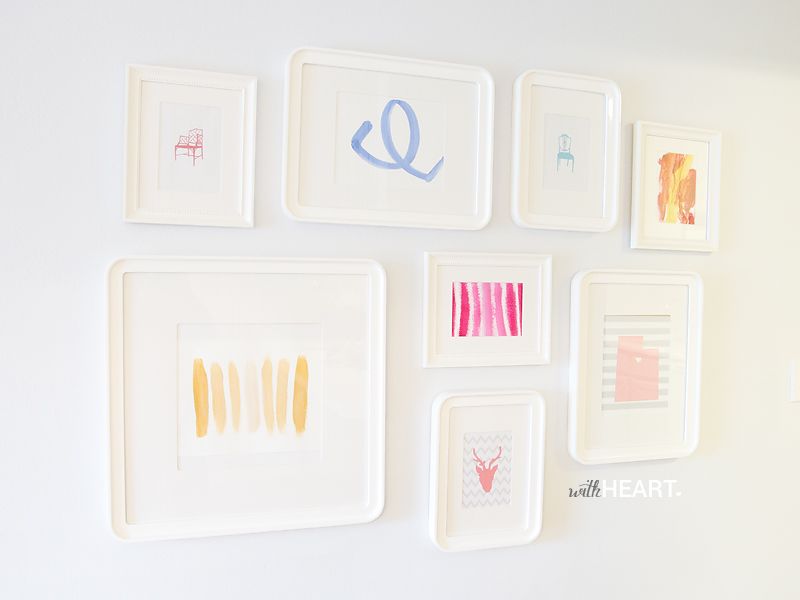 Q)  It's not a large space– what are your tips for living in close quarters with kids?
A) Storage and purging! I only keep what my kids need or currently play with. If they don't use it anymore, I sell it or donate it. I also have a storage basket for most of their toys, I can't stand visible clutter!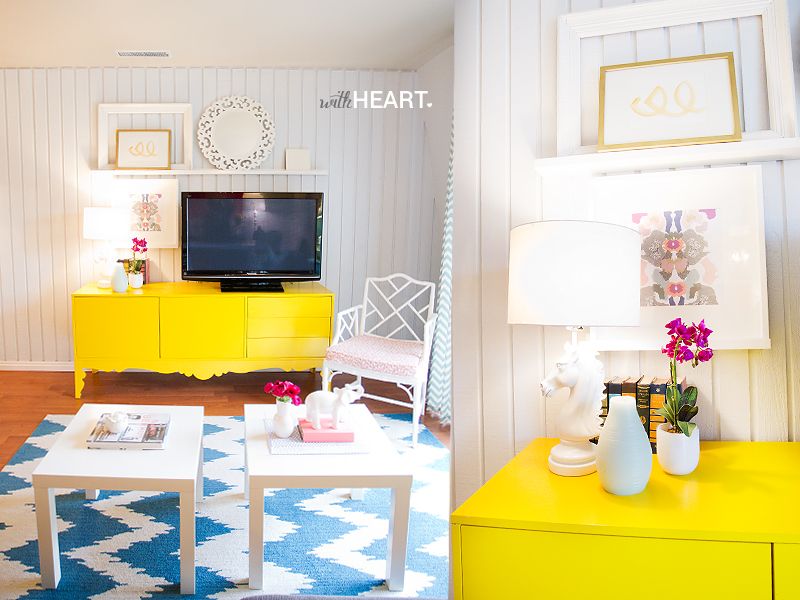 Q)  This was never a dream home or final destination– how did you know how much to invest and where to draw the line?
A) Since I knew that we would be selling the condo in 4 years after my husband graduated medical school, I invested in upgrades that would add value in the end. The biggest change was adding the laminate flooring, but everything else was simply cosmetic and inexpensive. Painting walls, adding baseboards and painting kitchen and bathroom cabinets. I then spent most of my effort on decorating the condo, which ultimately is what sold it so fast! People love a staged home.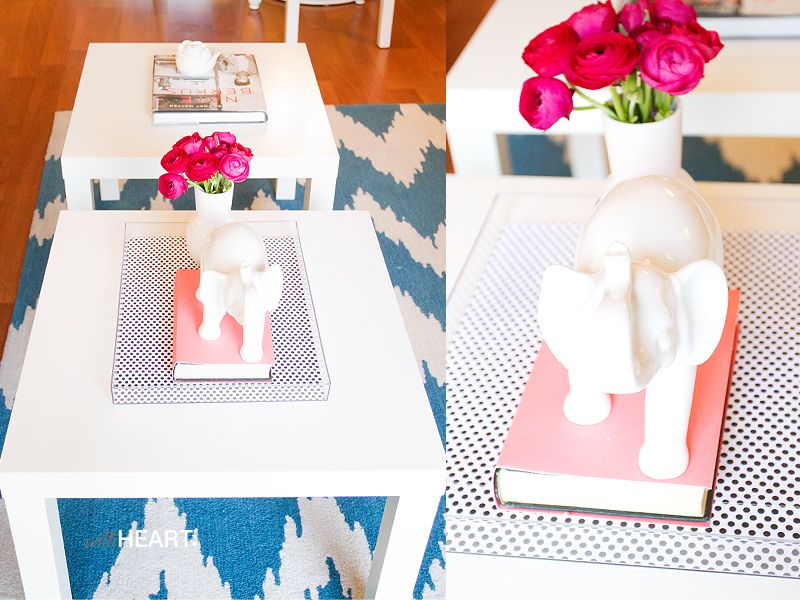 Q)  What is your favorite thing about the redesigned space?
A) How bright and cheery it is! I absolutely love when a stranger comes to my door and can't stop looking around. I think I can attribute that to how light and colorful my space is. My biggest piece of advise when re-designing your home, add contrast!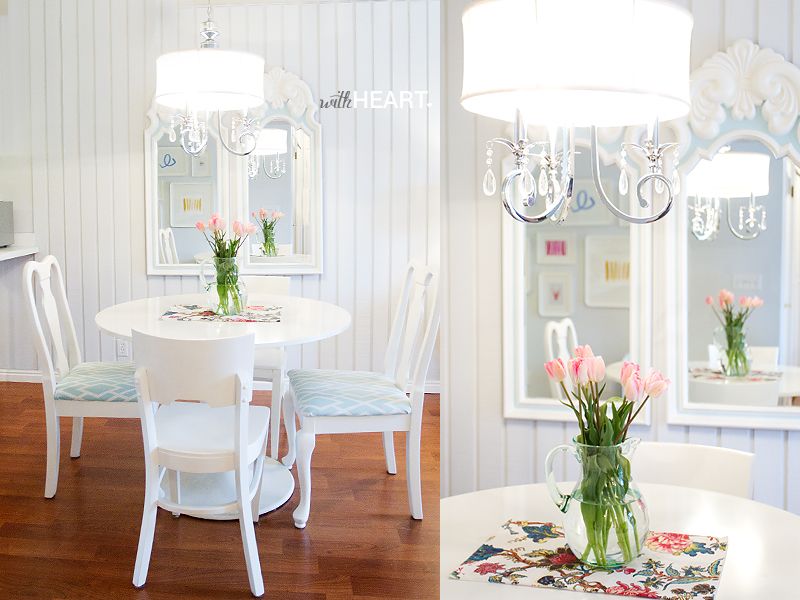 Q)  You just sold it (congrats!) and you're preparing to move on.  What do you hope the new owners know about it?
A) I never realized how emotionally attached I am to my little condo. If anything, I would want the new owners to know how much love I have poured into this place! I only hope they will love it as much as I have.
I am confident they will!  You can see more of Danielle's beautiful designs on her blog.  More from her home to come!
Photos by Veronica Reeve
Living Room:
Tv Stand: IKEA (no longer available)
Sofa (IKEA no longer available)
Polka dot pillows (IKEA no longer available)
Dining Room:
Office: