I have a love for braids.  When I was a little girl, braids were a big deal.  Now that I'm a grown woman, I still love a great braid in my locks once in awhile, but I want to look like my present self and not the little girl I once was.  There is no doubt a right and a wrong way to do a grown-up braid, and today I'm teaming up with Megan Moore of Moore Hair Design to bring you some of the prettiest mature braids I've ever seen.
First, a little about Megan: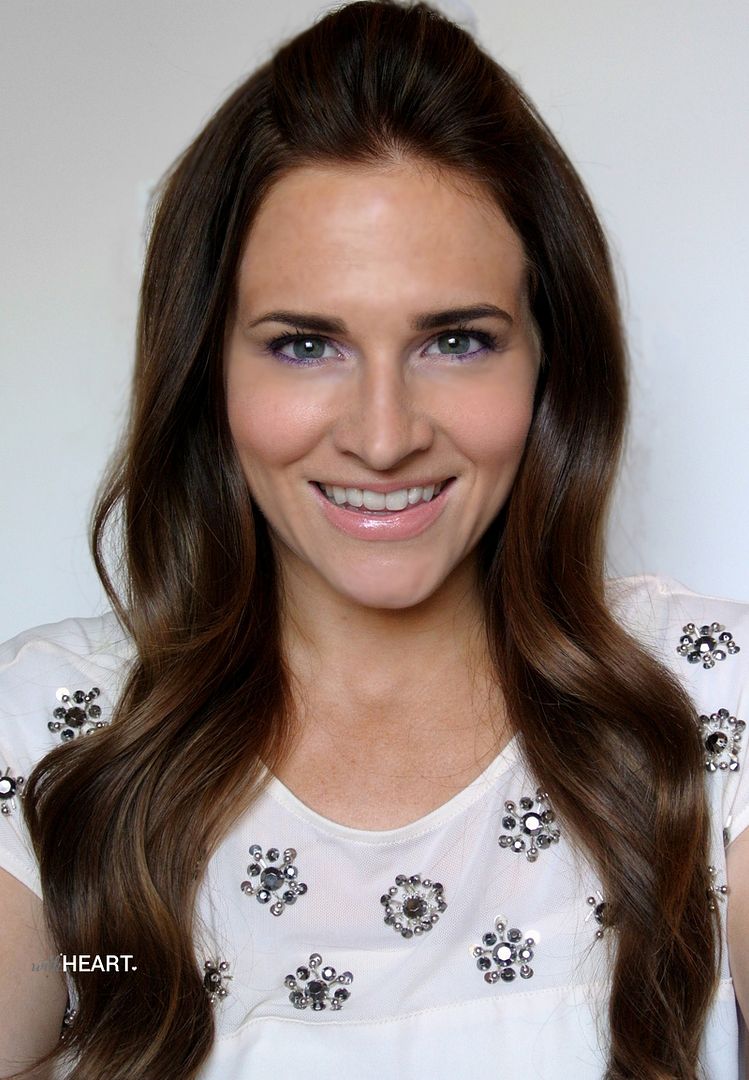 Megan Moore has more than a decade of styling under her belt.  She owns the nationally recognized Moore Hair Design in Salt Lake City.  Megan also pens the beauty blog TheBeautySnoop.com, where she offers readers her favorite tips & tutorials, product reviews, and all things beauty inspiration.  And c'mon, she is just so pretty!  Ok.  Now, on to the braids!

1.  Place braids in unexpected places to keep interest and avoid looking to young. Try a hidden braid or a peek-a-boo braid that may not be visible right off the bat.
2.  Keep braids loose and 'undone' to keep the feeling casual and more bohemian. After tying off the braid go back and tug on the outside plats to undo the style and loosen up some soft flyaway hairs.
3.  Try braiding on an angle instead of vertically- it's a fresh approach.
4.  Avoid braiding all the way to the end of the strand, instead tie off the braid early and leave longer tails to keep the style mature.
5.  If you struggle to braid on yourself, try stepping away from the mirror and visualize creating the braid as if you were braiding looking down at the head from above. The reverse view from the mirror may make braiding more complicated, and remember practice makes perfect.
Here is the video tutorial with Megan from
withHEARTtv
.  She featured a peek-a-boo, or hidden fishtail braid.  So smart to make it a kind of unexpected twist to a typical hair day.
Megan is also sharing two more beautiful braids with withHEART readers today:  The Waterfall Crown Braid, and the Angled 'Katniss' braid, or dutch braid.
Let's start with the Katniss (yes, that Katniss) Braid, or Dutch Braid: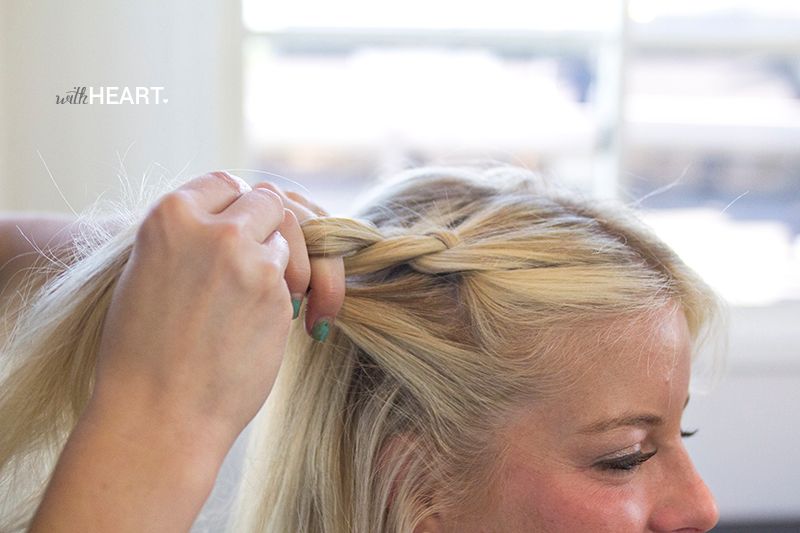 Start on one side of the head, with an outward french braid.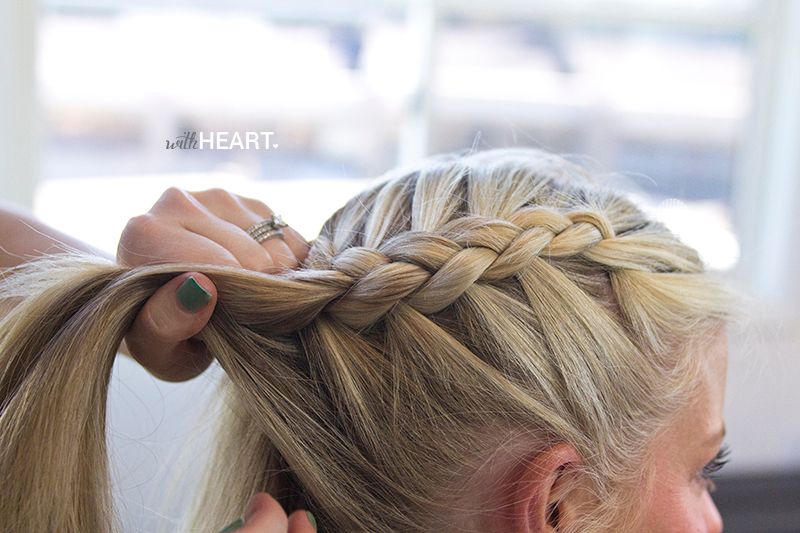 Continue to work your way back, creating a fairly snug braid. Keep in mind, however, you don't want it to be too tight.
Angle the braid back toward the neck, on the opposite side that you started. It should make a diagonal across the back of the head.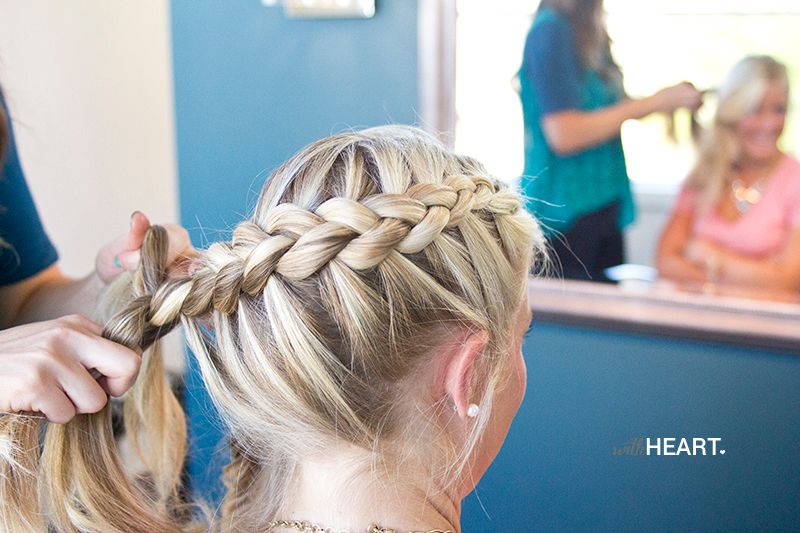 Once you get to the neck, continue the braid into a traditional braid to make a tail. Secure with an elastic, then form into a looser bun. Secure with bobby pins.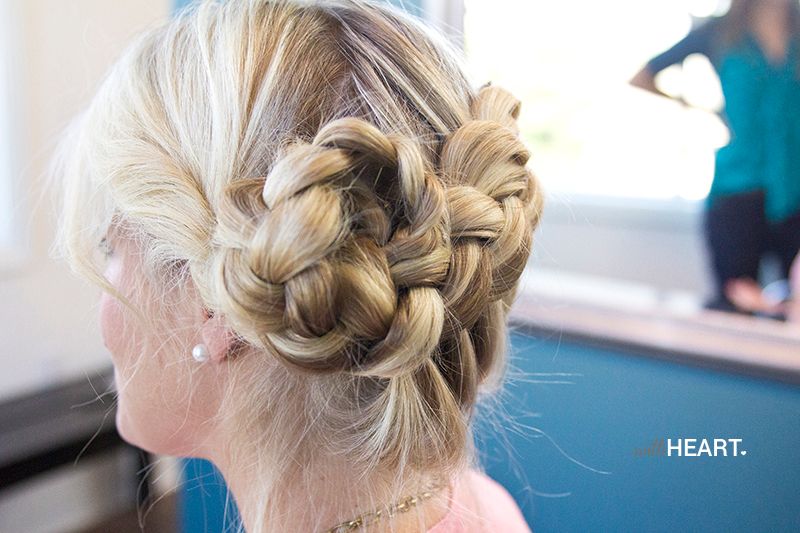 Carefully loosen braid so it looks slightly undone.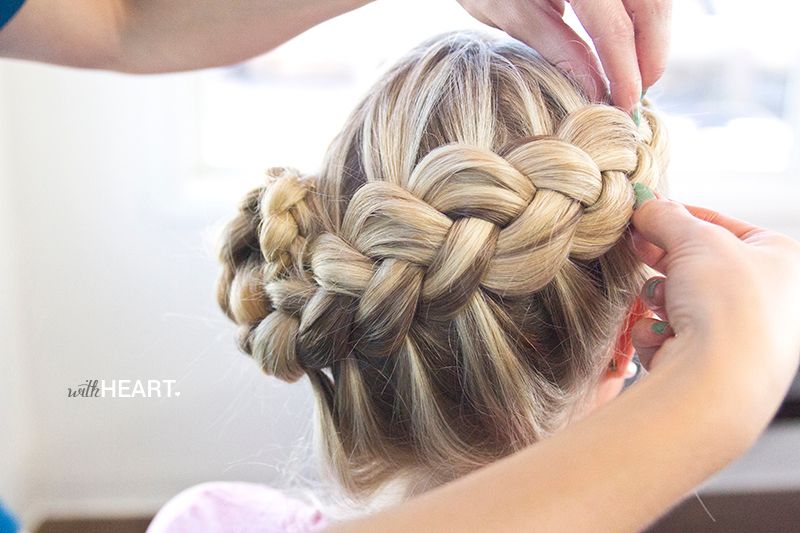 Isn't that beautiful? Especially on our gorgeous blonde model, Megan.
Next up: The Waterfall Crown Braid:
Start on one side of the head, just at the crown and begin a regular french braid. Instead of including the bottom strand each time, you'll let it drop through the braid and hang down long.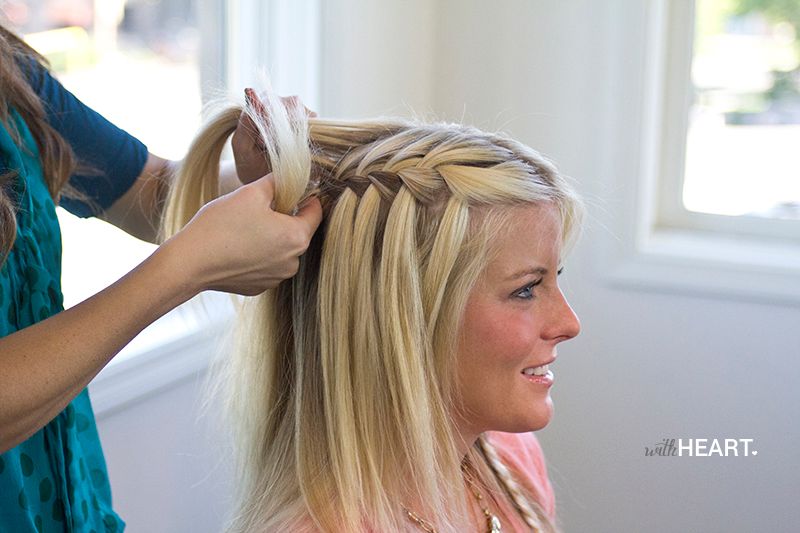 Hence the name, Waterfall.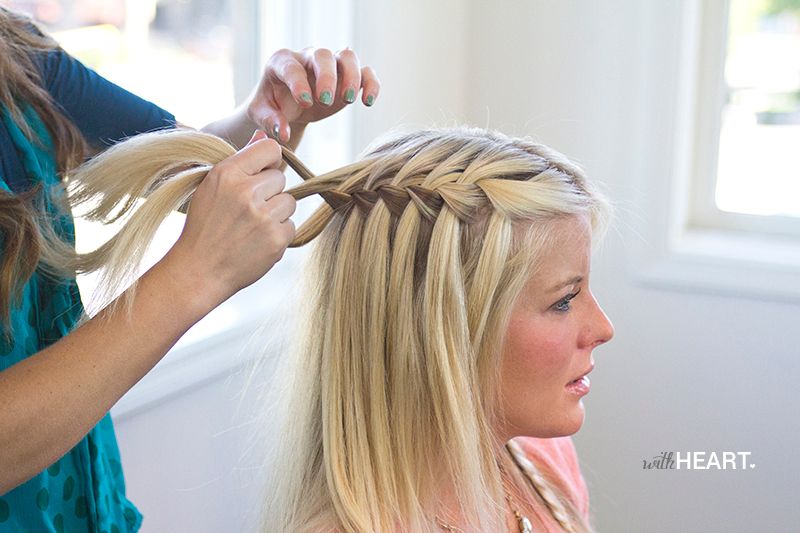 Continue the braid around the crown of the head.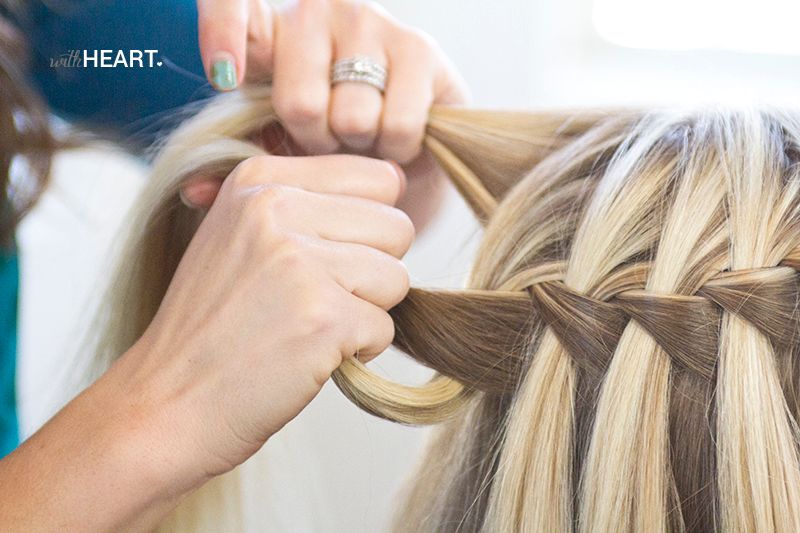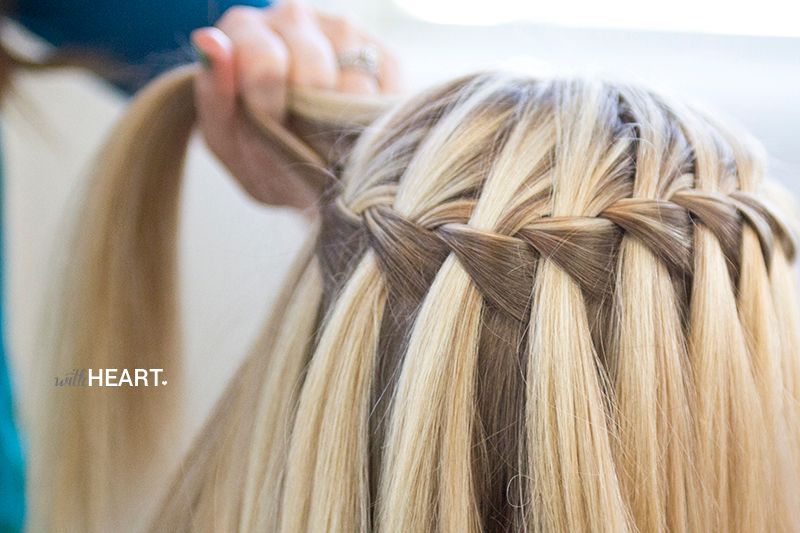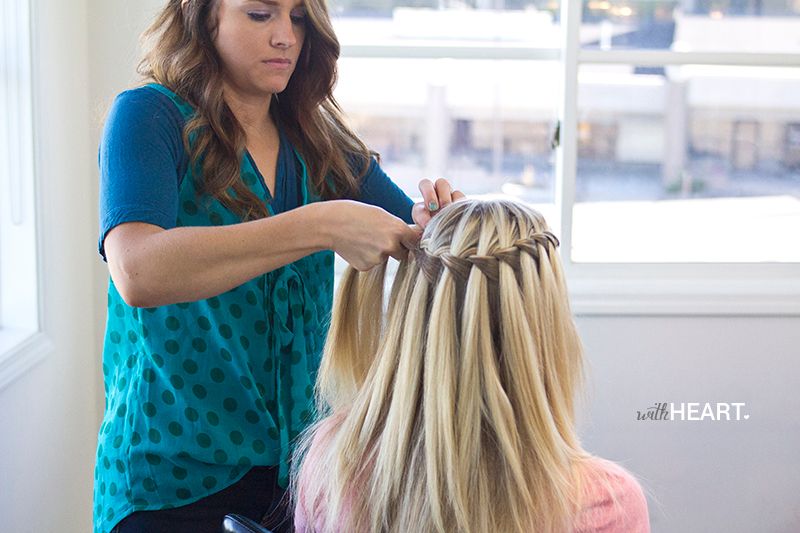 Once you've gone all the way around the crown of the head, continue in a traditional braid to form a tail.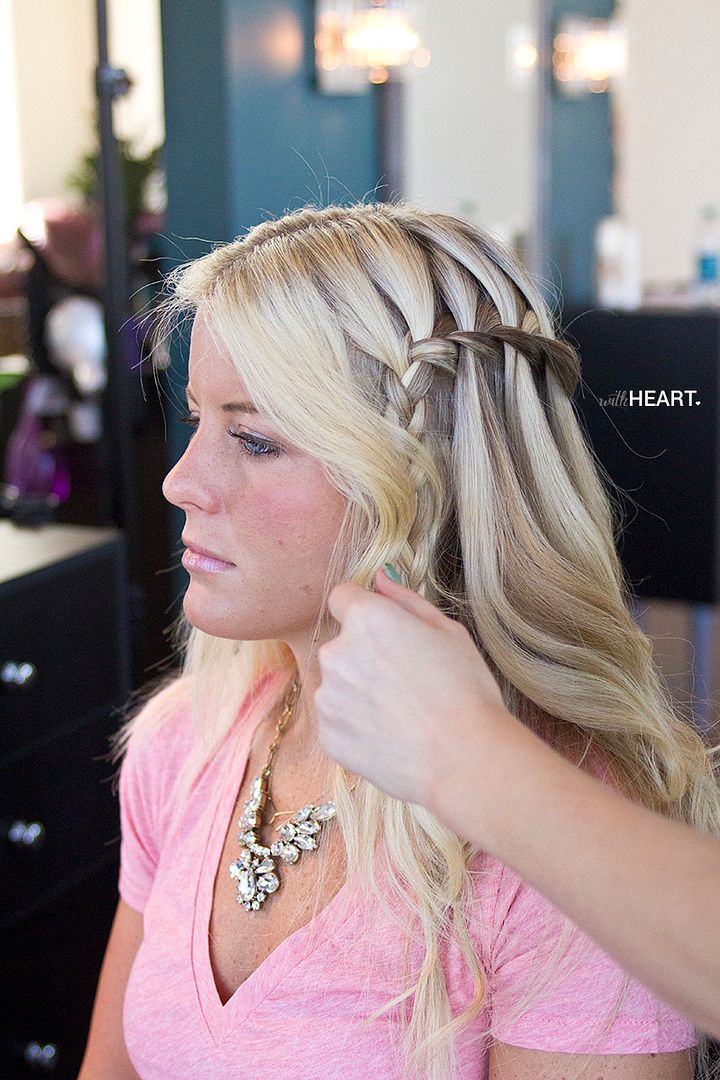 If you want to finish the look off, add some curls to the ends, and gently tug at the top to add a little volume. Finish with a little hairspray.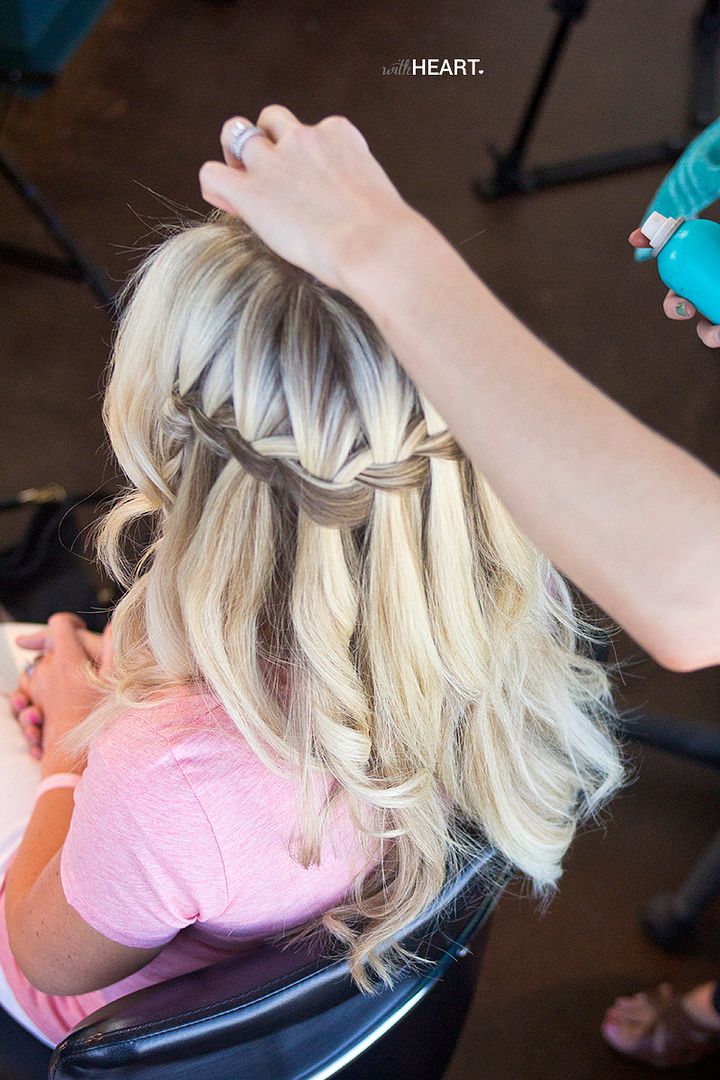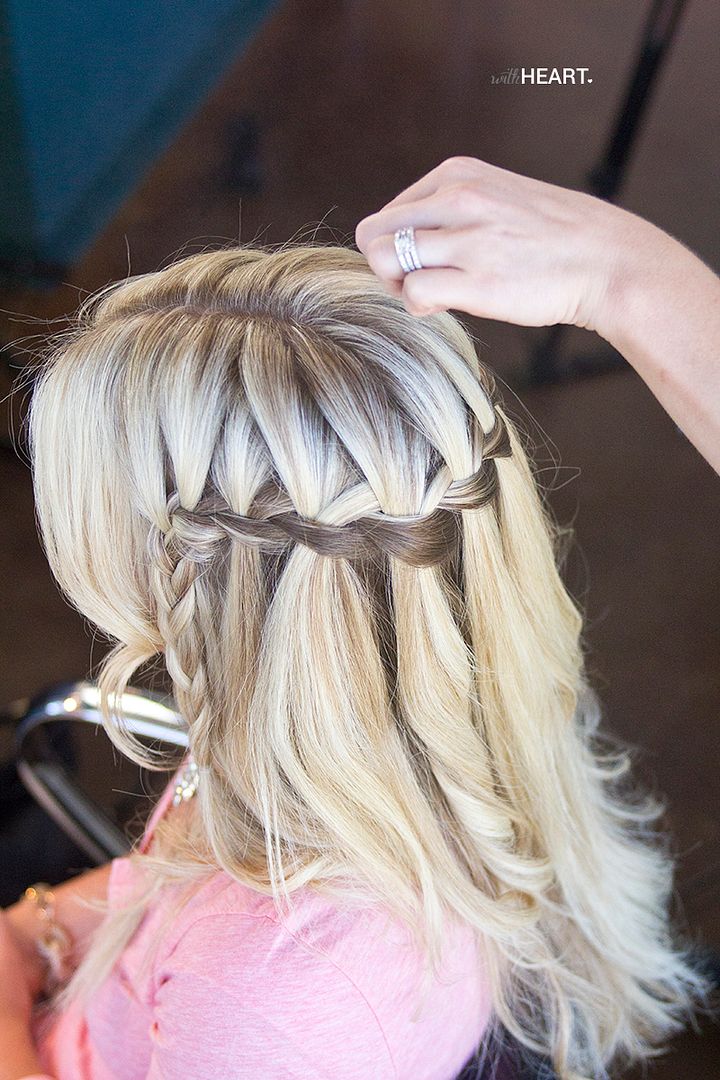 I just love these looks! Thank you so much to Megan Moore for sharing these tutorials. Watch for more collaborations with Megan soon. Until then, you can find her over on The Beauty Snoop.  Now go gather up those bobby pins and get braiding!
Video/Photos/Editing: James Young