While I was nursing Ruby, we discovered she has a dairy allergy.  This is different from lactose intolerance.  Most children grow out of it by the time they are two, but Ruby's seems to still be holding strong at 15 months.  When I was nursing, I had to go on a dairy-free diet, and boy, I learned dairy is in practically everything.  I read every label of every. single. thing. I ate.  I learned which restaurants were allergy friendly, which were not, and which items on the menu were safe.  Ruby has been on a special (read: expensive) formula since she was about a month old, and now that she has decided she is much too grown up for baby food, I'm back to trying to find suitable and tasty alternatives to dairy.
I, of course, can control it much more if I cook at home, from scratch, which I often do.  Eating out presents quite a challenge, as you have to ask for allergen information, and most restaurants offer very few kid-friendly dairy free options.  Mac and Cheese, breaded chicken fingers, and pizza, anyone?  So, I usually prepare what Ruby (and we) eat myself.  I love to cook and bake, but sometimes it's nice to have a quick and easy meal/snack.
We aren't strangers to food allergies in our family.  My niece has a severe MSG allergy, and between the two of them and family parties, I have learned a lot about carefully watching every ingredient and its quality that goes into our food.
Below are some of my favorite allergy friendly alternatives, brands, and options.  Many are great not only for dairy allergies, but also nuts, soy, and gluten, and almost all are organic.  Jon, who is an extremely finicky eater when it comes to anything too frou-frou, can't even tell a difference with some of them, and that's the real seal of approval for me.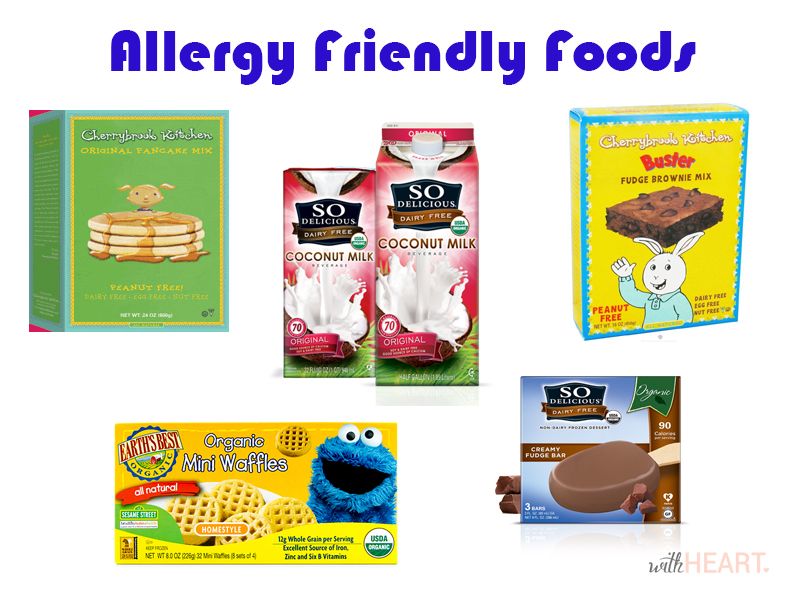 Cherrybrook Kitchen:  Awesome mixes.  My favorite is the Buster's chocolate brownie mix.  I use vegan margarine, and I swear it's as good as the real deal.  Best prices I've found are on Amazon.
Lillabee:  Seriously, amazing pancakes.  I'm partial to coconut milk as an alternative (I don't like the flavor of almond milk, and soy just isn't really my thing), and I think these pancakes taste every bit as good as the milk and gluten variety.  Ruby can't get enough and the husband loves them too.  They also have a great muffin mix I've tried.
So Delicious:  This brand has some of the best tasting coconut milk products around.  Ruby and I both love the yogurt, the milk, the chocolate milk, and can we just talk about the fudge bars?  They are seriously divine.  And fewer calories than their dairy counterparts.  Wins all around.
Earth's Best:  Not every Earth's Best product is dairy free, but they have some wonderful ones.  I particularly appreciate their frozen waffles.  Ruby loves them!  They are so easy to just pop in the toaster.   Also, love the Elmo Pasta and they have great snacks without dairy, just have to check each one carefully.
Most of these brands are available at Whole Foods, but I've found a better selection of some on Amazon.  I hope this is helpful to you!
I would love to hear your suggestions and thoughts on allergy friendly foods.  I'm always on the lookout for some good ones!