If the brains (and beauty) behind the
Mom's Best Network
and mother of five, Tana Hallows, has learned anything about beauty, it's that less is more.  Simple, simple, simple is the name of her game and believe me, when you're juggling that much, you've
got
to have game.
In today's BEAUTY BAG, Tana shares her go-to, fail proof products that are sure to work for every woman– even when time is minimal.  And couldn't we all use a few of those in our makeup bags?  Working mom-approved favorites everyone can count on– count me in!
Q)  Do you have a set routine, or do you switch it up everyday? 
A)   I try to be consistent, as I think it is really key.  But as a work-at-home mama to 5, sometimes my regime goes completely out the window!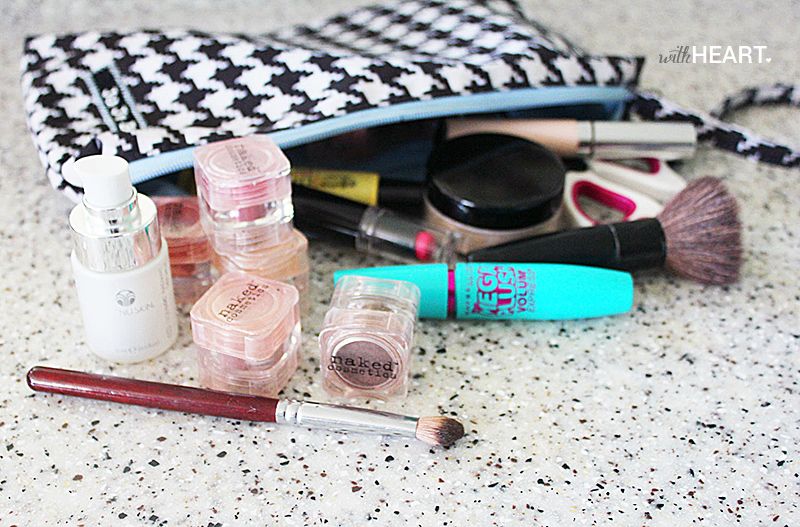 Tana's Beauty Bag
3) Foundation:  
Naked cosmetics
… Naked Cosmetics Colors can be applied as Eye Shadow, Eyeliner, Lip Stick, Nail Polish, Blush, Bronzer, Temporary Hair Highlights…and MUCH MUCH more.
6)  Lipgloss/lipstick:  
C.O. Bigelow cinnamon lipgloss
and lipstick nothing specific…love adding a deep pink color as the base then add lipgloss for shine.
7)  Mascara:  
Maybelline, volume exress mega plush
.  I love how it adds length and volume!  (hello check out her lashes!  Something tells me those babies have more to do with genetics than cosmetics…)
The items she absolutely cannot live without?  
Nu Skin's skin care system
.  "I love what it does for my face!" Tana said.  She also can't leave the house without lipstick or gloss.  "If I'm just running somewhere quick, I don't even have to put all of my makeup on.  As long as I have my lips covered, then throw on some sunglasses and people don't even know the difference!"  Wiser words may have never been spoken.
And her best kept beauty secret is something everyone can do, if they make it a priority– get adequate sleep and drink plenty of water.  If she can squeeze it in, maybe I can too!  Dream, dream dream dream…