Would you care to try a warm, yummy dessert that isn't so overloaded with sugar that you crash and go into a sugar coma? This Apple, Pear, and Citrus Crumble, a cousin of cobbler, was the perfect ending to our St Patricks Day luncheon. I'm always a fan of anything I can eat with ice cream and the sweet/tart apples and pears make this dessert a light ending to a filling meat and potatoes dinner. My favorite part is the orange zest in the muesli topping! This makes up easily in a 8×8 baking dish, but we made them in individual 6-inch pie plates for our luncheon.
3/4 cup plus 1 tablespoon all purpose flour (100 g)
1/3 cup butter, cut into small cubes
1/4 teaspoon fine table salt
1/3 caster(superfine) sugar or brown sugar
1 tablespoon grated orange zest (I used mandarin)
1 1/4 cup of your favorite unsweetened muesli
2 medium apples, sliced or chopped
2 medium hard pears, sliced or chopped
2 tablespoons honey
1/4 teaspoon cinnamon
Preheat oven to 350°
Topping:
Place the flour and butter in a mixing bowl and rub the butter into the flour, lifting and crumbling the mixture between your fingers until it resembles fine breadcrumbs. There will be some larger pea-sized lumps but don't worry, these help make a good texture.
Add the table salt, caster sugar, orange zest and muesli and mix well. Set aside.
Filling:
Mix together the apples, pears, honey and cinnamon and transfer to a 8×8 baking dish (or 4 individual pie pans).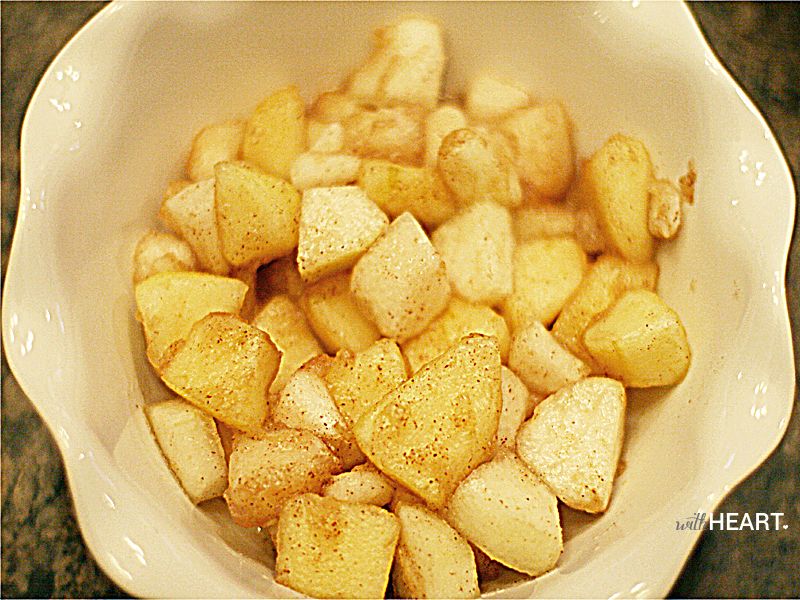 Cover the fruit mixture with a layer of topping approximately 1 inch thick, taking care not to pack it too tightly.
Transfer to a pre-heated oven and bake for 30-40 minutes or until golden brown and bubbly.  Serve with whip cream or ice cream. Enjoy!