When designing my master, the bedding was the first thing I selected.  After making my headboard, I found this duvet from Crane & Canopy and used it as the launching point for the rest of the space.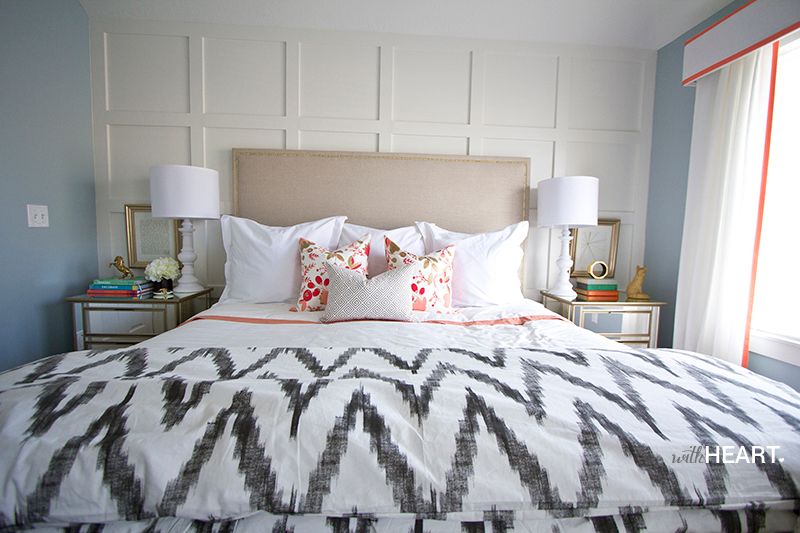 Photo by James Young
From there I found the West Elm duvet I used as a throw at the foot of the bed, and after searching for quite some time for the right pillow combination, my friend Danielle suggested the coral floral pillows from Goods by Grinn and lumbar from Caitlin Wilson.  I love the combination.
The bed is the biggest part of a bedroom.  The right bedding and pillows can really make or break a space.  But how many, what size, and how do you put it all together?  Today Jana Bek of Bek Design is sharing her tips and tricks for the right way to make a bed (twin, full/queen, and king).  She is like the bedding sensai.  First, a bit about Jana.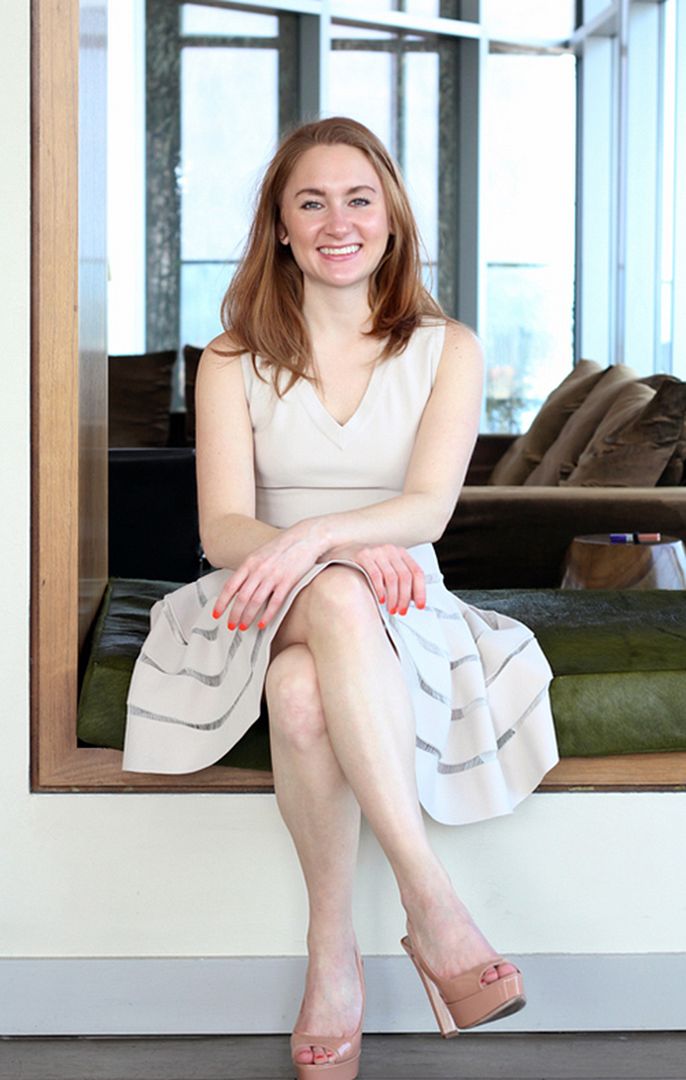 Photo by Erik Melvin
Jana is stationed in Ann Arbor Michigan but spends a lot of time in New York for clients.  She started her career in fashion merchandising and product development for Macy's Merchandising Group & Henri Bendel's in New York (fancy lady!).  Her heart was always in design.  She obtained a second degree in interior design, then helped launch Caitlin Wilson's fabric line.  She then started working as a buyer for One King's Lane.  This woman really knows her stuff.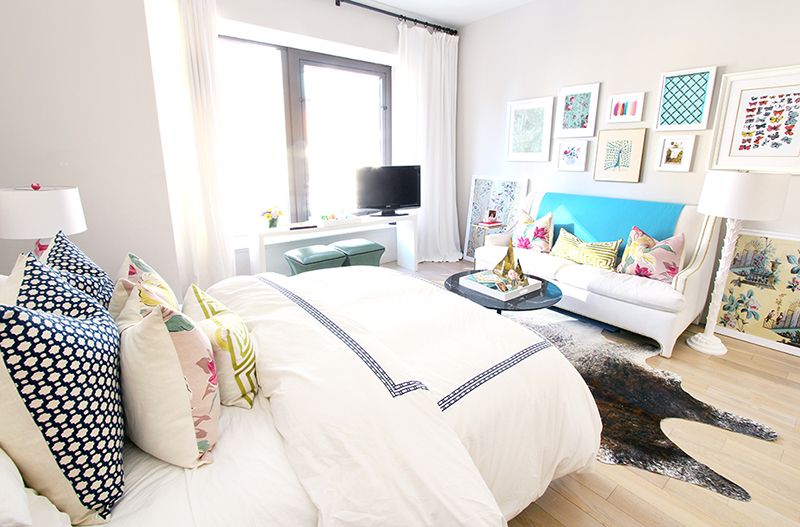 Bek Design photo by Erik Melvin
Q)  Where do you start when dressing a bed?
A)  I consistently recommend classic white duvets for clients because they always look crisp & can easily be cleaned. Textured duvets, though they photograph beautifully on websites, can easily look messy. The next step is deciding which throw pillows to make the bed pop.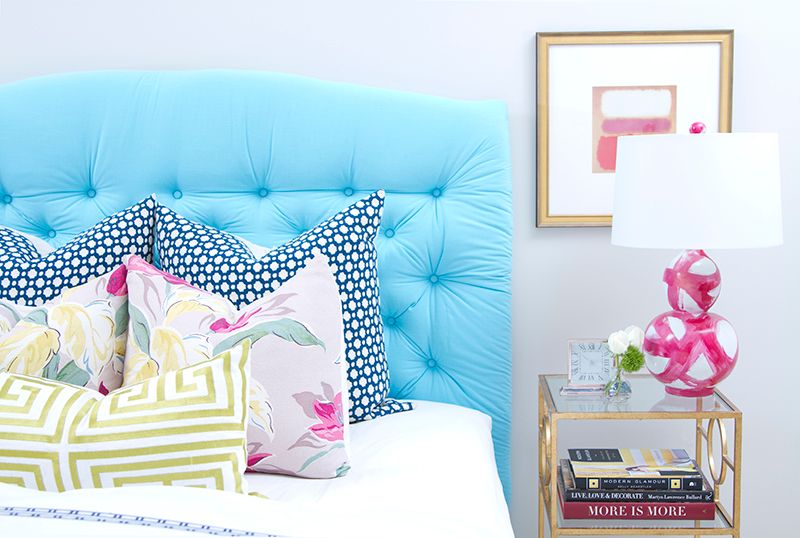 Bek Design photo by Erik Melvin
Q)  How do you select different patterns and colors to go together?
A)  Since the patterns & colors usually only come from throw pillows in my spaces (and occasionally throws) I'll speak to that.
I start with the headboard. Is the headboard a dark color? If so, I'll add a light solid or lighter patterned pillow for contrast. I'll go darker if the headboard is light. It always varies for clients, but usually there is a combination of 2 patterns & a solid pillow (one pattern/solid for the pillows in the back, one for the pillows in the middle, and one for the lumbar or bolster in the front). I usually mix a geometric print (think trellis, or fretwork), a multi colored floral that is the anchor for the assortment), then solid pillow or border pillow like these from Caitlin Wilson textiles.
Find a multicolor pillow you love as your base which will be in the middle of your assortment, then decide what colors you want to highlight in your multi & find a geometric & solid pillows to coordinate for your back pillows & lumbar or bolster.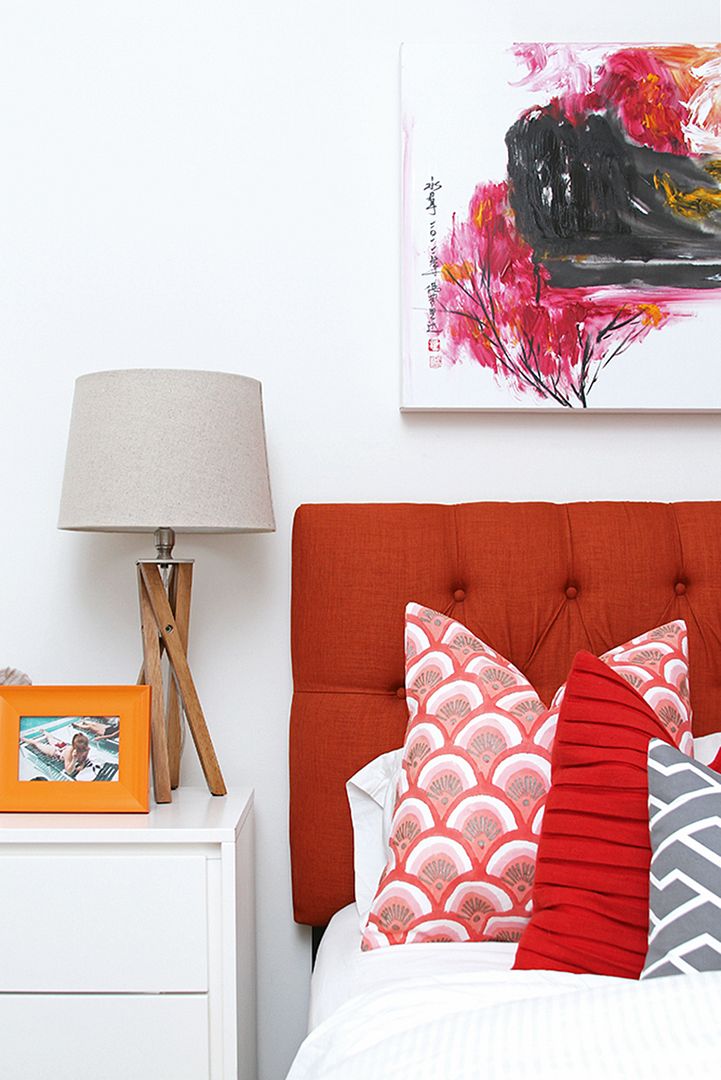 Bek Design photo by Erik Melvin
Q)  Do you suggest going on trend, or sticking with a classic style?
A)  My feeling is that your home should be a place you love – and furnishing a space can become expensive so invest in pieces you love. I usually go more classic or the foundation pieces (classic English roll sofa for example) then go bold with the pillows & accessories as they are more affordable to update as your taste changes.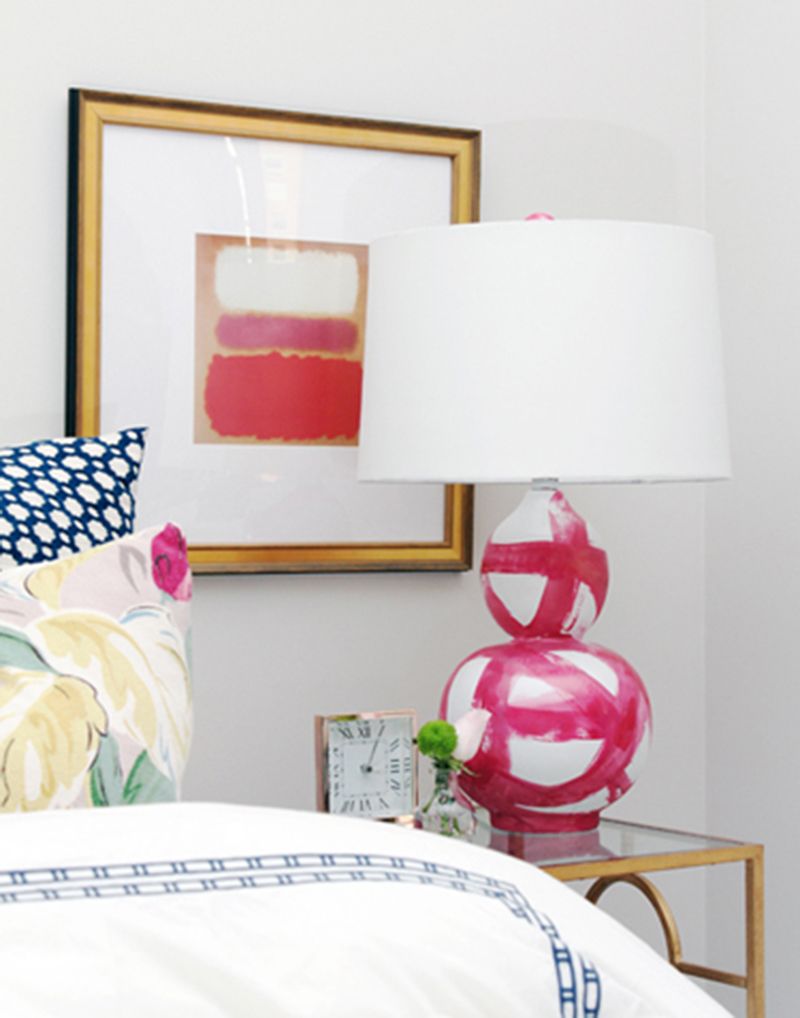 Bek Design photo by Erik Melvin
Q) Once you've selected the style and bedding, how do you put it all together?
A)  If you've taken time making sure your pillow assortment all ties together, you should be good to go! If you want a little more color or contrast, add on a throw or quilt at the end of your bed that coordinates with your pillow assortment.
Q) What is the proper way to make a bed?
I always direct my clients to this video because it best matches my aesthetic & is so thorough.
Q)  How many pillows, which sizes and styles, etc go with each size of bed?  (i.e. twin, full/queen, king)
A)  King – 3 22"x22" pillows at the headboard, followed by 2 20"x20" pillows in the middle, then 1 14"x20" or other lumbar size pillow in the front.
If you have a very high headboard, I would go with 3 – 24"x24", followed by 2 – 22"x22" then a 16"x30" pillow in the front.
I do love going with oversized bolster's on king bed's (14"x40") if my client's budget allows (as they have to be custom made).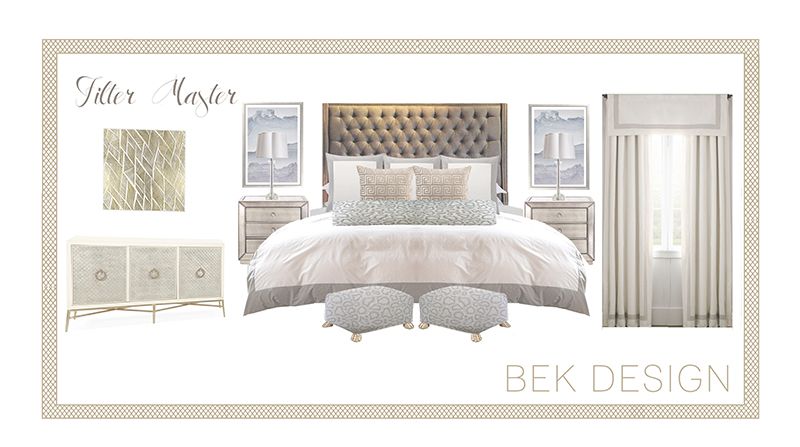 Queen – 2 – 22" in back, 2 – 20", in the middle, other lumbar size pillow in the front.
Twin: With twin beds, I style differently depending on the style of the space. If it's a kid's room I'll usually go with 1 – 20"x20" pillow then a fun shaped small accent pillow in front. For a sophisticated guest room, I'll stack the twin pillows atop each other then put a fabulous bolster pillow in front.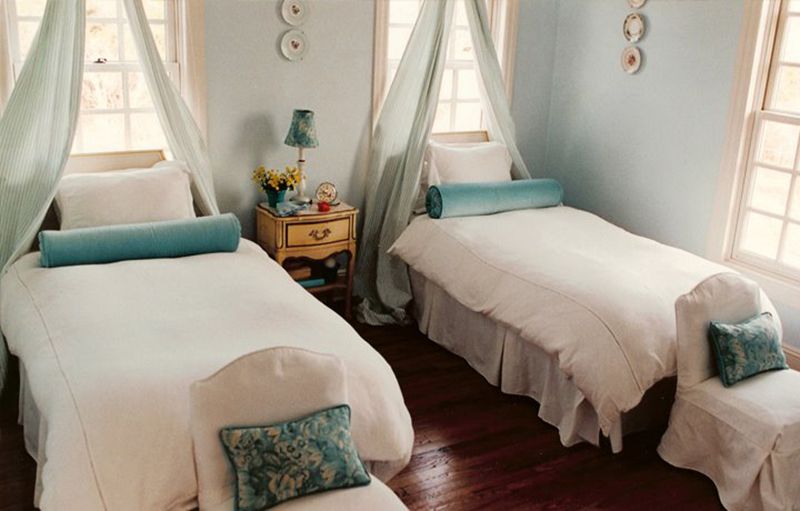 Q)  Are there any rules/guidelines you suggest?
A)  If you want your pillows to look very full, go a size up in the insert size (so if you have a 20"x20" pillow cover, go with a 22"x22" insert).
Etsy is a fabulous source for pillows. Once you find a pillow you like, search for it to make sure you are getting the best price. Also, most Etsy vendors will send you a swatch to review the print/color before you order. I highly recommend doing this.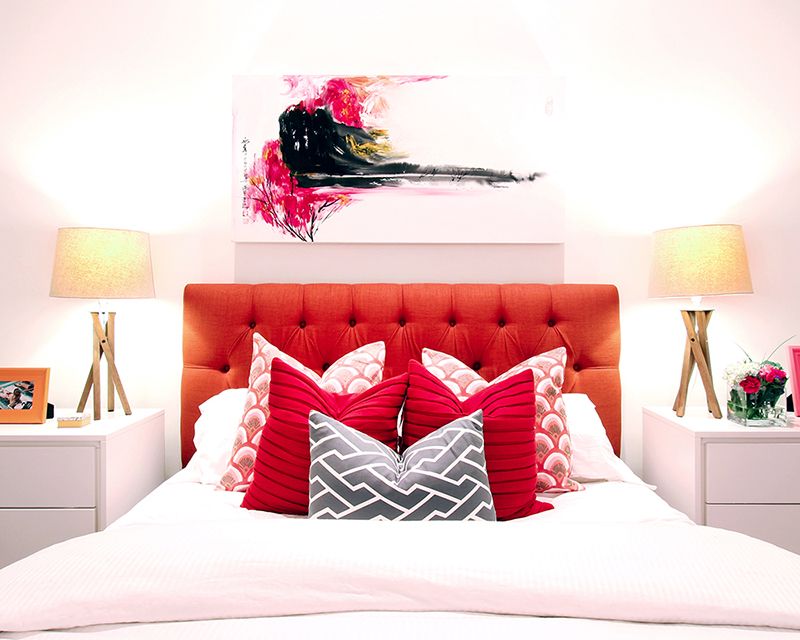 Bek Design photo by Erik Melvin
Thank you, Jana!  And she's a girl after my own headboard-makin' heart– she made the orange and teal headboards!  Go, girl.
Wonderful tips and guidelines to follow.  Now, off to make my bed:)