A trusted confidant, a cherished friend, a brutally honest critic, a constant cheerleader, an annoying shadow, an endless supporter, a clothing thief, a lifeline.
A sister.
There are few relationships as precious or as complicated as those between sisters. You can share an inside joke, argue, and laugh till you cry all in the same conversation.
If you have one, you know.
And if you're a Skalla, you know times four.
I know what you're thinking– they're Cullens, right? They're gorgeous. And they're just as pretty inside as out. I'm thrilled to introduce you to these talented, down to earth siblings who say they'd rather spend time together than with anyone else. I asked each of them the same questions, and they agreed not to share their answers with each other until I wrote their story. Their responses reflect one mutual feeling: not only are they sisters, they're best friends.
Meet Emily, 24, Rachel, 22, Megan, 17, and Amy 15.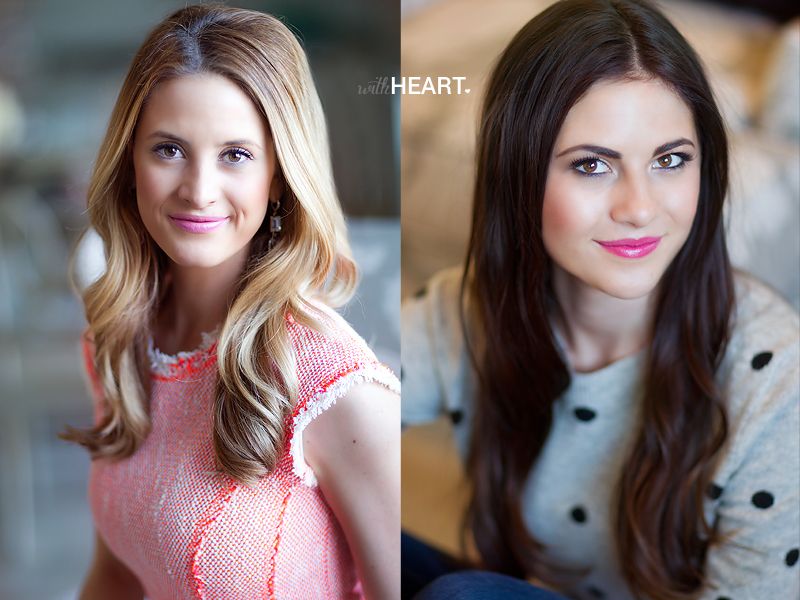 Emily (Jackson) is a successful lifestyle/fashion blogger behind Ivory Lane, a mother to one beautiful toddler, a wife, and accomplished runner. Rachel (Parcell) of Pink Peonies is an established fashion blogger, jewelry/clothing designer and stylist, and wife. Megan is well on her way to becoming a professional dancer, and although she is still in high school, she's been featured on the cover of Dance Spirit Magazine and is making a name for herself in the dance industry as a rising star. Amy is a talented volleyball player and is getting ready to start her sophomore year of high school.
Here are their candid responses to my questions.
1) What is the best part about have four sisters in your family?
Emily: We are all best friends. That may sound cliché but it's so true. We would so much rather be with each other than friends. We all see each other everyday! There are multiple lunch dates every week.
Rachel: Instant best friends.
Megan: We always share everything–clothes, makeup, and on occasion….a toothbrush. Gross i know! But i love how close we are.
Amy: They are my best friends and would do anything for me.
2) What is the worst part?
Emily: There is nothing bad about having all sisters. It's like having 3 best friends all the time, no matter what.
Rachel: Best friends who steal my clothes.
Megan: We are super close to each other so of course we fight. But it's never serious, and it's only because we are so close.
Amy: We are sisters and sometimes we fight.
3) What are your nicknames for each of your sisters?
Emily: Rachel- Rach, Rachins, Rachey, Racirace, Megan- Meggy, Meggidigidog, Megs, Amy- Ambug, Monstey.
Rachel: Recently, I tell my sisters they're amazefestmaui (inside joke). Emily is Em, Amy is Amy bug, Megan is mega.
Megan: Emily: m&m or em, Emi. Rachel: Race, racy-rach. Amy: aim tots and amy-bug.
Amy: Em, M&M, Rach, Rick, Megs, Meg Dog.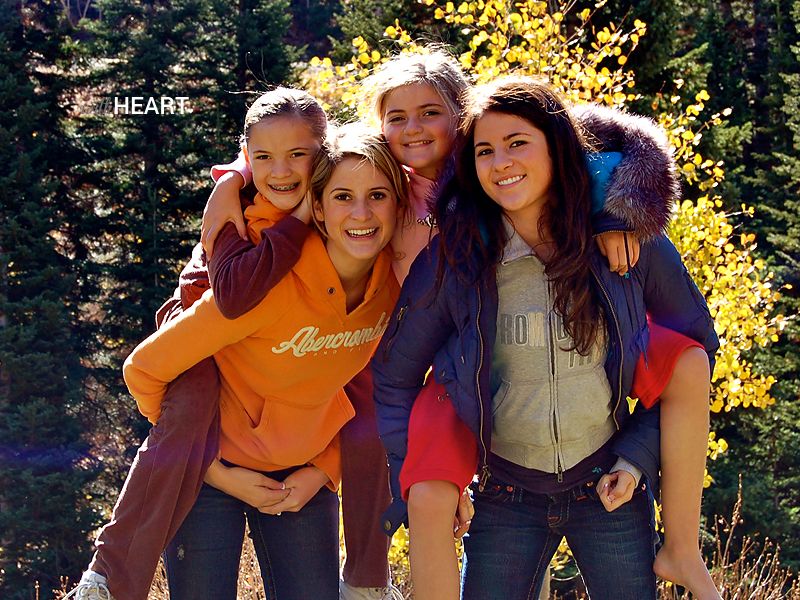 4) Qualities you most love about Emily?
Rachel: She's the most loyal best friend/sister. She is so supportive of everyone. If something funny happens to us, she loves to over-exaggerate for dramatic effect (in a good way, it's hilarious).
Megan: Emily is one of a kind! Although she can be VERY bossy, she has all of our best interests at heart and she is the most amazing role model to me. She is such a nice person and we get along until I start to boss her around! I love Em!
Amy: She is super protective and nice. She is a super good opera singer! Ha ha, it's hysterical!
5) Qualities you most love about Rachel?
Emily: Rachel is the most compassionate person I have ever met. If someone is having a bad day or is going through a hard time, Rachel will sit there and cry with them. A quality that is funny about Rachel is that she still sleeps with her torn up, ragged baby blanket. It sleeps right in between she and (her husband) Drew!:)
Megan: Rachel is the biggest fashionista in the world and always has been. She picks all of my outfits out and I love it! She is also a great role model and is such a sweet person and I love her so much.
Amy: I love having Rachel as my personal stylist. She tries on occasion to be really tough, but she is tiny so when she gets mad, we just laugh at her.
6) Qualities you most love about Megan?
Emily: Megan is the hardest working person I have ever seen. She goes after what she wants and will work hours and hours to get it. Something funny about Megan is that she works so hard that she falls asleep everywhere. We will be in a room full of people and she will fall asleep. One time we were in the Nordstrom shoe department and I looked over at Meg and she was asleep!
Rachel: She is the sweetest of the sisters but also the most sassy! She leaves things everywhere! Forgets a piece to her dance costume almost every competition and is notorious for borrowing a top, wearing it once and it never being seen again.. I've now started a check in and out system with that girl!
Amy: She is an amazing dancer and she is nice, funny and lets me hang out with her friends. We are all hoping that she gets her driver's license before she graduates. She is too busy dancing to fit all her (practice) drives in.
7) Qualities you most love about Amy?
Emily: A quality I love about Amy is that she is the sweetest with my daughter Capri. She will do anything and everything for her. Amy also has a baby blanket. It's name is Chi Chi. Capri has fallen in love with Chi Chi and she takes it from Amy. Amy just goes with it and lets Capri take it home whenever she wants.
Rachel: She is so selfless, if we ever need help she's the first one to help us! She's probably the most mature one of us girls! She could run her own country!
Megan: Amy is the feisty one, but its why I love her. She's the baby and has to defend herself somehow! We are best friends and partners in crime. We love going to our sisters' houses and being able to sneak out with a cute pair of shoes, jeans or a lip gloss. Usually when we leave one of their houses the conversation is "did you take anything?" "No." "Are you lying?!" "Ugh, ok fine. But can I borrow it if I promise to bring it back tomorrow?" Rachel actually has a whole check out system set up. It works great! Her closet is awesome!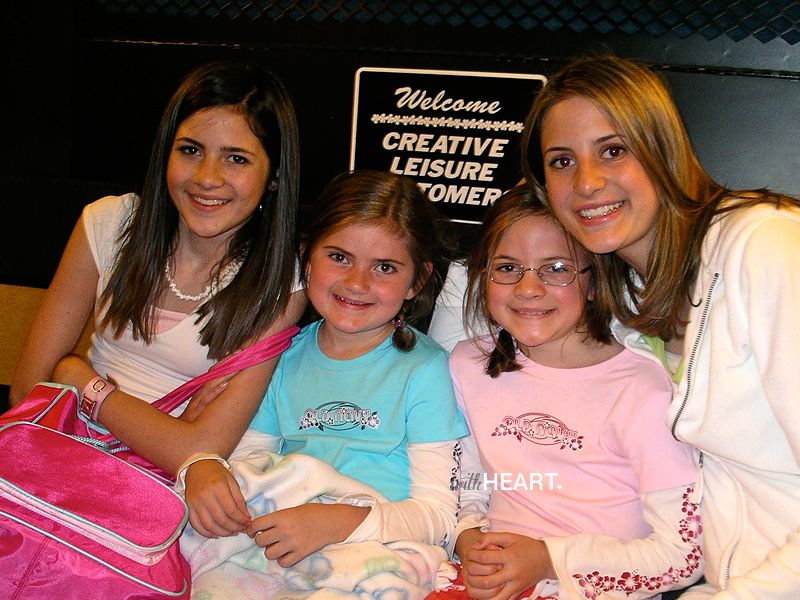 8) Is there any drama with all girls?;)
Emily: There is drama but it's in a funny way. We fight the most about clothes. "Who stole my makeup bag?!" "You totally ruined my cashmere sweater!" "Get out of my closet!" Those phrases usually end with an "Ok want to go to lunch now?"
Rachel: Is that even a question? YES! But that's what happens when you have 4 best friends who are so close. There is never a dull moment, believe me! (my poor dad).
Megan: Drama is a given with girls! We have drama, but it's usually about clothes or makeup. We like to borrow things without asking.
Amy: With 4 of us, there is always drama but that's what is so fun about it. It's all good natured.
9) Have you ever wished you had a brother?
Emily: Growing up I always wanted a big brother and now I have one! Rachel's husband, Drew. We are really good friends. He makes fun of me and teases me, but will help with anything, anytime I need it, just like a brother.
Rachel: Yes and no. Not sure how a boy would have fit in with all us girls.
Megan: Yes, all of the time. I would love to have a brother but an older one so I could date his cute friends– ha ha! But I also think it would be cool to have that experience of having the "protective older brother." I think it would be fun.
Amy: Yes, in between Rachel and Megan. But I have the 2 best brothers-in-law in the world!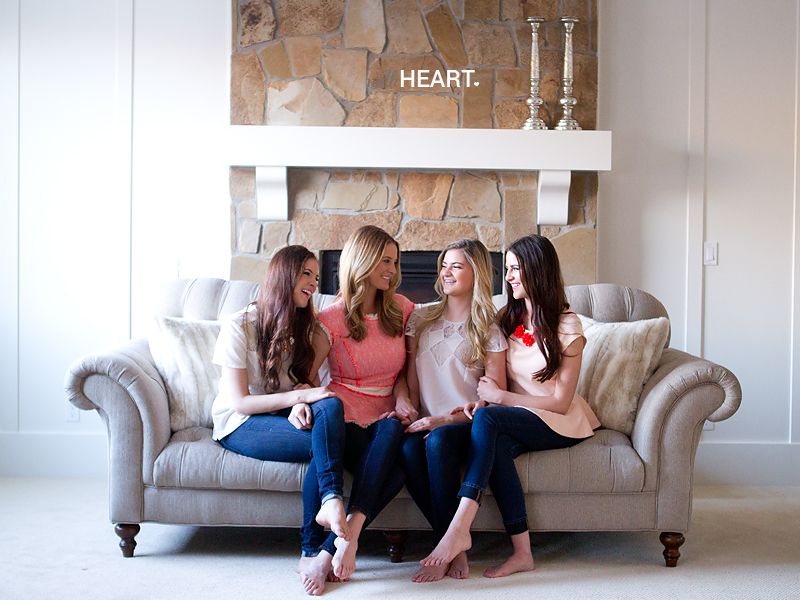 10) Who is the most responsible?
Emily: Megan
Rachel: Depends on what it is. Most timely-Megan. Most dependable-Amy.
Megan: We are all responsible in our own way. Rachel is responsible with her things and she never loses anything. Me, on the other hand, I lose everything. Emily is the "mom" of the sisters. She is bossy and wants us to have the best lives we possibly can.
Amy: Em–she's an amazing mom.
11) Who is the smartest?
Emily: We are all smart, but in different ways. Rachel and I can figure out anything you throw at us. We are the "get it done" type of smart. Megan and Amy are book smart.
Rachel: Megan
Megan: Amy is very witty. She has quick comebacks, is a little bit, well, a lot sassy. Emily and Rachel are super smart and know just about everything.
Amy: Me!!No, just kidding. Rach and Em are wiser and can figure anything out. Megan is super good in school, and I am pretty smart too.
12) Who is the most talented?
Emily: That's hard! I seriously think my sisters are the most talented people in the world. Rachel is so creatively talented. Megan is an amazing dancer and has been nationally recognized. Amy is really good at Volleyball.
Rachel: We all have different talents, that are unique and special.
Megan: All of my sisters are very talented, but in very different ways. Rachel is so amazing at fashion and picking outfits out. She is also really good at public speaking. Amy is amazing at volleyball. Her team won the West Coast Championships last year! Emily has the talent of being persuasive. She always somehow manages gets her way no matter what. She is also amazing at fashion just like Rach, but they have different styles.
Amy: We are all talented in our own ways. Yup, all of us.
13) Who is the shyest? Who is the most outgoing?
Emily: I think I am the most outgoing. Amy is the shyest.
Rachel: We're all pretty shy but once you get us out of our shell, it's a whole different story. I'm probably the most shy though. Emily is the most outgoing.
Megan: We are all shy at first but once you get to know us a little better, we are our outgoing, crazy selves. I'd say Amy is the shyest in the beginning.
Amy: Shyest– probably me.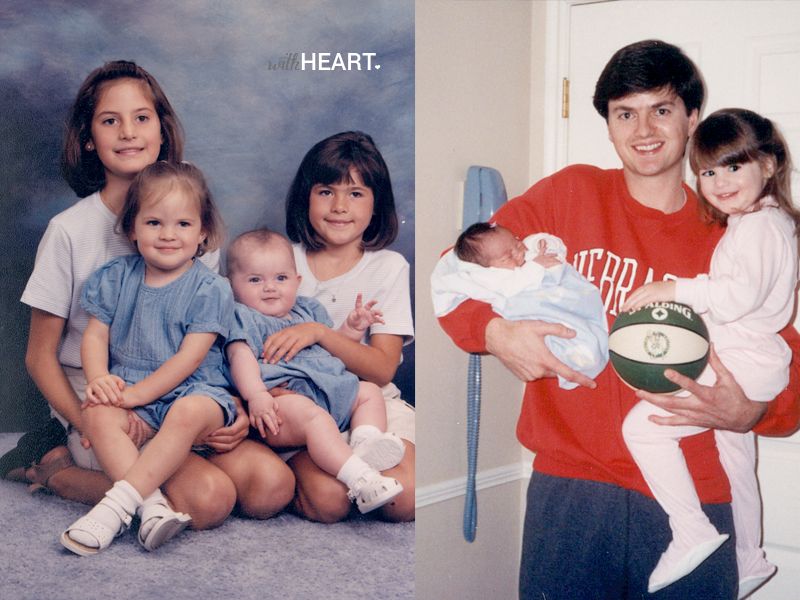 14) Who is the healthiest? The least healthy?
Emily: Rachel. She recently started making green drinks. None of us have ever been health nuts! We love to eat out!
Rachel: Healthiest- Emily. Unhealthiest-Amy or Mega.
Megan: Emily is the healthiest. She is a workout-aholic!
Amy: Em and Meg are probably the healthiest. They workout non stop. But we all love to workout and run together. We like to run family 5k's together.
15) Anyone have any hidden talents? If so, what are they?
Emily: Rachel is actually a really good singer, she can belt Celine Dion!
Rachel: Amy can teach herself to do just about anything! Lucky!
Megan: Our whole family LOVES to sing in the car, at the mall, everywhere. But the only one who can actually sing besides my mom is Rachel. Amy is really good at playing the piano. She gets on Youtube piano tutorials and sits at the piano and will not leave till she can play the song perfectly! Emily is pretty much good at everything. Her hidden talent? She can always figure anything out. She is super persistant! She never EVER gives up!
Amy: Em. can sing opera really loud and high. Rach has an amazing voice, Megan can contort her body in all kinds of crazy ways she's super flexible.
16) How did your parents keep you all grounded?
Emily: By teaching us to have confidence but to always be humble. And they provided opportunities for us to work hard at the things we love.
Rachel: My Dad (and mom too) is the most grounded man in the world. He rubbed off on us. We all adore him and want to be just like him.
Megan: I think along with my parents, we keep each other grounded too. We all want each other to think highly of us, and we don't want to disappoint one another. I would be super sad if I some how disappointed my sisters. I think its because my parents aren't overly strict. We have had the chance to decide for ourselves if were going to do something or not with out the urge to rebel. My parents are amazing and i love them!
Amy: They are awesome! They have always given us responsibilities, since we were little. They expect us to work hard, be kind, humble, and treat people with respect.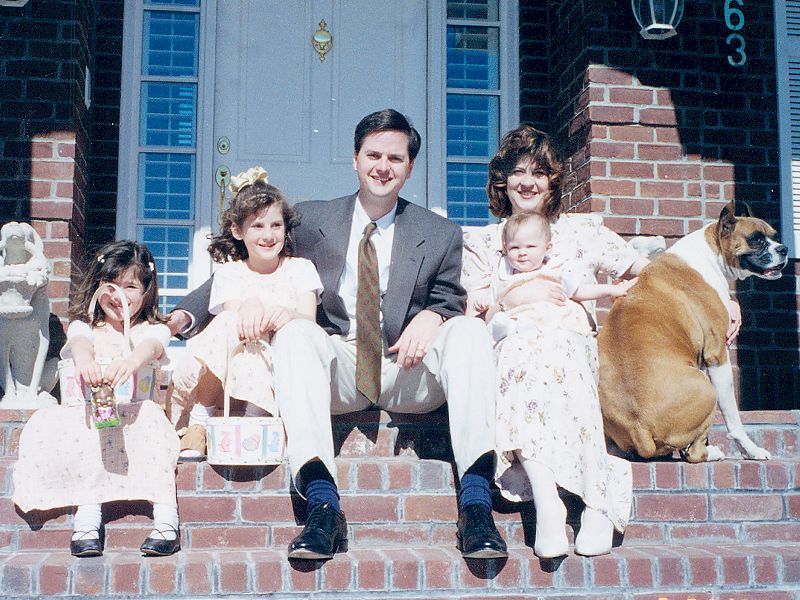 17) What do you hope your sisters always know?
Emily: I hope they always know that I love them and will always be there for them. They are the best sisters in the world!
Rachel: I love them and don't know what I would do without them. They are my best friends!
Megan: I hope my sisters always know that they are the best friends anyone could ever ask for. They are amazingly talented and beautiful, gorgeous girls inside and out. I love them soooooo much!
Amy: How much I love them. I don't know what I would do without them!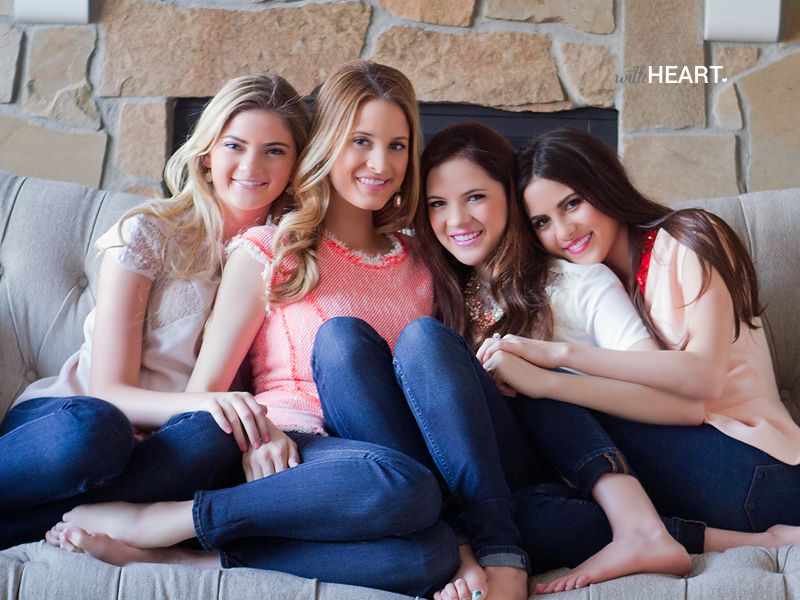 Current photos by Veronica Reeve | Old family photos c\o Skalla family
Don't you just love them? Some of those responses– I die!
***SUBMISSIONS NOW CLOSED.  WATCH FOR SISTER POSTS THROUGHOUT MARCH***
And in the meantime, watch for some amazing sister stories coming up– I can't wait to share them with you (including my own sister story).
I feel so blessed to have my sister in my life. Can't wait to hear about yours!

SISTER ACT QUESTIONS:
1) Name, age, occupation (if applicable), location, interests, hobbies, etc. for you and your sister(s). Tell me a little about you!
2) What is the best part about having a sister?
3) What is the worst part?
4) Qualities you most love about your sister(s)?
5) Is there ever any sister drama?
6) Tell me a cherished memory of your sister(s).
7) Hilarious quality about them.
8) A personal message for your sister (s).