I apologize for my absence from Friday until today.  Over the weekend, I ran the St. George Marathon– my third full 26.2 mile race.  Wowza, what an experience and accomplishment for me.  After each race I run, I love to write down my experiences and thoughts.  Here is my 2013 St. George Marathon Race Report.
I had been praying for cool weather in the days leading up to the race.  I don't do well in heat, and St. George can go either way this time of year.  The weather Gods were on my side– the predicted temperature was perfect running weather.
The night before, I laid out my gear.  Everything ready to go.  My best friend and running partner, Kristi, her sister-in-law, Alise, and Alise's sister, Hailey, and I all woke up at 4:30 am to get dressed, eat, and catch a bus to the starting line.  Wheat toast with peanut butter and bananas is my race day meal of choice.  We were warned to dress warm and in layers for the starting line.
We hopped on the bus filled with excitement.  There is something ominous about driving the course you're about to spend several hours running.  There is only one way down and I know from the last two marathons I have completed, so many things can happen during a race.  It's a really, really long way.
It was windy and quite chilly up the canyon at the start.  We huddled together, shivering in the wind, said a quick prayer and then… the loud honk of the buzzer, and we were off!
Alise and Hailey are of the super fast variety so they ran on ahead.  Kristi and I are the same pace.  Since we met while students at BYU, it has been on our bucket list to run a marathon together.  Each time we trained, something would go horribly wrong but this was our race– we had made it to the starting line, and there was no turning back.
We decided to dedicate each mile to someone we loved, admired, or cared about.  The thoughts of that person helped carry us through, and at times, I felt as though the person I was running for was running right beside me, helping to push me at the times I wanted to give up the most.
We started off easy.  Our strategy was to take the first 14 at a slower pace, then once we hit mile 20, let it all go and speed up.  We both felt great.
Mile one went to my Jon.  My biggest cheerleader, supporter, and mister mom while I was running.  I am so grateful for his support.  It was dark during the first mile, and the wind was cold.  I was still wearing my hoodie and gloves.
Sweet Ruby had the next mile.  She is such a special girl.  As I trotted into the darkness, surrounded by thousands of other runners each working toward a major life goal, I prayed that she too would know she can accomplish anything she sets her mind to.
By mile 3, the sun was starting to rise.  The sky was turning purple and orange, and my thoughts went to my Aunt Vickey.  She is a constant champion of mine, and everyone else she meets.
Mile 4 was all about my dad.  An angel on earth, that man.  I pictured him cheering me on from the side of the road as I forged ahead.
My cute nephew, Bode, had mile 5.  His brother, Noah, was mile 6.  And it was during mile 6 that my knee pain started to kick in.
Two weeks ago during my 20 mile training run, I damaged a bursa.  I did everything I could to get it in shape for the race, and it was feeling pretty good.  But I knew that the pain would likely nag throughout the race.  I said a prayer again that the pain would numb and I would settle in.  And at mile 7, my thoughts went to my dear friend, Anna.  She is so strong and brave and has sure overcome a lot.  I channelled her bravery as I faced the monster that is Veyo– a massive hill that just kept going and going and going.  But climb it we did.  I was still climbing it when I hit mile 8, and that's when I turned my thoughts to sweet Paxton Norton.  Paxton's father, Dave, was also running the race.
Mile 9, I thinking of the blind runner I had interviewed several years earlier.  Yep, blind.  What an inspiration he was to me.
My friend, Mary, was in my thoughts during mile 10.  Loyal, brave, strong, and as sweet as they come.
11 and 12 went to my life-long friends, Deborah and Sara.  Love you special ladies!
13 was for Diana of Livy Love Designs– girl, you inspire me so!  You're next for a big 26.2!
I got a bit emotional while running miles 14 as I thought of my friend, Dov, who is battling stage 4 colon cancer and yet continues to run and complete not only marathons, but triathlons as well.  He is tough as nails, that guy.
Mile 15 was for my friend, Jason Reynolds. He has more health challenges than anyone I've ever met, yet takes life on with a smile and love for everyone he meets.
16  and 17 were for each and every person who cheered me on.  Kristi's family, the strangers who clapped and high fived, and waved and smiled.  Thank you thank you thank you.
18.  This was a tough one.  It was a long up hill, and it was during this mile when Kristi and I separated.  My knee just couldn't keep up with her.  Kristi mile 18 was for you.  I'm so happy we were able to accomplish this goal together– you owned it!
19-26.2 were for me.  It was at this point during the race that the steep downhill began.  Normally, I would have loved the downhill– it's usually my favorite part.  But my knee hated the downhill.  With each step, it felt as though a knife was jabbing into my joint.
There is a point in each marathon I have run when I wanted to be done.  I just wanted to be done.  I had to dig deep– deep down– to find the strength and endurance to keep going.  To push through the pain.  To complete what I set out to do.
At mile 21, Kristi's family and Jon and Ruby greeted me with high-fives and hugs.  And then I said goodbye and kept on going.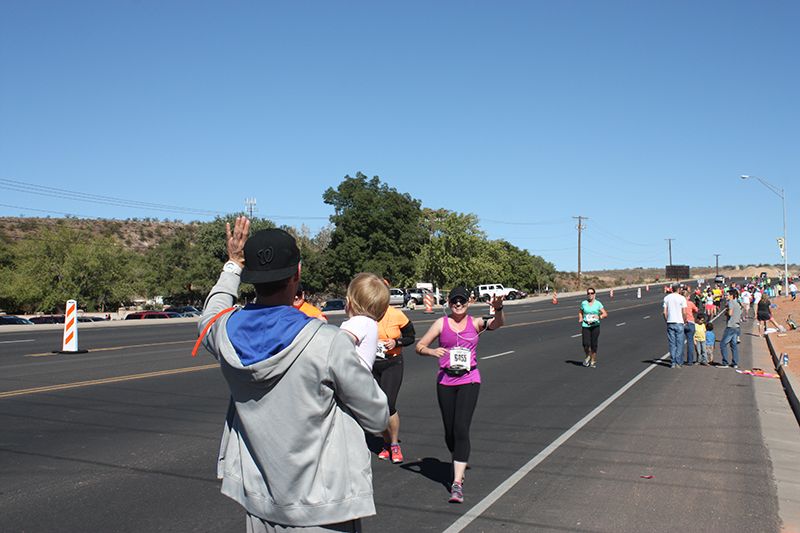 When I hit mile 25, I could see the finish line in the distance.  I wanted to quicken my pace so badly, but my knee was just done.  Like so done.  Just as I stopped to walk/limp, a man off to my looked right at me and said "you're so close.  You've got this.  Finish it.  Finish it strong."  I teared up, nodded, and took off.  I ran the rest of the way and finished much slower than I would have liked, but I finished.  And I have the medal to prove it.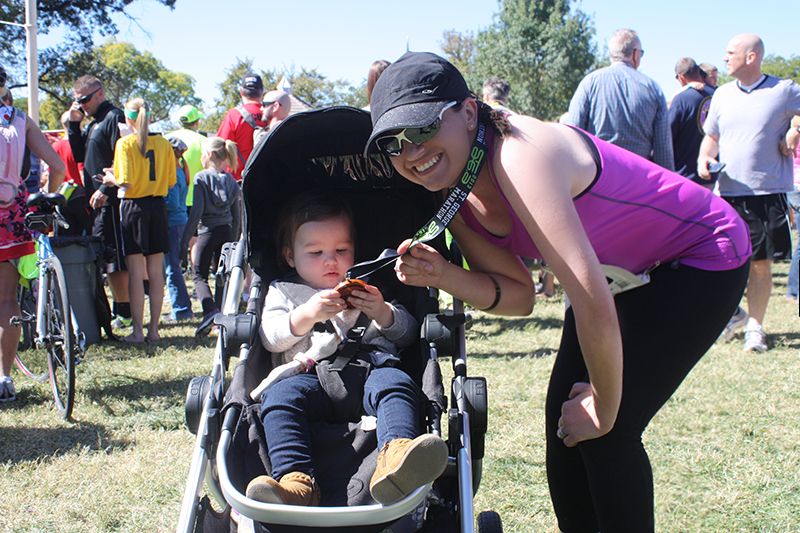 It was hard.  But I knew it would be.  I run because I am grateful for a body that can do something this difficult.  I run because I discover something about myself with every mile.  I run because it's hard.  But I can do hard things.
Today I am sore in places I forgot I had muscles and I'm swearing off even the smallest thought of another marathon.  Never again!…. until I do it again:)
Boy, running 26 miles doesn't really create the best look for a photo op, does it?;)  I think I can smell myself through the screen.  But, if you want to see more from my race, you can visit my Instagram.
Back in full force tomorrow!
xx,