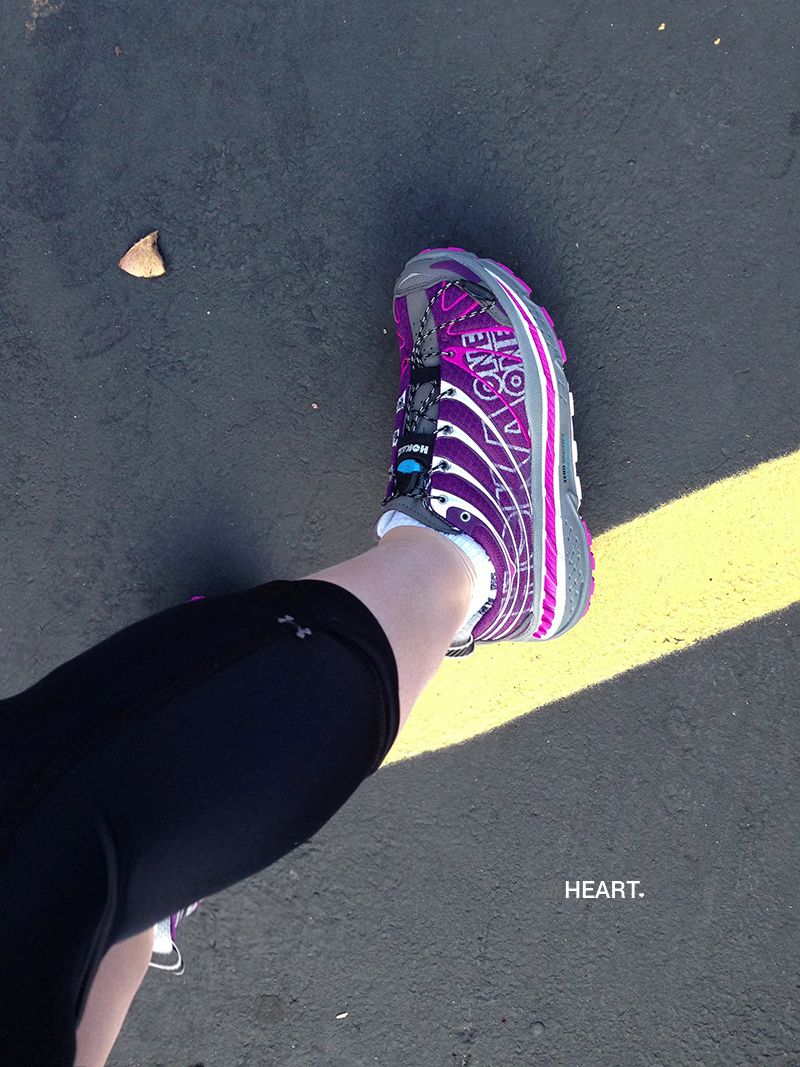 I posted last week on Instagram about my new running shoes and I had a few requests for a review, so here you go!  A full breakdown of this funky looking running shoe.
That's really the best way to describe it.  They are fun-ky looking.  By far the strangest looking running shoe I've ever purchased.  But here is why I bought them, and my thoughts after running in them for a little over a week (including a 16 miler).
First, a little background:  I have been plagued with injuries and problems with my feet for many a year.  I danced professionally in my younger years and while I had the usual issues dancer's have with their feet, nothing too serious.  That is until I started running distance races several years later.  Then the real problems began.  While training for my first marathon, I suffered plantar fasciitis so severe, I couldn't even flex my feet.  I tried everything to heal it– special socks, braces, cortisone injections, and physical therapy helped me get to the finish line.  By the time marathon number two rolled around, I had developed arthritis in the joints of my big toes.  My calves have historically been a source of much pain and suffering, and just for fun, toss an old hairline fracture in my SI joint from my dance days, herniated back disks during pregnancy followed by hip pain and there you have it.  A cocktail for misery while running.
Nutshell:  shoes can't solve every problem, but if you don't wear the right ones, they can certainly make things worse.  After reading Born to Run a couple years ago, I started to adopt the minimalist shoe philosophy.  After all, I didn't wear much more than a few pieces of leather on my feet at most when I was dancing, and I seemed to be just fine.  Why did I need all that extra padding and clunkiness on my feet now?  I started wearing Nike Free Run and have been pretty happy with them.  But as I started getting up into the big distances with my current marathon training, that old familiar plantar fasciitis started to creep back in.  It made me so mad!
I've been going to a phenomenal chiropractor named Greg Freebairn (side note: traditionally I have not liked chiropractors, nor had good experiences, but he works with elite athletes and I have seen such a huge difference in my pain).  During a visit, he told me about some ultra marathoners he treats and how they had some issues nothing seemed to fix, until they started running in a shoe called Hoka One One.  All of their issues quickly completely went away.  "Seriously?  Gone?"  I thought.  I was skeptical, but was due for a new pair of running shoes so I thought what the heck?  I would give them a try.
I looked on the company's website and they make some pretty big claims about the shoes.  They are wider than a traditional running shoe and the website says that's the key to the design.  They call it an oversized running shoe.  The idea is that rather than pounding into the pavement, you feel as though you're floating over it.  They say the extra padding dissipates 80 percent of the shock associated with heel striking.
They are kind of difficult to find, and the stores that do carry them can't keep many in stock.   I thought that was a good sign.  The saleswoman who sold me mine told me that customers become "Hoka people" and won't wear any other shoe.  I was concerned they would be clumsy or clunky, as they are so thick, but as soon as I slipped a pair on to try them out, I was impressed.
Don't expect to get a bargain price on these babies.  I paid $181 with tax for mine.  They run from $160-$170 a pair.  Ouch.  But the price didn't hurt as much as my feet, so I gave it a go.
They are really light.  Yes, they are thick, but they feel like you are running on a cloud.  My first run in them was 6 miles on a treadmill.  They felt amazing.  I didn't feel my plantar even once during the run.  I knew the real tests would be A) on the road, and B) more than 13 miles.  On Saturday, I ran 16 and around mile 8, my plantar pain kicked in, but it wasn't as bad as it has been in the past.  I thought well, they aren't going to fix my feet, but then around mile 13 the most interesting thing happened– my plantar pain started to lessen.  By mile 15 it was almost completely gone.
I have one more long run before I start tapering for my race, but I'm feeling pretty good about the Hoka purchase.  My best friend and running partner picked up a pair as well, and she is loving them as much as I am.
And there you go- my review of Hoka One One running shoes.  I may be a convert.
(Psssst– a few more days to enter Veronica's photo session giveaway!  It's a goodie)