Have you been dying to see gorgeous interior designer Lauren Oviatt's home after her MOM CHIC feature?  Me too.  And I can tell you, it does not disappoint.  It's like she's paid to do this for a living or something.   Pfffff.
Today, we're taking you inside her sweet daughter's room.  The perfect shade of pink paint, the handmade ribbon topiaries, and a painting by Lauren herself create an airy, whimsical room any little girl would love.  The details are not only spot on, they are sentimental.  I'm a sucker for sentimental.  I'm on board for creating a room that has special meaning, with items both new and old.  Remember my daughter's room tour?  It's like we're sentimental soul sisters or something.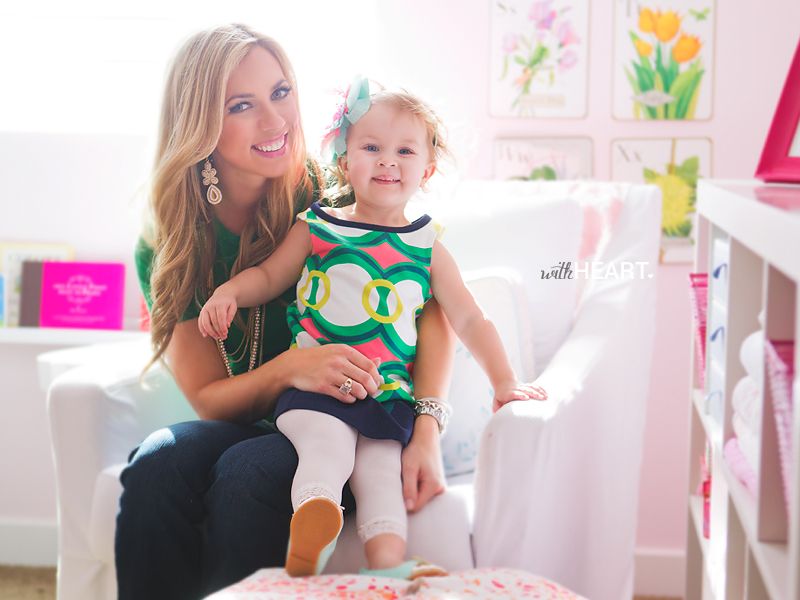 1)  Blair's room is so sweet– where did you find the inspiration?
Designing nurseries has always been a love of mine… and the chance to design my own for my first?  Inspiration never ceased!  This was before Pinterest so you can imagine the hours I spent searching, saving and bookmarking my favorite things.  I had a piece of silk buffalo check fabric that I had been hoarding for years… I knew I had to use it somewhere. There is something Southern about it which so appealed to me.  I designed a nursery for a Parade of Homes house many years prior and had found these beautiful illustrated alphabet cards at Babinski. The color palette was a perfect match to the silk check fabric.  By the way, I should mention that there is nothing wrong with collecting your favorite baby things before you're ever pregnant!  Creating a nursery, especially your first one, should be a very sentimental, special thing.  Designing with pieces that mean something to you makes the room magical even before you bring baby home.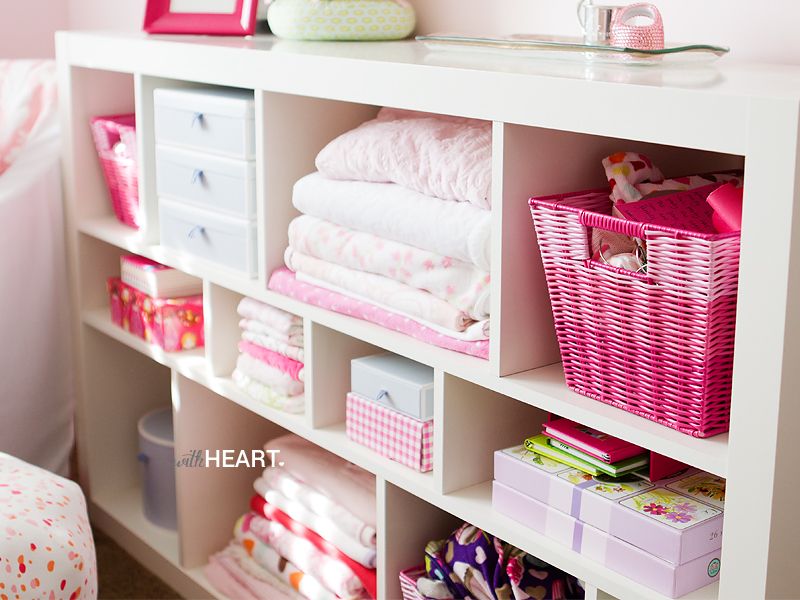 2)  Did you always have a clear vision of what you wanted, or did it evolve?
The room was certainly an evolution. I dreamt of a nursery that was a sweet, subtle palette of pastels… but then I realized that I LOVE bright, happy colors. When else do you have the right to go wall to wall with pink?!  I had a room layout and inserted pieces I knew I wanted, like a crib and rocker. Blair's room isn't large, so I decided to forgo the changing table and go with a wall unit.  It can stay with her as her room evolves and has been incredibly useful choice.  The rocker we used every day for two years and I couldn't have lived without it.  We had many dear, quiet moments in that corner of her room.  I think a comfortable nursery chair is a must.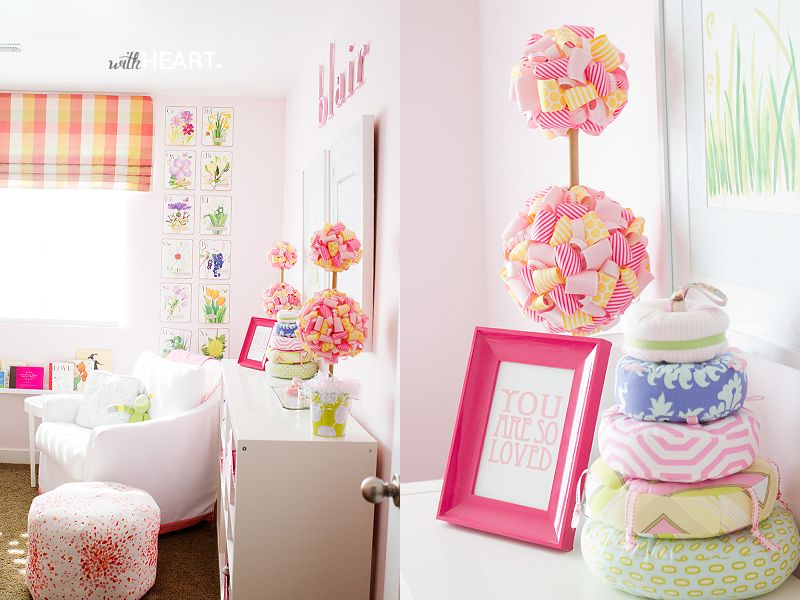 3)  Finding that perfect shade of pink can be tricky and you succeeded– what was the process for the color scheme?
Many people think that nursery walls should be beige with pops of color in other places but I think it's such a missed opportunity!  Like I said, a kid's room or nursery gives you the chance to do fun, out of the box things that you'd never do otherwise.  Paint the walls and you'll notice that the stage is set for your color palette. It's just paint, after all.  When it comes to paint colors, I never use the first half (bright half) of the paint deck for reference. Even though those colors seem fun and saturated… they will come off electric and much too bold.  The 'grayed out' half of the deck has the usable colors and trust me, the colors will still read through.  Pick a few swatches, place them against your other chosen colors to see how they work together, and then before you start, test the paint! On posters or on the wall itself, testing is worth the time and will save you from choosing the wrong shade.  Look at those swatches in the morning light, afternoon sun and under lamp light before you make final decisions.
My favorite part is the idea that the room inspires her.  The soft pink is a great background for the brighter colored art and accessories I've brought in and those colors have added an energy that curious, busy toddlers like Blair can relate to!  She learned her alphabet at a young age, and I can't help but imagine her studying the alphabet cards on the wall from her crib.  Now she has a spot to read with a pint-sized library at her fingertips, a table to have tea parties and create works of art, and little cubbies to store her treasures.  It is a perfect space for her to explore, create and imagine.
The artwork I hung above the shelf unit is very sentimental to me.  The butterfly piece was something I painted when I was young and kept rolled up for years not knowing if I'd ever use it but I just couldn't part with it.  Once the room started to take shape I found and unrolled it and voila! – the colors were an inspired match to the crib bedding and wall art.  The piece next to it pictures the lyrics to a song called  "Goodnight my Angel."  The song is on a cd called Baby Mine which was given to me by a dear friend during my pregnancy.  I have sung the song to Blair since she was born and I still well up every time I hear or sing it.  The lyrics are so poetic to me.  I enlisted the help of a talented friend who designed and formatted the words perfectly.  I had both pieces framed identically so they'd go well together side by side.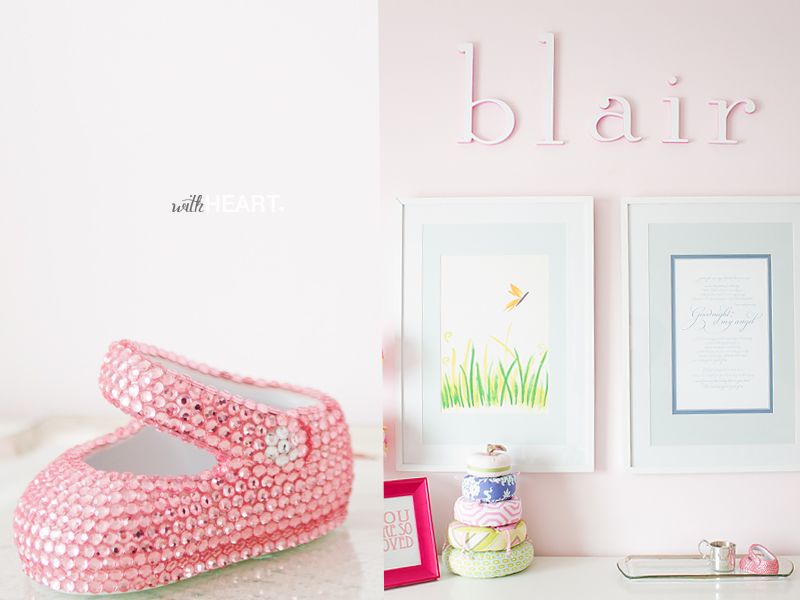 6)  Do you have any advice for putting together a cohesive, beautiful child's room?
If you're anything like me, you'll be overwhelmed by the volume of nursery decor out there! It is enough to make an already frazzled pregnant lady go crazy.  Create a folder for tear sheets, fabric samples, and other things you love.  Create a "Nursery" pinboard on Pinterest too!  After time has passed, try to whittle the images and samples down to those you can't live without.  Pick apart the nursery images you love to figure out what you love about those rooms.  Most of all, don't stress.  The baby is not going to notice that the nursery is unfinished!  It takes time to create meaningful spaces. So give it time.  You'll soon learn how you and baby will use the space and you can finish things off then.  And lastly, don't forget the details!  I think the sweetness of a nursery comes from those special details: a handmade quilt from a loved one draped over the rocker, a sentimental piece of artwork, a pair of miniature ballet slippers set on a shelf (or anything miniature for that matter), a favorite book from your own childhood – these details are what make your new baby's nursery feel like home.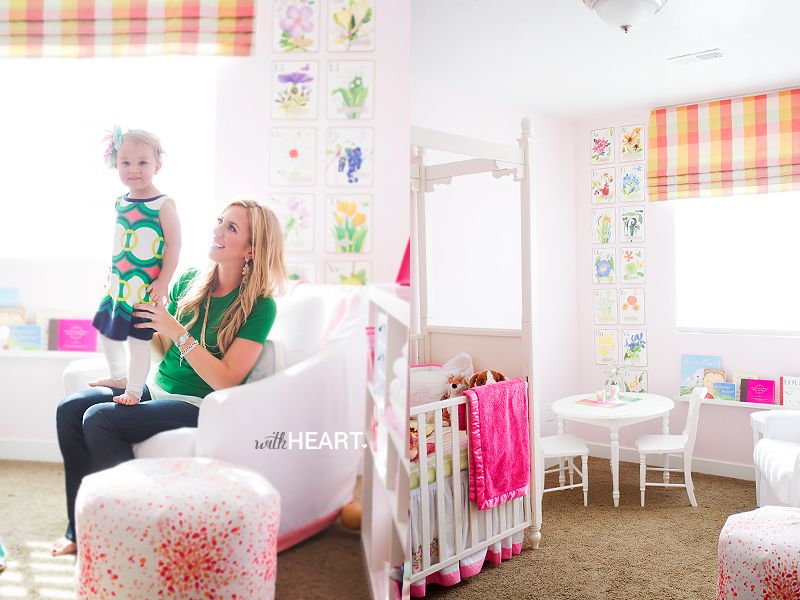 Photos by Veronica Reeve
Details:
Bedding: Serena & Lily
Playtable: Pottery Barn Kids
Presidio Rocker: Serena & Lily 
Alphabet Cards: Melissa Sweet
Silk Buffalo Check Fabric on valance: Robert Allen available through Oviatt Design
Wall Unit: IKEA (similar)
Art: Whitefield Design
Happy Stacker: Heather Bailey Fabrics
Pouf : custom made by Oviatt Design, Schumacher fabric (Lulu DK)
Side table : Oomph available through Oviatt Design
"You are so loved" Print: Etsy