You know it when you see it: that woman who breezes into a room with perfectly paired accessories that seem to pull together her look seamlessly.  And on the flip side, you know when someone has it wrong: something just seems off– too much, or too little, or just the wrong combination can make you look messy, lazy, and unsophisticated.
I reached out to someone who has it all right in the accessory department: fashion blogger Rachel Parcell of Pink Peonies.  Her tips for cohesive accessorizing are practical and yet, she takes the right amount of risk.  She agreed to break it all down for us in the jewelry department.
1)  When a woman pops open her jewelry box, it can be a bit overwhelming.  Different colors, textures, styles, old, new, gold, silver, and the list goes on.  Where do you begin to choose pieces that can go together cohesively? 
I don't really have a set routine when it comes to choosing out my daily jewelry. I experiment a lot, I mix my golds and silvers, my old and my new. I try not to take it to seriously, if you get it wrong, there's always tomorrow to continue to experiment with what pairing makes me look and feel the best.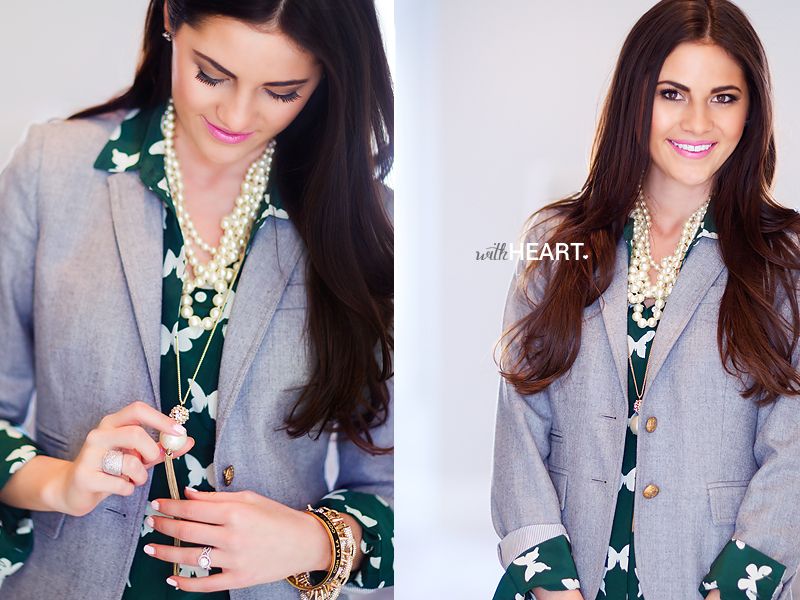 2)  It can be tempting to "go big, or go home" with accessories– you either choose too much, or two little.  What's the key to doing it right? 
Balance is key! If you have a bold statement necklace, go lighter on the bracelets and earrings. If you're wearing a subtle necklace, or no necklace at all, add a statement earring or a stack of bracelets.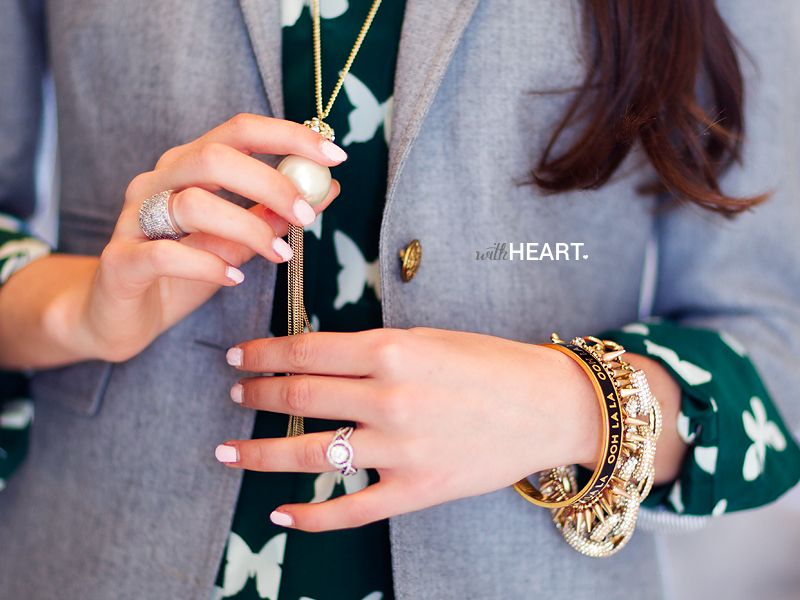 3)  Statement necklaces are big right now– what makes a great statement necklace, and what goes with it?  (and what are some of your favorites currently?)
Statement necklaces are so much fun, they add the perfect pop to any look. Florals are a huge trend for spring and necklaces are no exception to that trend. My favorite necklace of the season is 
this
 gorgeous J.Crew number.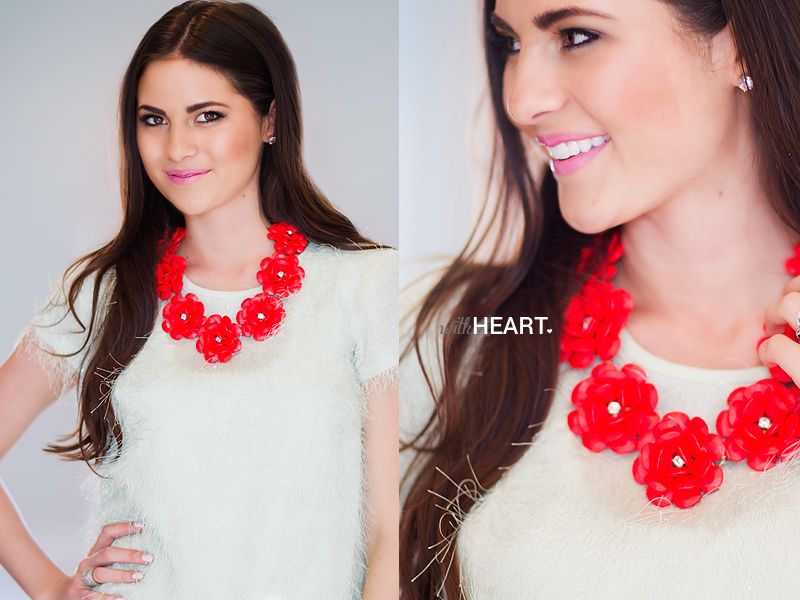 4)  Layering and stacking jewelry can be tricky.  How do you select what goes on your wrist?
I start with a bracelet I want to be my focal point (this can be a watch, or larger bracelet) from there I build around it adding different sizes and colors of bangles.
5)  There is a right way and a wrong way to wear more than one necklace.  Help us, oh wise one! 
Again, balance is key! When layering necklaces, start with your focal point and build from there. My favorite necklace to layer is my
pearl stack necklace
, It sits higher on my neck so I layer it with a longer, delicate necklace.
6)  There are few accessories more functional and necessary than a handbag.  How do you decide which bag goes with your look?
If I'm going out to dinner on the weekends or to an event, I'll select a clutch that coordinates with my look. During the day, I always have an oversized bag. I usually buy neutral colored bags that are versatile.
7)  Where are your favorite places to shop for great accessories?
8)  Which accessories can you not live without?
9)  If a woman is going to invest in a key piece, what should it be?
A great watch, it's a piece you'll wear daily and it's works perfectly with stacking bracelets.
You can see more of Rachel's lovely looks on
Pink Peonies
.  And, I have more posts coming up with Rachel (including an unbelievable home tour, and a sweet interview with her and her three gorgeous sisters!).  Stay tuned to withHEART…

Rachel's looks: