I can't believe it's done!  Our little rental property is now fully renovated, and the new renters moved in this morning.  It feels oh so good to have this project that's been in the back of our minds for several years now completed.  We love the way it turned out!
First, a little history.  Jon and I bought this duplex about 4 years ago when it was just the two of us.  To say it was a fixer-upper is an understatement.  A big one.  We did as much work as we could before we were out of time and had to move in, but it was no where near complete when we loaded up our belongings and moved in.  I remember my dad saying "guys, you bought a money pit!"  At times, it certainly felt that way.
We moved in with one working bathroom (and by working I mean it had a sink, a toilet, and a shower).  No kitchen.  I repeat, no kitchen.  The hardwoods had been redone on the top level, but the basement was unfinished and suuuuuper creepy.  We were just going to have to finish the remodel of our side while we lived there (in our free time after work and on weekends).  It was a bit of a challenge (like huge) and I remember crying the first night we were there.  Now I laugh.  We were tight on money and knew we could make it great– despite the nay sayers!
The duplex is a side by side in the heart of a charming community called Sugarhouse.  Our property is a couple of blocks from Westminster College, so students are a plenty.  When we moved in we inherited renters on one side, and we moved into the other.  Both sides were in baaaaaad shape, but the renters seemed content, and we could only afford to remodel one side at a time.
We completely tore out the kitchen and replaced the whole thing.  Same with the upstairs bathroom.  New paint, new light fixtures, new doors in some spots, and the addition of another bedroom, bathroom, laundry, and a second family room in the basement, and our side was complete.  We bought our house shortly after it was completed, and new renters moved in, but the other side still desperately needed attention.  When our wonderful tenants on that side told us they would be moving out in April, we knew we had to just getter done, even if the timing wasn't perfect.  And we had to hurry.  Prime rental season is in August, when new students are moving to town.  We wanted both sides to be almost the same, but we learned a few things to do differently the first time around.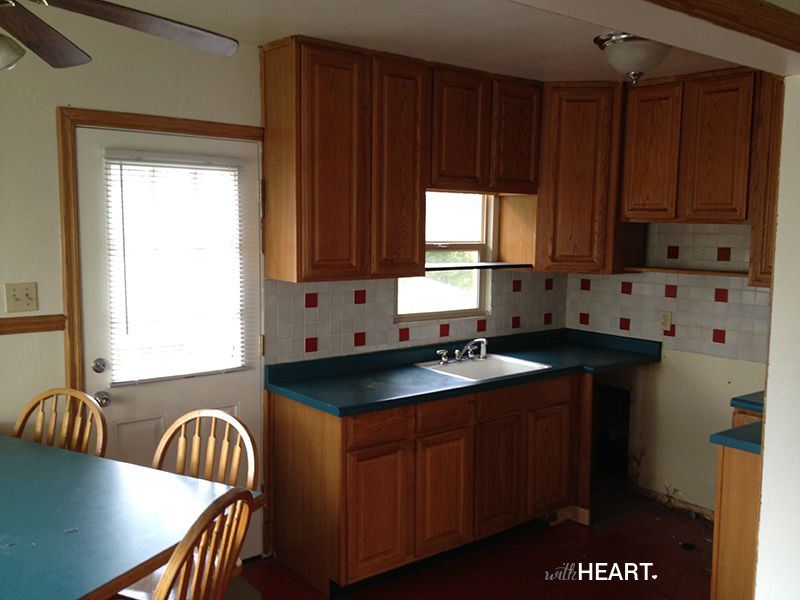 Do you remember the before?  The special tile built-in table/bar situation, green and burgundy accents, bathroom that was enough to give you nightmares, and the basement– oh, my, I could hardly stand to walk down there.  Well, Mr. Stagg is a man of many talents.  With a lot of hard work, we were able to stay on budget and the finished product is so pretty.  Here's the breakdown.
Let's start with the kitchen, shall we?
In many situations, especially rentals, salvaging and touching up is the way to go.  But, rentals in that area are a hot commodity.  There are a lot of them, so if you want to get quality tenants, you need a quality property.  I'm not talking custom cabinets, here.  Almost everything we bought was either from IKEA, Lowe's or Home Depot.  And really, we would have painted the cabinets that were there and made them work, but the work was really shoddy.  A cabinet above the sink was covering half the window.  No microwave.  No dishwasher.  No disposal.  No bueno.
We demo'd the entire space.  I kind of felt bad destroying someone's artistic creation with that bar/table.  Not really.
The appliances weren't going to work, so we sold them on KSL Classifieds (awesome!).  We designed the kitchen layout at IKEA and ordered all of them, as well as the countertop, at the same time during a special and got a discount.  Because of the discount, we could afford to do granite countertops, rather than the less expensive version on the other side.  I really think they make it quite a bit nicer, even though the cost was virtually the same.
A note about the countertop: I was skeptical of IKEA's stone quality, but I am pleasantly surprised.  There are multiple different price ranges, depending on style.  The was the second to bottom in price.  Not bad, eh?  I would absolutely buy this product again.
The ceiling and walls in these old homes always present quite a challenge.  the ceiling slopes down on an angle, and the walls are cinderblock.  Have you ever tried to drill into cinderblock?  Nightmare.  It crumbles really easily, so you have to be really precise.  Jon is pretty methodical about hanging anything, so there is a lot of leveling and marking and measuring and finagling that goes on.  The planning really does pay off.  You would never know how uneven the ceiling is by the looks of the cabinets now.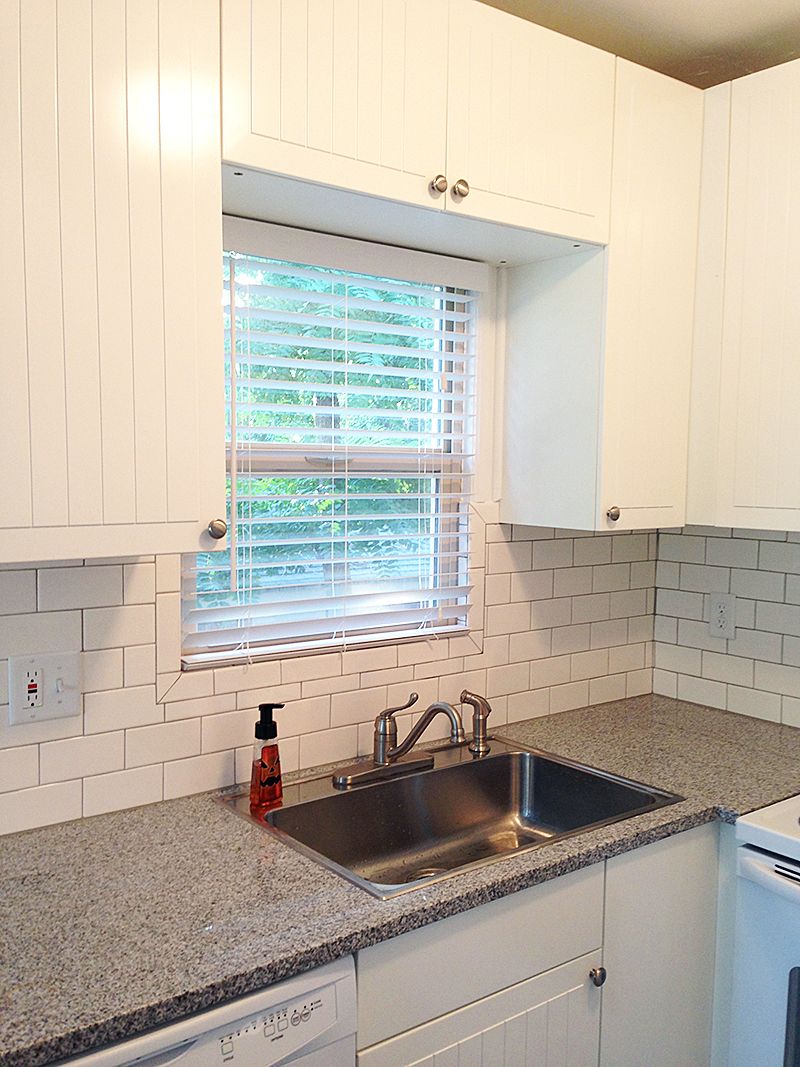 The backsplash is what really makes the room feel polished and like more than just your average rental. And it's inexpensive subway tile from Home Depot. For reals. Love it.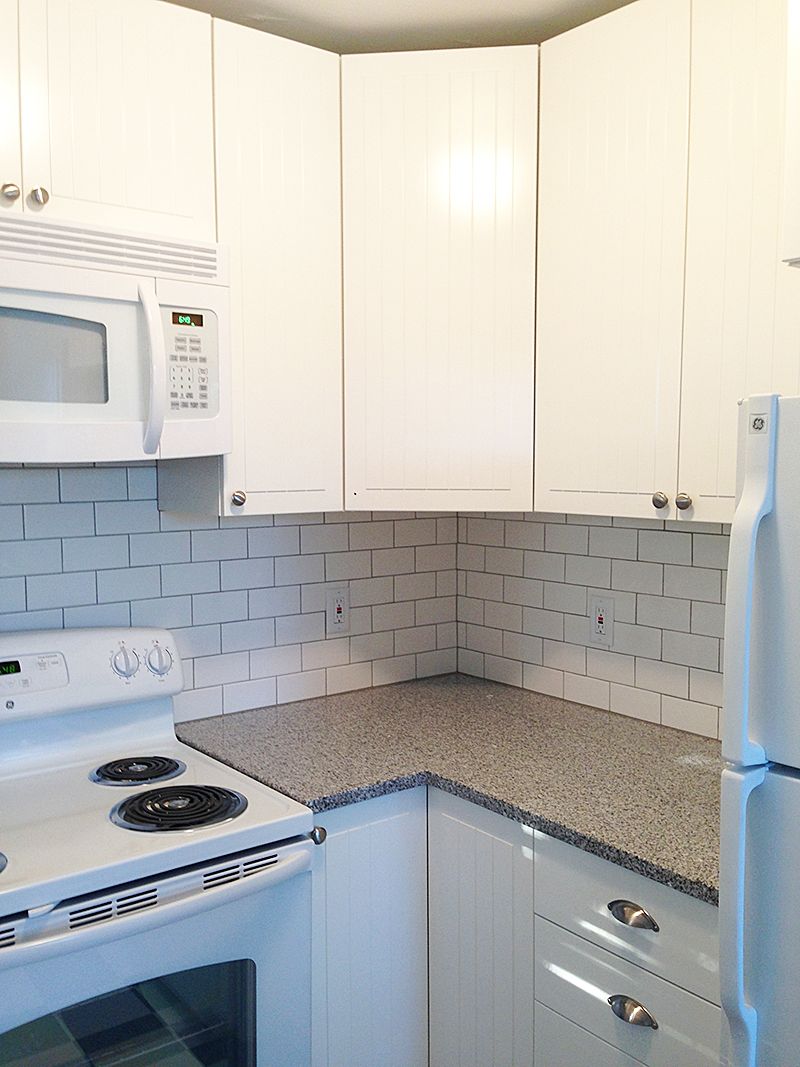 The appliances came from Home Depot, also on a holiday special sale so we got a grouping discount.  I know what you're thinking– why didn't you go with stainless steel?  A gas stove?  Well, several reasons.  First, white is less expensive.  It's also easier to keep clean in the long run, and when you're dealing with tenants, both are good things.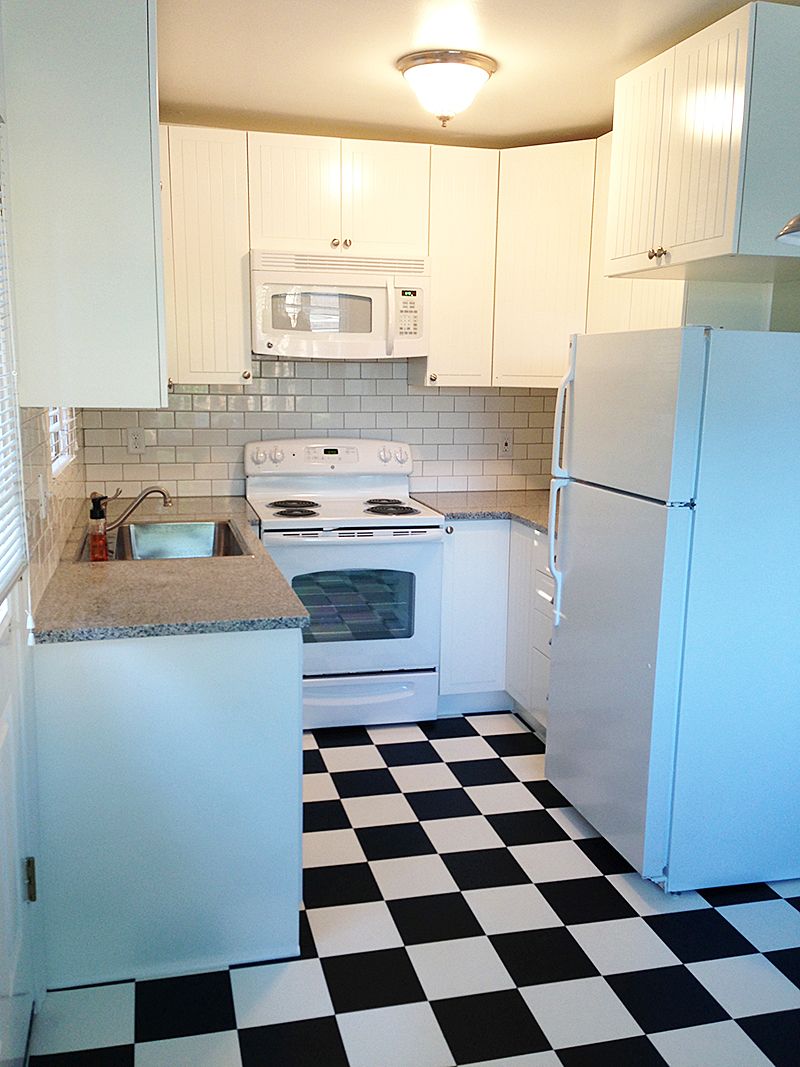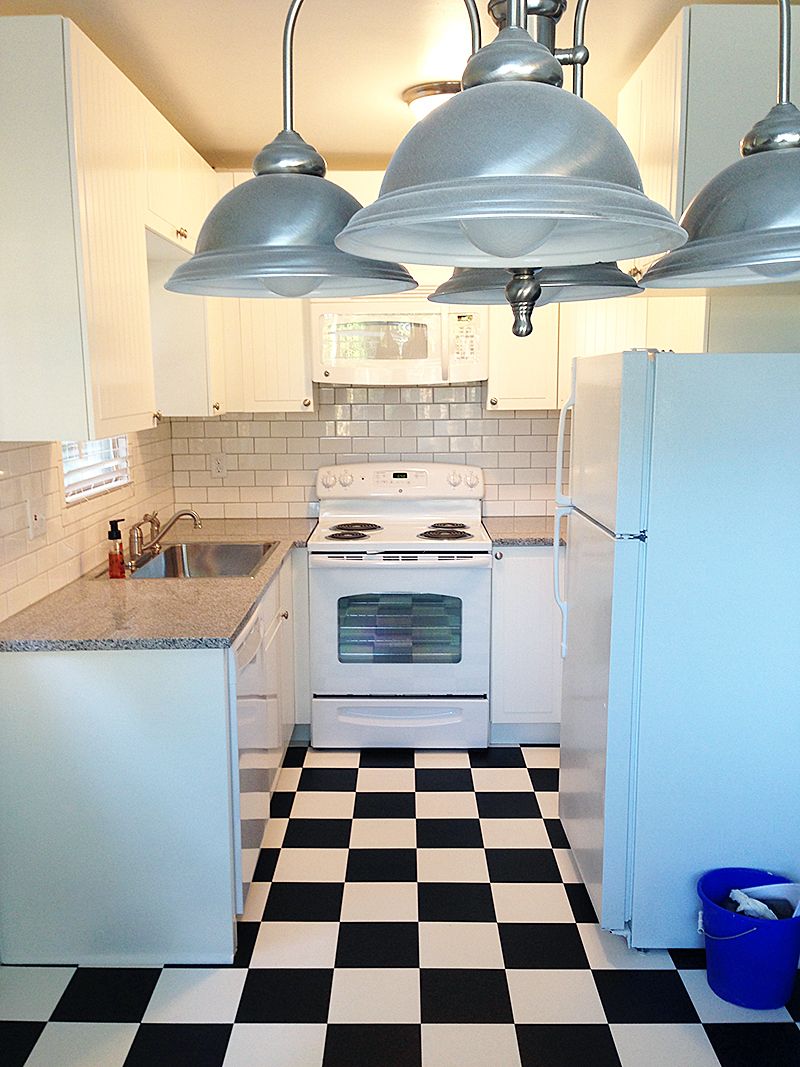 Faucet and hardware are from Home Depot as well.  The light fixture in the dining space is a Lowe's find, as well as the dome light.  And the floor is linoleum from Carpet Giant.  We did black and white tile in the kitchen on the other side and learned our lesson.  The tiles have already started to crack in a few spots.  Blame in on those darn old, uneven floors again, and rough renters.
The result?  The cutest little kitchen I ever did see!  It's small, but very functional and just feels good.  Up next– the upstairs family room and bedrooms!  Stay tuned…