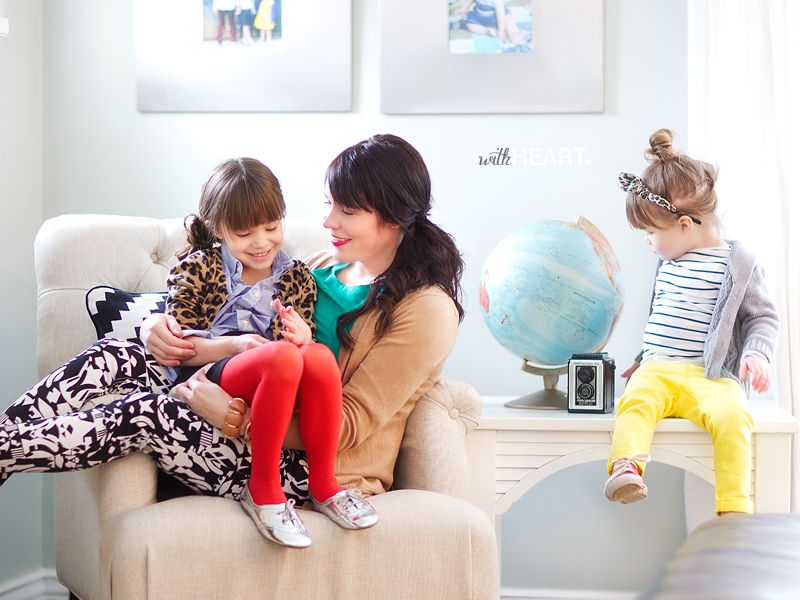 You know those moms you see at the mall, or at Target– the ones with adorable bodies in adorable clothing with adorable children in adorable outfits? That's Sharstin Miller. Gorgeous, sweet, and sincere. Oh yeah, and her children look like they could be in a Gap Kids ad. I'm so excited she hopped on the MOM CHIC train for this Tuesday. Sharstin has three kiddies– Caleb, Zoee, and Nora, and a surprise baby boy, due June 11. Yep, she's prego in these pics. Yep, I couldn't tell either. Sharstin is a photographer and an avid runner, and she also pens the popular family and lifestyle blog, Me & Mine. I loved getting to know her better, and I know you will too.
1) You clearly have your hands full– raising adorable children, keeping a gorgeous home, hobbies; what is your secret for keeping it all together? I definitely don't think I am one of those all-star moms that have it all together! I can only wish…. It seems more days than not we are running around crazy. I do think it is all about priorities, and deciding what is most important. I will always choose to leave my sink full of dishes and a pile of laundry on the bed to go do something with my kidlets. Those little things can always wait. I do try to maintain some sort of routine schedule throughout the week to keep things more organized. With that said, I have a firm belief that to keep sanity and have peace of mind you have to be able to do hobbies and things that fulfill you as a person, aside from your roles at home. The main outlet for me is running. I am a marathon runner, and grew up running. It is one of my loves and passions. I find joy in racing and pushing myself in this way. So I definitely make time for these things that fulfill my "me" time. I am so thankful to have a hubs that fully supports me in my many hobbies.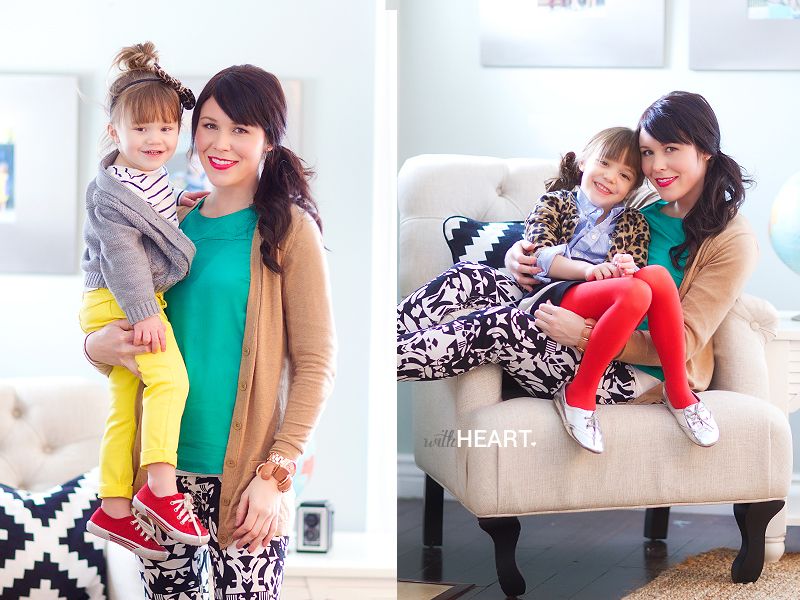 2) What is your fashion philosophy, and what inspires you?
My fashion philosophy is -wear what makes you feel good! If you feel good about yourself, it definitely shows on the outside and in your interactions with others. I am inspired by design, patterns, colors, street styles, and of course all of the many fashionable bloggers out there. Some of my favorite gals with some mad style are
Lucy Lacht
,
Cara Loren
,
Love Taza
, &
Kendi Everyday
.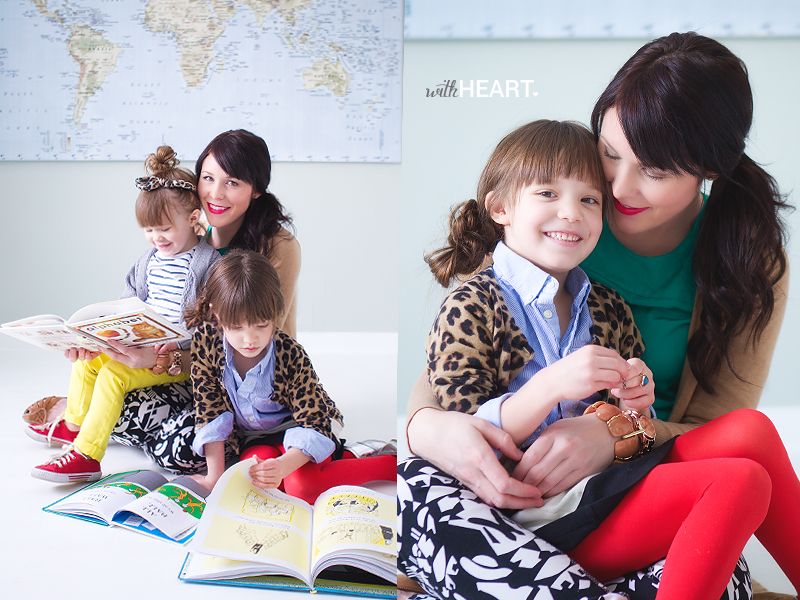 3) Pregnancy makes most women want to be frumpy-frump. How do you stay in style while cooking a bun?
Ah pregoness! Not a time when most gals feel their most fashionable! But i don't think you have to lose fashion to the bump. My go-to item when i am pregnant is my trusty
belly band
. Then you can still sport your favorite pair of jeans-completely unzipped of course. I love a great pair of leggings, with a chambray or cardigan, and also a good knee length body con skirt with a cute fitted T and some flats is tops for a prego, like myself.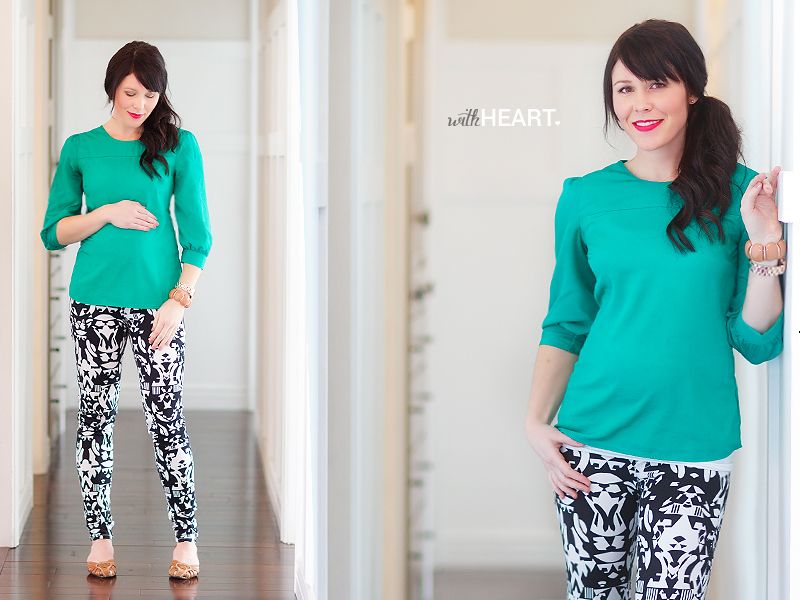 4) What is your must have fashion item that every woman should have in her closet? I think a must have for any woman is a great fitting pair of dark skinny jeans. I think a dark pair of skinny's is something that is flattering on everyone, classic, and can be dressed up or down. There is nothing better to me than a dark skinny jean, v neck tee, great jacket, a fun lipstick and some great flats. It is so classic and you can keep it fresh and add pizazz through your accessories.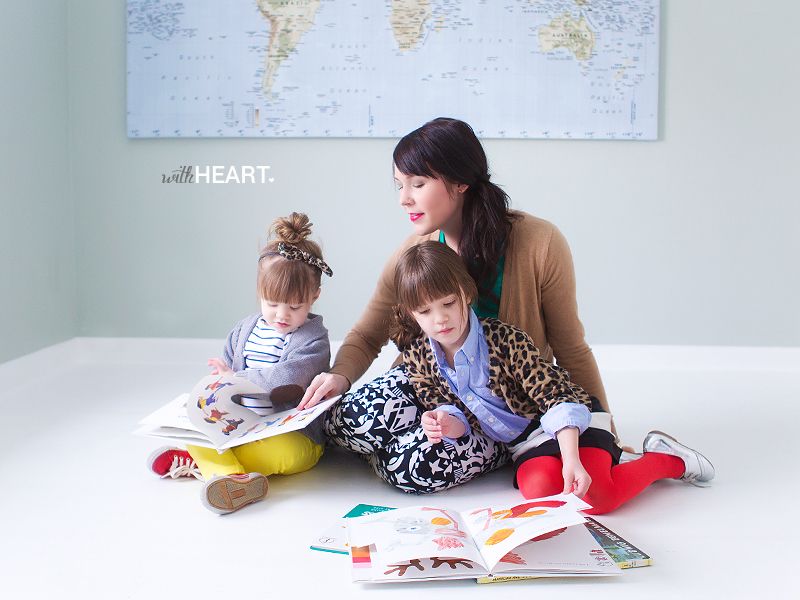 5) Kids grow so fast! How do you balance their fashion with practicality and price? So true! I love dressing my kiddos, and have fun trying new styles and pairing unexpected things for them. I don't think that dressing the kids fashionably has to break the bank. I am not picky in stores that I shop at. I am all about pairing different patterns and shopping different places and matching it all together. I have found great $5 sneakers in the boys section at Walmart for my little girls, that i will pair with some lil Gap skinny jeans and a Target shirt. I think you just start with some go-to pieces and add from there. When my kiddos jeans start getting to short, I will cut them and use them for some great cutoff shorts in the summer, etc. You can make a lot of your kids' wardrobe go a long way.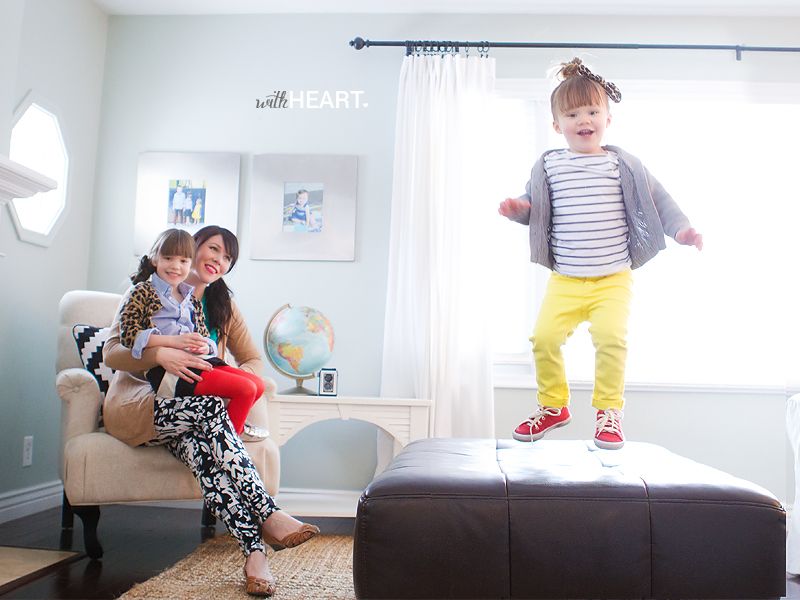 6) What advice do you have for women who want to look put together and current, yet feel like its just too much work? Being current and put together doesn't have to take a lot of work. I think if you feel like you want to look more current, you don't need to throw out your whole existing wardrobe. Just start by adding a few fun basics and go from there. Even if it is just throwing on a cute head-wrap, fun lipstick, or great ballet flats–that can be something little that adds a lot. If you feel good, you look good! It is worth it to put in the little extra effort.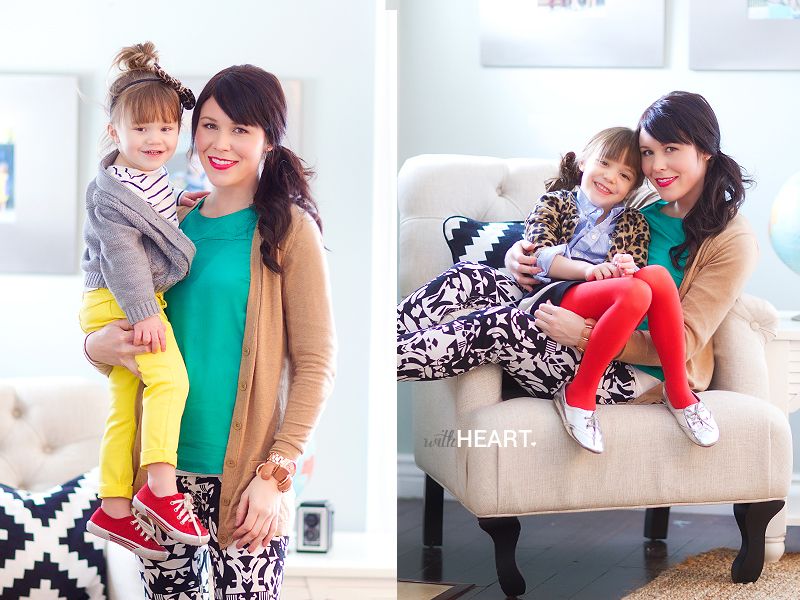 You can read more from Sharstin
here
.
Nora's outfit: striped Tee H&M (also similar here) | skinnies Gap | cardigan H&M similar Gap | Red sneakers- Target (another cute option here) | Leopard headband-Forever 21 (no longer available, similar here)

And for everyone who asked, the
amazing skirt
I wore in
this post
(that I have in almost every color) is back in stock in the
yellow
! Happy shopping:)