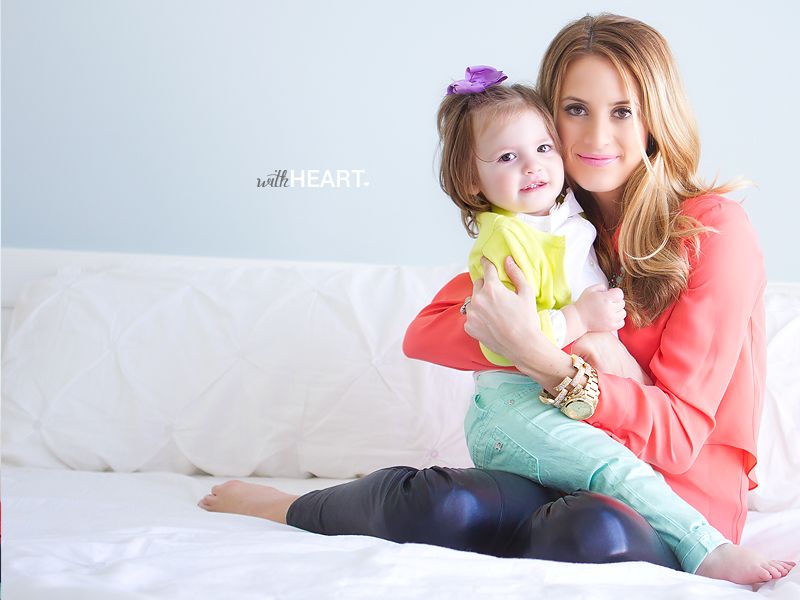 I love a mom with great style.  I'm also one for functionality.  And confidence.  All of those good things.  And few people exude more of those qualities than Emily Jackson.  On the outside, Emily is obviously stunning (hello legs!) but I can tell you from years of knowing this lovely lady, she is just as beautiful on the inside.  I was able to get some insight into how this mother of sweet 18-month-old Capri so that we all may benefit from her seemingly effortless style.
1.  You have such a beautiful family and always seem to look so put together.  Let's just dive into it– how do you manage to look amazing with a busy, messy, squirmy toddler running around?
Thank you! I think sometimes moms are so busy taking care of their families that they forget to take of themselves. Many days you will find me in my work out clothes with my hair in a messy pony.  I do ,however, try to find time for myself when I can. I think it makes me a better mom and wife.
2.  You're an avid runner and make working out part of your daily routine.  How do you go from gym to grocery store to glam with minimal time?
I am definitely not glam at the grocery store! I do spend many days in my work out clothes from morning to night. But Tay and I try to make it a priority to have date nights and get dressed up!
3.  What are your go-to wardrobe staples?
I have always liked functional, classic, and simple pieces that can be dressed up or down depending on the occasion. For me right now I am loving skinny jeans, a chunky sweater and flats. In the evening if I'm going out I'll throw on some heels and a cute jacket. I also think it's a great idea to invest in a fun bag. It can add that extra something to any outfit.
4.  As moms, sometimes we tend to skip the me time.  How do you save your sanity?
For me saving my sanity is hitting my favorite gym class ot running outside. Even when I am extremely busy I take time to workout because it helps give me the energy I need to chase around a very busy 18-month-old.
5.  What is your best advice for the mom who thinks their best beauty days are behind them?
As women we need to take care of ourselves. Women are beautiful at every age. Embrace the age you are and put your best self forward.
Emily's outfit: top, pants, necklace, bracelet, watch; Capri's outfit: top, sweater, pants
You can read more from Emily on her fashion and lifestyle blog, Ivory Lane.  And watch for more MOM CHIC profiles here on withHEART!
P.S. I am LOVING the love stories coming in!  Keep 'em coming!  Deadline is Friday.
Photos by Veronica Reeve