Imagine for a moment that your master bedroom is an escape– a soothing, calming place where you and your significant other can leave your troubles at the door.  Now, doesn't that sound divine?  Yet too often the master becomes a catch all for laundry, a hodgepodge of furniture, and a place "no one sees anyway," so it is treated as such.  Interior designer, Lauren Oviatt says this mentality is a tragedy and a missed opportunity for a nightly "staycation" in your very own home.
She allowed us inside her master retreat (the "treat" really applies in this case) to show us what a grown up bedroom should really look like.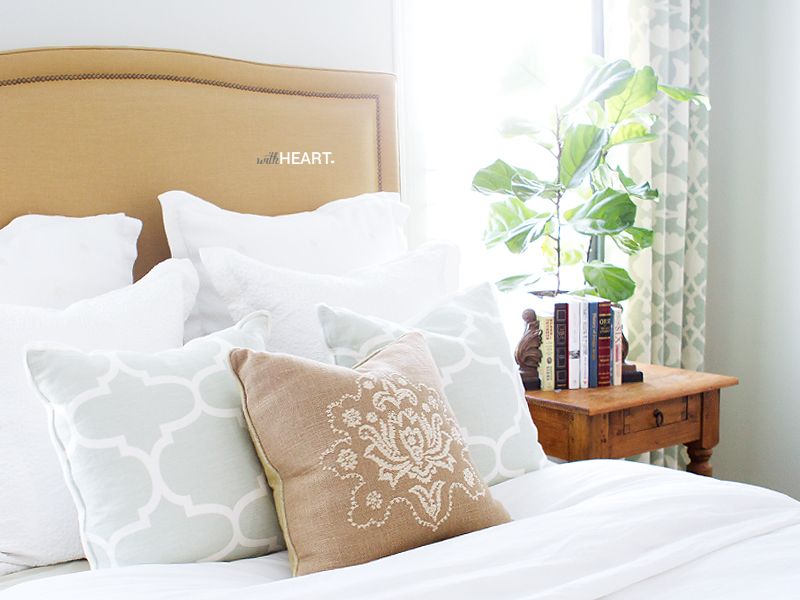 1)  What do you think are the most important things to keep in mind when designing a master bedroom?
The first words that come to mind are comfort, softness and retreat.  Every bedroom should offer those things, no matter the color palette or style you're trying to achieve.  Even though you're only sleeping there, your bedroom should not be overlooked. I think sleeping in a space that is clean, tidy and inviting greatly impacts our mood both morning and night.   This room is also less-traveled, so don't be afraid to use a lighter color palette and more special furniture that you might be hesitant to use in higher traffic areas of your home.  The lightness in color is refreshing and using nicer pieces will make you feel like you're in a glamorous hotel suite… who doesn't love that?
2)  Where did you find inspiration for your bedroom design?
The drapery fabric was the jumping off point for me.  Because my bedding is solid white, I knew the room needed some pattern.  The pattern is soft but not fussy and robin's egg blue has long been a favorite color of mine. I chose to bring out a deeper blue by banding the leading edge with silk, a detail I love incorporating for clients' window treatments.  Sometimes it's scary to commit to a color and pattern on something more permanent like drapes.  Don't be afraid!  Taking these kind of risks it allows you to take your spaces to greater lengths.  I couldn't imagine this room with basic blue drapes.
3)  Curtains can be pricey and a big commitment.  What is your advice for finding the right window treatment?
Drapes, especially well-made, custom drapes, are a room-changer. There is no design element that can replace them. They give a polish to a space  and a permanence to the design that never goes unnoticed. My advice? Consult a professional.  Having a professional measure your windows and install your treatments is key.  This ensures that the drapes are the right length and that the fullness of the drape is appropriate for the window.  Nothing is more glaring that drapes that are too short (like high-water pants) or those that are thin or don't cover the window.  The purpose of drapes is to add texture, fullness and visual interest in height. I believe that you get what you pay for, so take the time and enlist the right people to get it right.
As for the fabric itself… consider the space. If you want a breezy casual look, choose an un-lined, printed gauze panel.  Cotton drapes are great for family rooms but my favorite drapery fabric is heavy linen, silk taffeta or velvet. They are much more formal but they hang beautifully. Fabrics that match your wall color add softness without being an overt statement and conversely, patterned or bright colored drapes instantly add a boost of energy to a room.
3)  When putting a master together, are there things that homeowners sometimes overlook?
Don't forget the personal things and little details. Bedrooms are private spaces where we should be allowed to display sentimental things.  I received two monogrammed silver picture frames as a wedding gift and have continued to collect them over the years.  The frames and the photos inside are special to me.  On my nightstand I keep a pink crystal bowl that belonged to my Granny.  It serves as a catch all for earrings and little things.  I love keeping these treasured pieces near me.  The most beautiful spaces are complete only when they contain those personal elements and details.  It's like Kathleen Kelly says in You've Got Mail, "Whatever else anything is, it ought to begin by being personal."
I love the shiny, glamorous accents but I try not to take things so seriously.  The room is not oversized and has standard 8′ ceilings so I didn't have to go overboard with heavy color or lots of wall decor.  I think avoiding dramatic, heavy elements and keeping the room tidy gets you 90% of the way there.  "Zen" to me also means paring down fussy details that can visually clutter a room.  The walls are a chalky grey but the lightness still reads well against the white bedding and camel-colored upholstered headboard.  The layers of bedding really help make the space seem inviting and soft.  I have mixed the silver frames with the gold knobs on the dresser and the gilded finish of the mirror.  That juxtaposition makes for a more eclectic look that is less forced..
Since all bedrooms have a bed, start there.  If you want more formality, choose a wooden poster bed or sleigh bed.  If you are going for a more casual, comfortable look, find an upholstered headboard.   From there, move to bedding.  And layer!  You may not want a million pillows but here is my recipe for a perfectly made queen-sized bed:  Two euros (26″ sq.) in the back, then two standard shams, then two 22″ sq. pillows or a large, long kidney pillow in front.  Underneath goes the sheets (cotton sateen for me), then a light matelasse or quilt, then your duvet folded at the base of the bed for softness.  I like the washability of white linens but I think some pattern on the bed is a must.  Choose a great pattern for your standard pillows or decorative pillows and use that as the jumping off point for accessories, drapes and an area rug.  Don't forget lamps. Bedside lamps are obvious, but also consider a floor lamp next to a bedroom chair or a pair of lamps on a dresser. Put them on a timer to automatically switch on in the evening, the warm glow will beckon you!
Lauren is designs for Oviatt Design in Northern Utah.
I'm so thrilled to be featured on Pink Peonies today talking about withHEART, and of course, a little fashion.
Now, I'm off to fold the laundry in my master and inspired to give it a refresh!
Photos by Veronica Reeve
Room Details:
Drapes: Oviatt Design; similar here | Mirror:  Oviatt Design; similar here | Headboard: Oviatt Design; similar here | Bedside Table: similar here | Bedding:  Oviatt Design; similar here | Folding screen: Oviatt Design  | Frames: Pottery Barn here and here | Jewelry Box: similar here | Pillows: Oviatt Design; similar styles here, here, and here