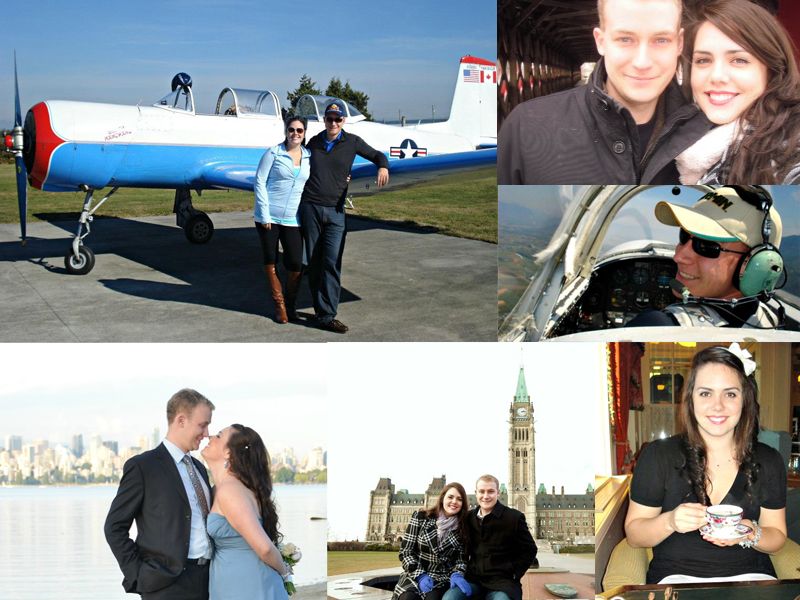 The Killers were in town.  A friend called Kristin to see if she wanted to go.  It would be a blind date, a group of four.  Kristin was going to have to head to the concert straight from work, but she figured why not?  Little did she know that was the night she would meet her soul mate.
It was April 24th, 2009, in Vancouver, British Columbia.  Kristin remembers clearly the thoughts flying through her mind as Carter walked toward her to introduce himself.  She was 18, and it was love at first sight.  She instantly had the feeling she was watching the man she would spend the rest of her life with coming toward her.  But there was a problem… he was moving across the county to Ottawa the next day.
Kristin was not deterred.  She spent the coming days not only telling her family about Carter, but planning when she could see him again. The stars aligned.  Her mother had a conference scheduled in Ottawa, and after a little convincing, Kristin was soon on a plane headed straight for her dream man.
Fast forward 4 years, 3 cities, and 1 year of long distance later and they are a couple, happily settled in Ottawa, Canada's capital city.  The did the long distance thing for a while, but it wasn't going to drive them apart.  The secret to making their relationship last?  They never go to sleep angry.
"We decided that day that we were going to be together, and even if we were sometimes angry or hurt, we would never stop loving each other," Kristin wrote.  "Since then we have really adopted a style of communication that allows us to share our grievances, let go of them, and go to bed happy every night."
They have grown together, rather than apart, and Kristin says they are better people when they're together.  They both value family.  Carter loves Kristin confidently and with his whole heart.
"I had such a clear picture in my head growing up of who I wanted to be and I really feel like Carter has brought that out in me," she wrote.  "I try everyday to bring out the best in him, and I think so far I have done a pretty great job. I know that we are the best versions of ourselves when we are together and I am so thankful for that everyday."
You can read more from Kristin 
here
.
Well, that's it!  The end of the Valentine's LOVE STORY submission features!  Thank you to all who shared your stories of love, hope, and passion with your partner!  Look for more calls for submissions soon!
xx,