Who doesn't love IKEA?  It's affordable, it's accessible, and it usually has a sleek and simple design that is versatile and functional.  But the problem with IKEA furniture is that it can sometimes be so simple, it can look cheap or boring.
I love incorporating an IKEA piece into a space, then finding a way to make it look more expensive and high-end.  We've had the Hemnes dresser in our bedroom for a couple of years (you saw it in yesterday's post right smack in the middle of my two spray painted chairs).  I really like the way it looks, but as we started our master remodel, I just felt like it needed a little somethin' somethin'.  I was looking for an easy ikea dresser upgrade.
Rather than purchase a new dresser when there were a lot of other places our money needed to go, I chose to simply switch out the pulls instead. Changing hardware is one of the easiest and most inexpensive ways to spruce up your furniture or cabinets.  The tricky part is finding some you like that aren't too expensive.  Going to somewhere like Restoration Hardware for an IKEA dresser felt a little like wearing Cartier with an Old Navy sweater.  I couldn't justify it.  And I couldn't find anything I liked at any of my local hardware stores.  I did find some decent silver ring pulls, but didn't want to go through the trouble of spray painting them this time around, though that would have worked as well.  I had a little time before they had to be in, so I wanted to see if I could just find some that would work.
So, what's a gal to do?  I started scouring the internet and found this great site with affordable ring pulls— exactly what I was looking for.  Brass ring pulls are surprisingly difficult to find.  I chose the 51mm x 43mm size and they look great.   They came quickly in the mail and I think they really make my inexpensive IKEA dresser look a whole lot fancier.  She's wearing gold rings now, friends.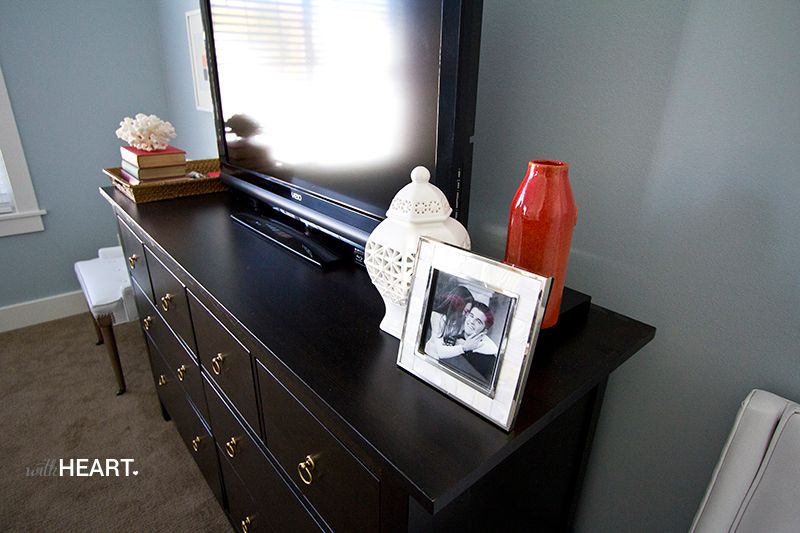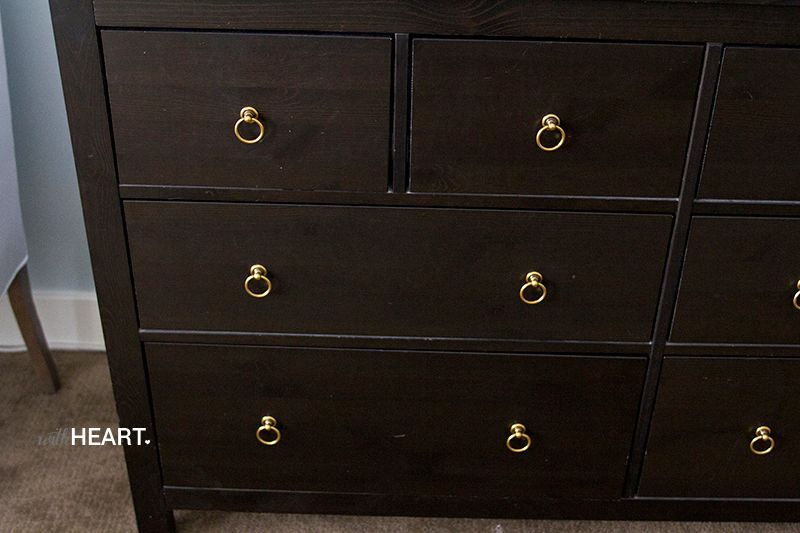 I think ring pulls would look great on most of the Hemnes line, don't you agree?  So there you have it.  A simple (and cheap) way to make your furniture fancier.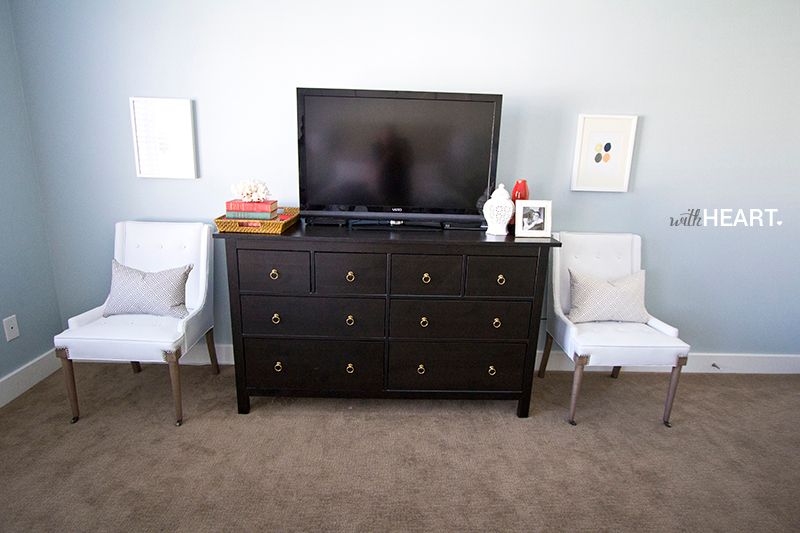 Photos by James Young
Speaking of inexpensive furniture, here are a few pieces that look great and won't break the bank:
How great is this love seat?  And hello, perfect price.  Perfect addition to so many rooms.
Great pouf on sale!  Great pouf on sale!
An entire bed for under $400?  Say what?  And an extra 25% off all furniture using the code FURN25.  Amazing.
This tufted love seat is just so darn cute.  I think I need it.
I have a thing for peacock blue chairs.
Three cheers for saving money!