Hi-oh, happy Thursday!  Today I'm sharing an exciting project we recently finished– we made our own upholstered headboard.  Ambitious much?  Yeah, we thought so too, but turns out it is soooo much easier than you think, and if you do it right, you can end up with one great piece of furniture.
Currently, we are going room by room, renovating our home.  Ruby's room was the first room we completed, as it should have been.  We've also just finished up an office, a guest room, and a dreamy half bath that I'll be revealing soon, and now we're on to our master!  And boy, what a job we have on our hands.  I'm going to share some befores and afters once we make a bit more progress, but this post is all about the bed.
We have been searching for the right upholstered headboard for quite some time but we just haven't been able to justify dropping several thousand big ones on a bed right now, with a very long and growing list of home projects and me recently quitting my job (oh how I miss that income!).  Rather than continue to bonk our heads on the wall every night, we decided to make one.  Jon and I, we just love a good home project.  We're always working on something.  We rolled up our sleeves and got to work.  My friend and interior designer, Danielle Oakey, has made quite a few upholstered headboards in her day and gave us some great tips for taking it from craft store disaster to a piece I truly think you wouldn't think looked out of place in a store.  Below is the video showing exactly how we did it, and the reveal.
Here's a step by step breakdown with a list of supplies.
To make this headboard you'll need:
3 yards of fabric (we used a linen we found in stock at a fabric store.  It was inexpensive and is a dead ringer for the fabric on our inspiration headboard)
1 sheet of plywood
4 2×4's
Two rolls batting
Two rolls upholstery nail trim
Staple gun
Rubber hammer
First, we created a frame.  We measured our bed, and how high we wanted it to go on the wall.  Our home has pretty high ceilings, so we wanted a tall headboard.
Building the frame was actually pretty easy.  Some 2×4's, and some plywood and that was pretty much it.  It came together really quickly.
We wanted some extra padding and "puff" from the nail trim, so we put a layer of batting just on the inside.  The second layer we wrapped all the way around the frame and stapled it on the underneath.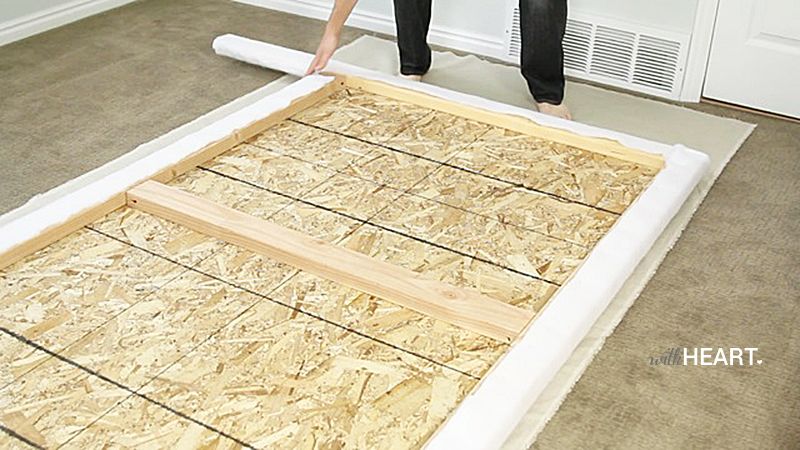 Once the batting was laid down, we started with the fabric.  Jon's mama taught him how to do some mean hospital corners (he makes the bed around these parts) and I really think the corners are one of the reasons our headboard looks so good.
The other thing that took it to a higher quality level was the straightness of the nail trim.  We found some nail trip strips which made it so much easier to make a straight line.  I would highly recommend using it.  We bought it at JoAnn's Fabric.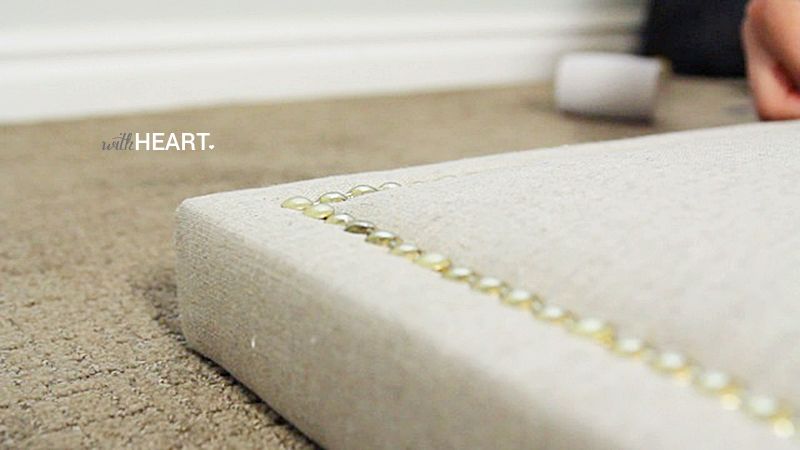 It took some patience and team work, but when we were finished, we honestly couldn't believe how easy it was and how great it turned out.  We're already plotting how to finish off the rest of the bed.  More on that later.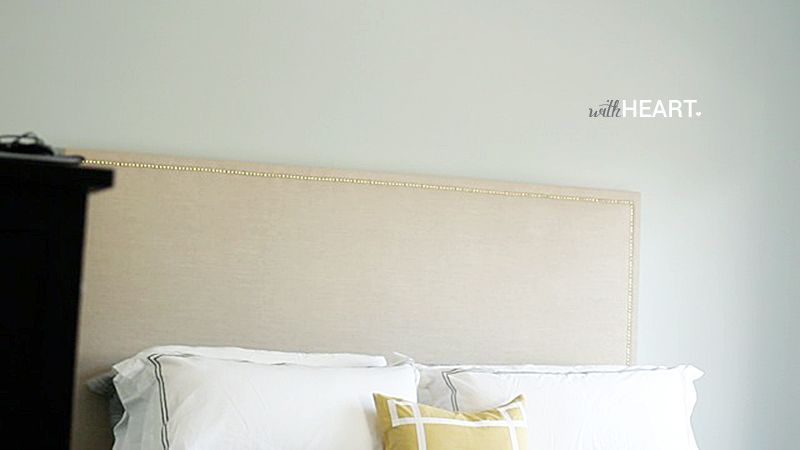 And I so know that bedding doesn't match and the rest of the room.  This room is a work in progress with some fun collaborations coming 🙂
Thanks to Danielle for her help!  Now, go forth and upholster a headboard!
Photos/video by James Young