Our master bedroom is going through a major transformation.  We've completed the other bedrooms on the upper floor, and it finally came time to tackle the beast.  And what a beast it was.  I snapped this photo just before we took ownership.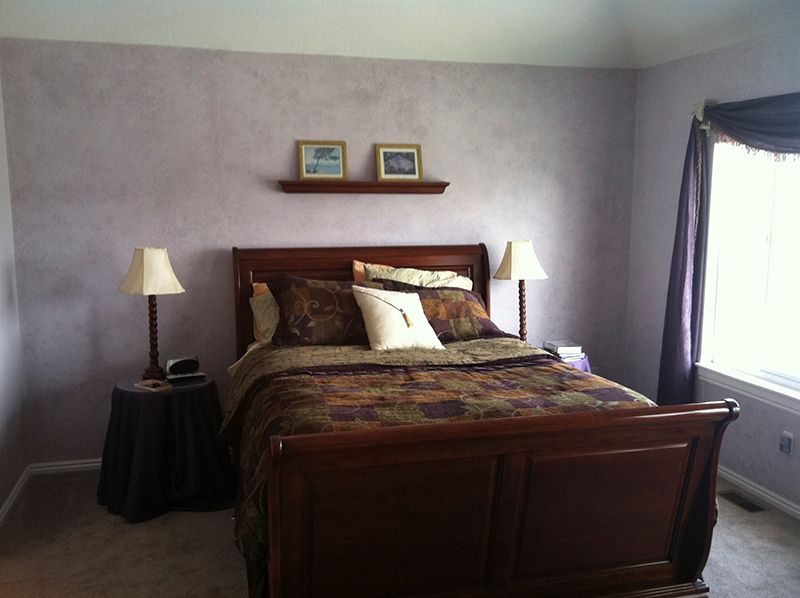 When we moved in, it was purple.  Like Barney the Dinosaur purple.  With some kind of faux wall treatment.  Those the previous owners generously left the drapes behind, we decided to donate them to our local charity thrift store. The whole thing gave me nightmares. We couldn't bear the thought of sleeping in that room, so we painted the whole thing before we moved in (we also replaced all of carpet in the house and re-did the hardwoods), but haven't done much else since.  And it is time.  It's past time.
Our first major project for the room was to add some molding detail to the space.  The whole house had cheap 90's stock moldings and baseboards, so as we've gone room to room remodeling, we've been switching them out for a more classic and updated look.  For the master, we wanted to do something special:  a board and batten statement wall.  James shot this special video to show the process, in time lapse, so you can see how it all came together.  The wall behind our bed is the first thing you see when you walk in, and I had a vision of a bright white, board and batten grid pattern.  Jon is always up for a great diy so after a little planning, we got to work. We started it on a Friday, worked on it all weekend, and finished on Monday.  It was pretty simple, but a it was a process.  Check it out:
Video/Photo/Editing: James Young
Okay, so here is the written breakdown:
We started by prying off all of the old baseboards.  Those bad boys just popped right off.
We did a sweep to make sure all the nails were gone, then pulled out the paint.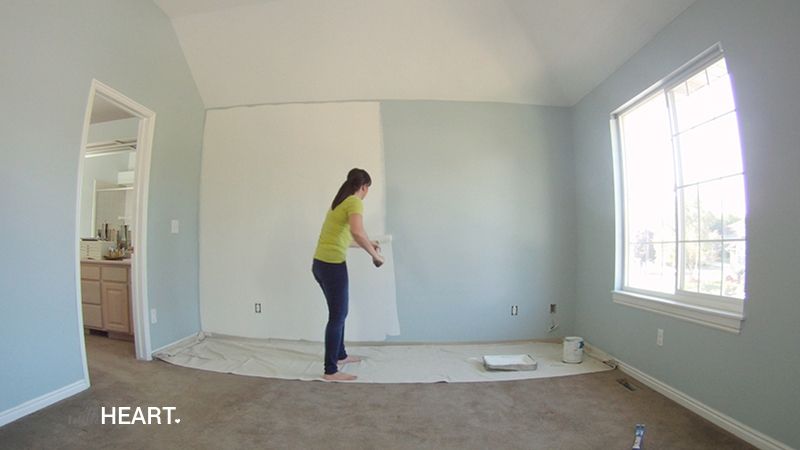 We painted the whole wall white first thing.  Some people wait until after it's all done, but I think it made it a lot easier to just get the first coat out of the way before the batten went up.  We bought pre-primed moldings (or batten) to make things easier.  I like easier.  After finishing up the first coat of paint, the real work began.
Jon is a stickler for measurements, so he carefully measured out where we would put each board before we made a single cut.  We started by nailing up a "frame" all the way around the wall.  That way, the horizontal line along the top, the one we were most concerned about being straight, was nice and level all the way across.  Our ceiling has a funky angle to it because of some vaulting, so we had to cut a diagonal angle on the wall edge all the way across.  Talk about a pain in the you know what.  But, it was worth the inconvenience.  The board fit snuggly against the wall.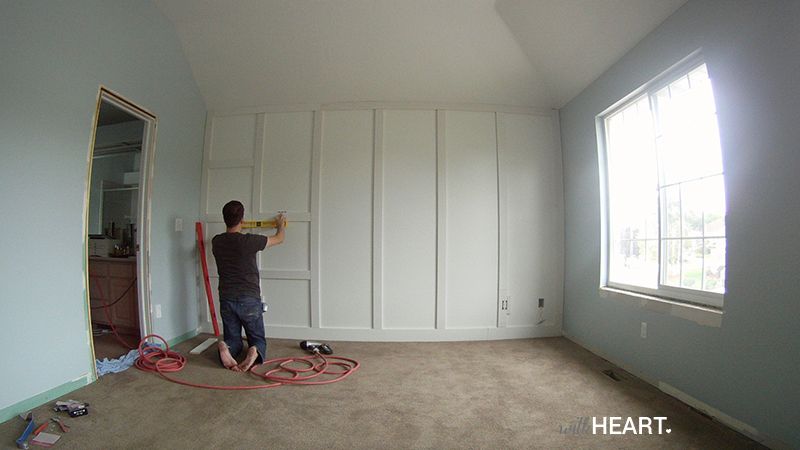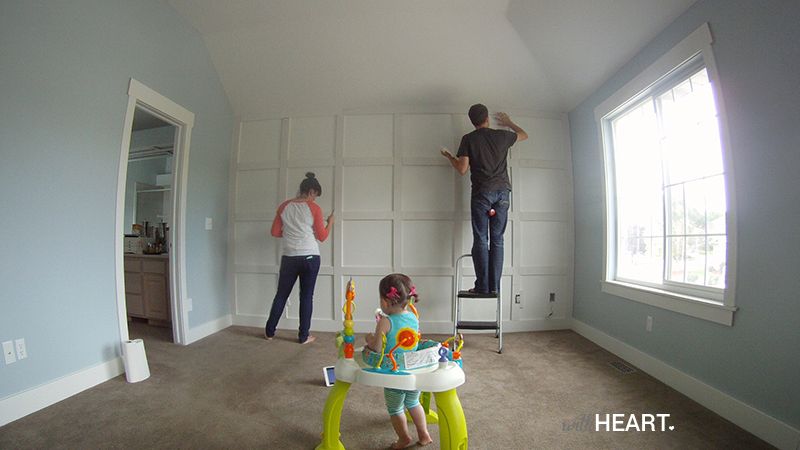 We took turns entertaining Rubes, but for a very small window she was happy chillaxing in her chair watching Yo Gabba Gabba on the Ipad. I repeat, very small window. Sweet girl just wanted to run and play! Hence why in the time lapse usually one of us is gone. My dad also came and helped for a while when I was with the baby (he makes his guest starring appearance in the video. His Emmy is already in the mail;)
Once those were up, we did the long vertical boards.  The cuts for the smaller in between pieces were the trickiest cuts, but still, not too bad.  Using a laser level would be the very best way to make sure each board is level, but we just used a good old fashioned level and it did the trick.
One note on the plugs.  They were right in our batten path, the buggers.  There are a lot of ways you can deal with them, but I love how ours turned out.  We built out the molding around the plug and made a little "pop-out."
Calking came next and I actually kind of like this part.  It is time consuming, but I turned on my tunes, Jon took a turn entertaining Rubes and keeping her out of the construction, and I got to work.  We spackled the nail holes and then used an electric sander to even everything out.  Use one.  It will be a lifesaver.
Last came two final coats of paint on the whole she-bang.  And after, she really banged.  We love how it turned out!  It was under $125 total for all of the supplies and paint.  Not too shabby.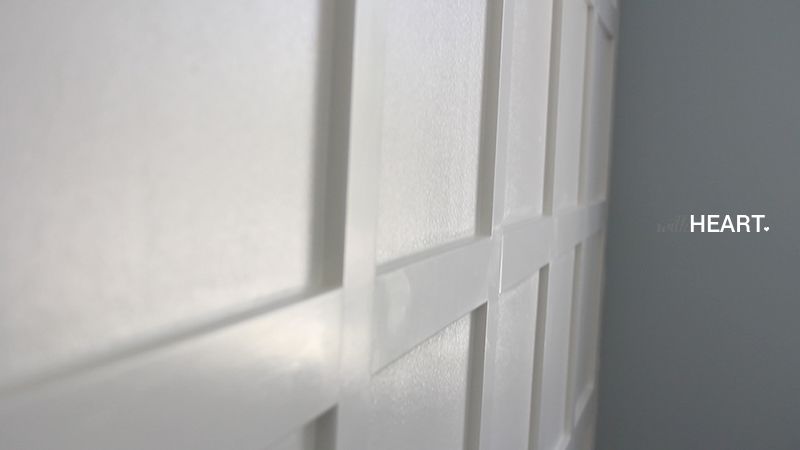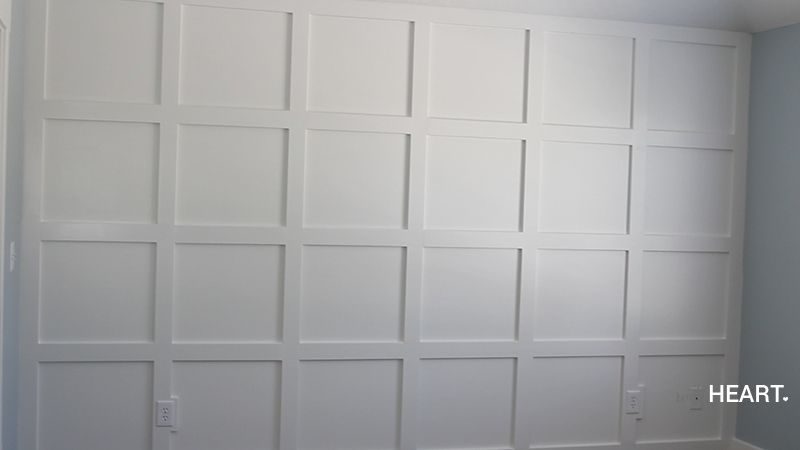 The room is really starting to come together.  Our diy headboard looks so pretty against the wall, and we're now selecting the rest of the furnishings.  Can't wait till it's finished and we can reveal (and live) in the finished product!
So, what do you think?  Are you ready to add some architectural detail to your home?