Summer has been whizzing past.  July has been jam packed with work and projects, mainly the complete remodel of one side of our rental duplex.  Before we had Ruby, we lived in the other side, and had renters in the opposite half.  It's in the darling suburb of Sugarhouse, and it was perfect for just the two of us both working downtown.  We actually gutted and remodeled the side we were living in, as we were living in it.  Wouldn't really recommend that, but it all turned out ok and it is just the cutest place around!
However, the thought of lugging a carseat, stroller, groceries, and a baby up the hilly street it's on from the car (the parking is in the back and no garage) in winter sounded most unpleasant, so we decided to move into a house, rented out our side, and things have been peachy for the last year and a half or so.  The girls who were renting the opposite side recently moved out, so it was an optimal time to do the big re-do before prime time listing season for rentals in the area.
And boy, it was naaaaassssty.  The downstairs was unfinished, and pretty much was just concrete and cinderblocks with some weird spray paint art work from a former tenant under the previous owners.  There was a creepy crawl space exposed (am I the only one who can't stand crawl spaces?!?) and the scariest bathrooms I would never dare shower in.
Upstairs was a bit better, but had an odd kitchen configuration and someone's clever idea of a built-in table (?), and really just needed a major overhaul.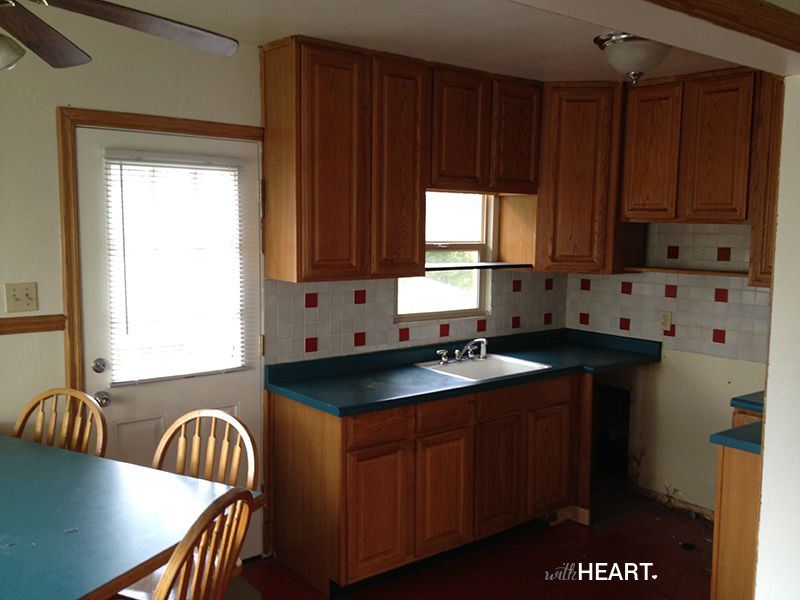 Jon has been working feverously on it.  He prefers to do most of the work himself.  I did the design and selections, and he is executing.  He does such beautiful work (yep, my attorney is a handy one!).  We have had some invaluable help from a few family members and friends (thank you!!) and I'm excited to show you each room as we get it finished.  It's going to be really great when it's done, and we can't wait to get our nights and weekends back.
I've been filling in at work a bit and preparing for the Wednesday's Child telethon.  I was honored to interview the sweet Norton family Friday after little Paxton's passing (watch the story here).  Sunday we went to his viewing.  It was so special.  Fitting for such a special boy who touched so many people around the world.
I'm looking forward to things slowing down a bit mid-August.  Until then, we'll keep truckin'….
Have you had any fun projects this summer?
Pssst– Today I'm over at Ink'd Design talking about my recent life change (Thank you, Amy, for the kind words and feature!).  Her blog is just oh so lovely.
Double pssst– Ruby's Nursery was featured over at Mom.me
Triple pssst– not really, just wanted to tell you to have a lovely week!  Wish me luck in my marathon training.  eeeeeeee.