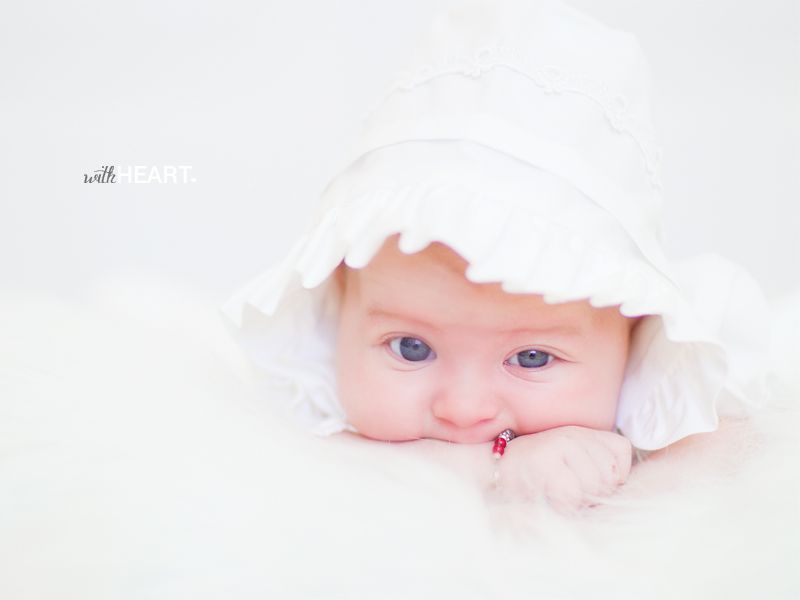 April is a very special month for me and mine. For last April, my life changed forever for the better. I became a mother to one precious baby girl, my husband became a father. We are now parents and our hearts expand every day in ways we didn't know it could. As such, this month I'll be celebrating new life– her life. I can hardly believe it was almost one year ago she entered this world (gasp!). At the start of last summer, we blessed our sweet angel and threw a party with close friends and family to celebrate.
There were so many special, sentimental things about this day. I picked her beautiful white dress because I loved the smocking, the puffed sleeves, and the sweetness of the design. She wore a tiny pearl and ruby bracelet from her grandparents. Her booties were handmade by my sweet aunt. My sister wrote and played a personalized version of a classic children's hymn, and her daddy gave her the most beautiful blessing as she smiled and cooed at him, her grandfather, uncles, and close friends. We celebrated afterward with an open house at our home.
Rubes had a wardrobe change. I loved this sweet mint party dress from Gap. It allowed us to show off those gorgeous booties!
We haven't lived in our home long and it's in a state of renovation, so we have some rooms without furniture. That actually worked out great for the party– we were able to bring in tables and chairs, and didn't have to worry about clearing anything away. Colored Chinese lanterns hung with various shades of pink ribbon topped the tables and framed newborn photos served as the centerpieces. We kept the decor simple and fresh.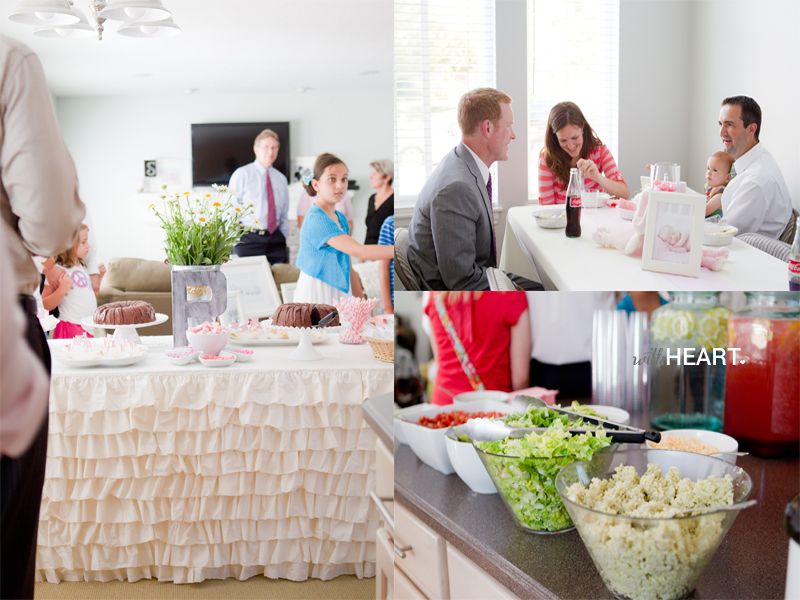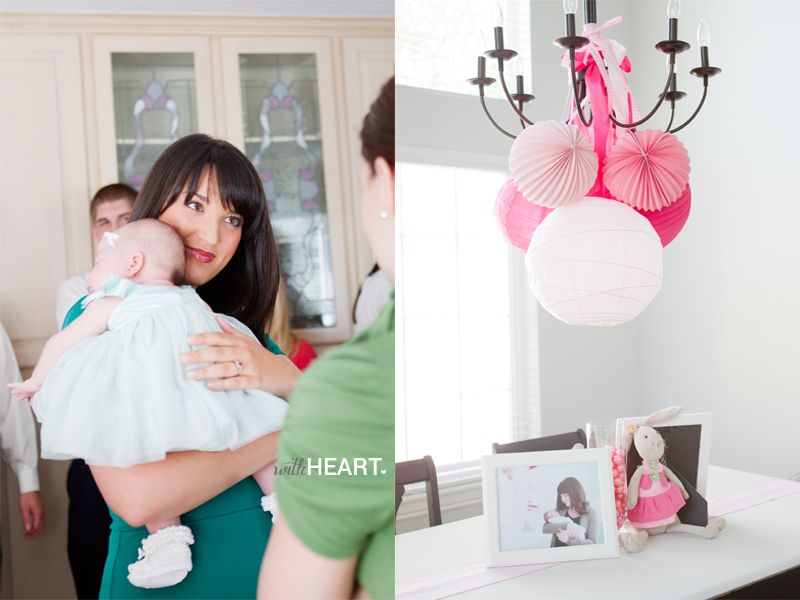 Melissa and I prepped a lot of the food the day before. We went with a family favorite– fresh Mexican knock-off recipes from a favorite restaurant here in Utah, Cafe Rio. Day of it was just a lot of re-heating, and Melissa was kind enough to man the kitchen while I toted around a very sleepy guest of honor.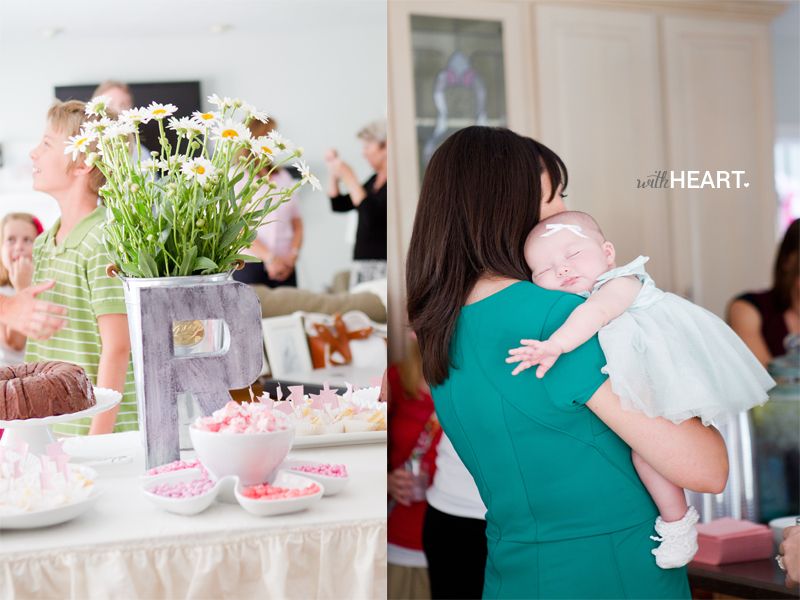 Melissa also made her famous lemon bars and chocolate bundt cake, which if you ever have the privilege of tasting, could be your breakfast lunch and dinner 365 a year if you didn't have to diet. To. Die. For.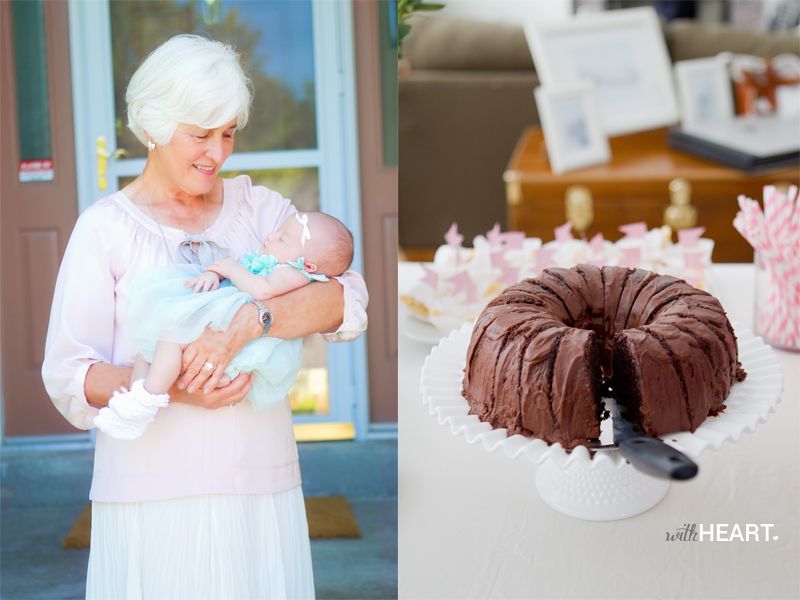 I love this shot Veronica captured of Ruby and her namesake grandmother together. What a treasured photo.
Ruby was able to sneak in a little alone time with her man, my best friend's little boy, Graham. Future engagement picture? We think yes.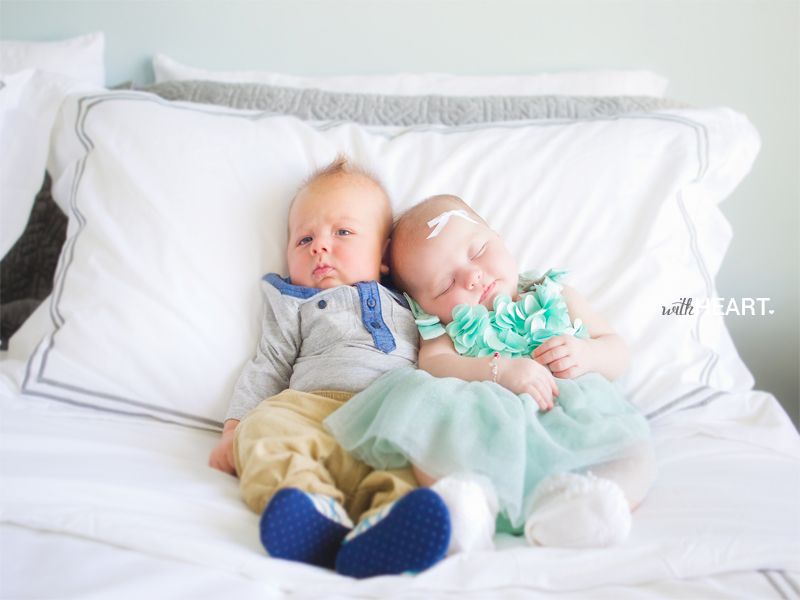 Each new life is such a gift, and I believe it should be celebrated. In an upcoming post, I will share Ruby's birth story, and toward the end of this month, her first birthday! How can it be here already? I wish I could freeze time. Next thing I know, these two budding love birds will be asking for the car keys.
Oh how I love this sweet girl. I can't wait to watch what adventures her life has ahead.
And I of course want to announce the three lucky winners of the Good Will Bunting giveaway.
Winner of $50 shop credit:  Janel
Winner of $30 shop credit:  Callie B.
Winner of $20 shop credit: Linnea
Email me at jen@withheart.com to claim your prize!  Congrats!
Photos by Veronica Reeve
Food by Melissa McCleery