St. Patrick's Day: the often forgotten, under celebrated holiday when you never know if the weather is going to roar like a Lion or bahhhh like a lamb.  I know all about the troubles throwing a party during this time of year.  I'm a March baby and when I was little, my number one request for a birthday bash was a swim party.  I never got one.  Ever.
Despite my childhood scars, I say let us rejoice in all that is St. Patty's!  My friends and I put our party-loving heads together and we planned one of the prettiest parties I can recall.  Instead of going all leprechauny and pot-o-goldy, we decided on a more traditionally Irish theme.  And the result, I think, was pure magic.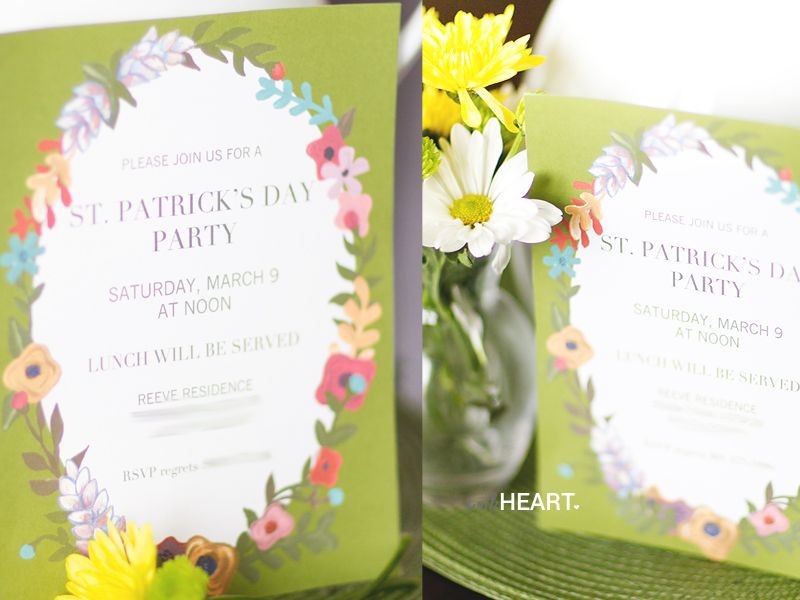 Veronica provided the place, and designed the fresh invitation.  Don't you just love the flowers?  It set the tone for the gathering– a small luncheon with friends and plenty of girl talk.
The decor was simple and fresh.  Vintage mason jars for vases, a combination of green, yellow, and white flowers I picked up from Costco morning of. I used burlap ribbon to add a little something extra.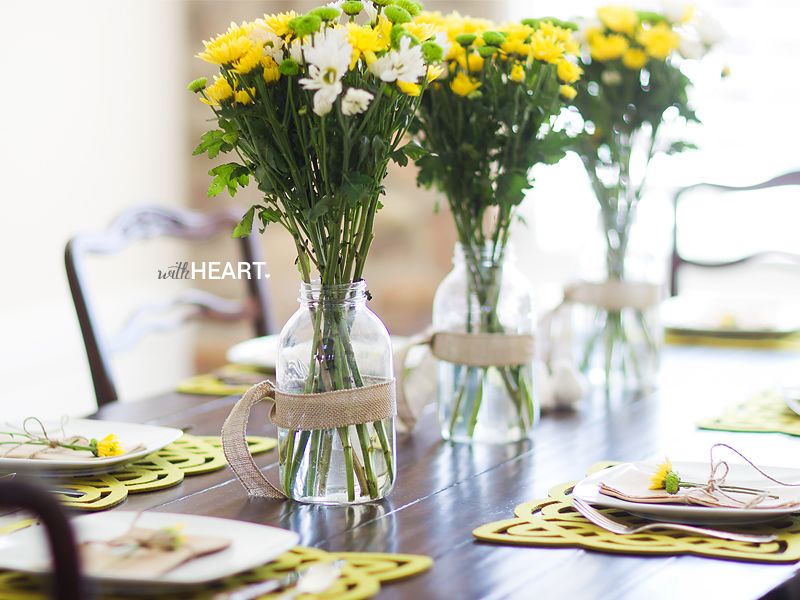 Celtic inspired place mats, burlap napkins with a rough edge that Melissa just whipped up (yep, she is just that awesome).  I used twine to tie a few flowers to each one. Clean, simple, modern dishes combined with Veronica's family heirloom antique flatware from France struck the perfect balance.
Green candles on white pillars added the perfect touch for the buffet.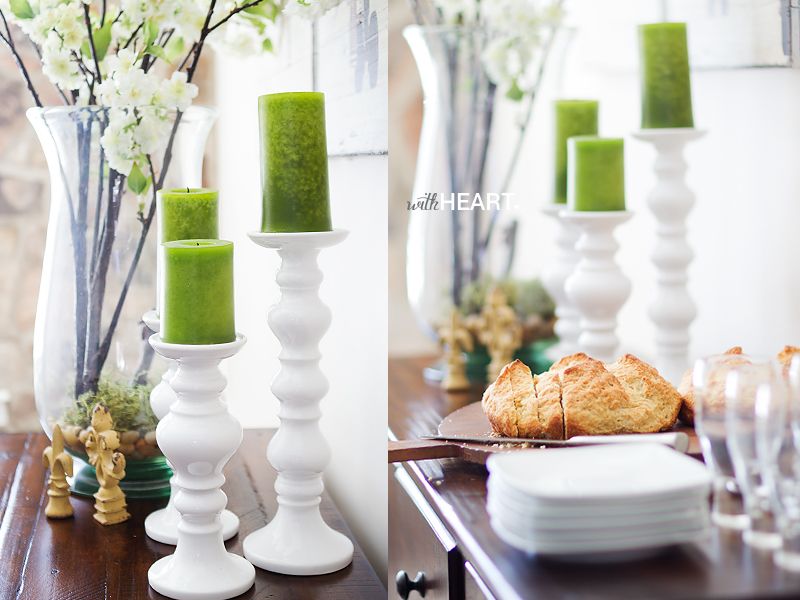 Now, let's get on to the show stopper of the day– the FOOD! Melissa put together a menu that has my mouth watering again just thinking about it. All of it was homemade, rustic, authentic, and made with the highest quality ingredients. And boy, could you taste it!
The meal started with Carrot Soup, garnished with sour cream and some fresh green onions.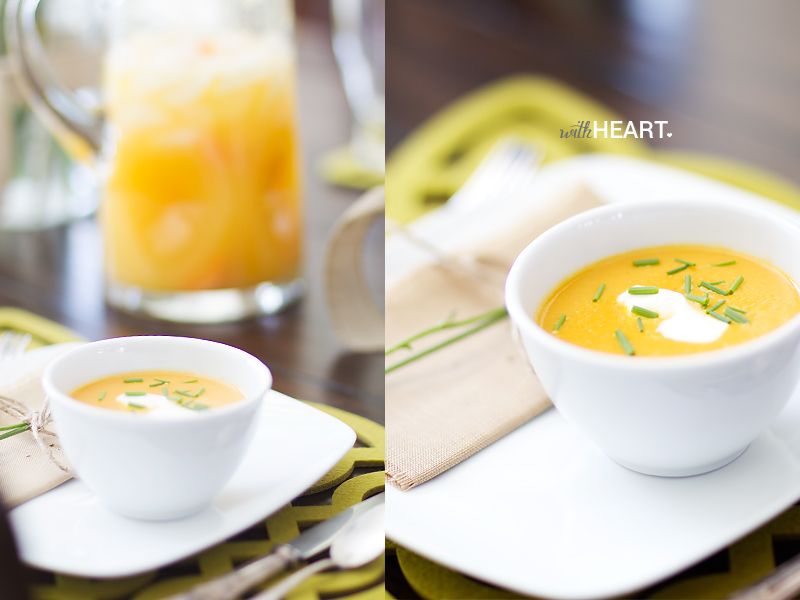 Irish Soda Bread (recipe here) was the perfect sidekick to our soup– I could have had an entire meal of just the soup and bread! You must make that bread– seriously.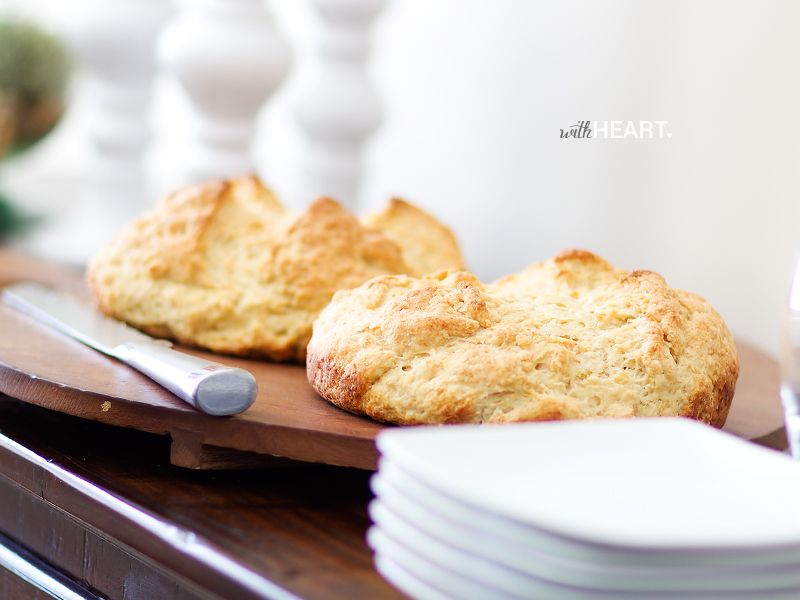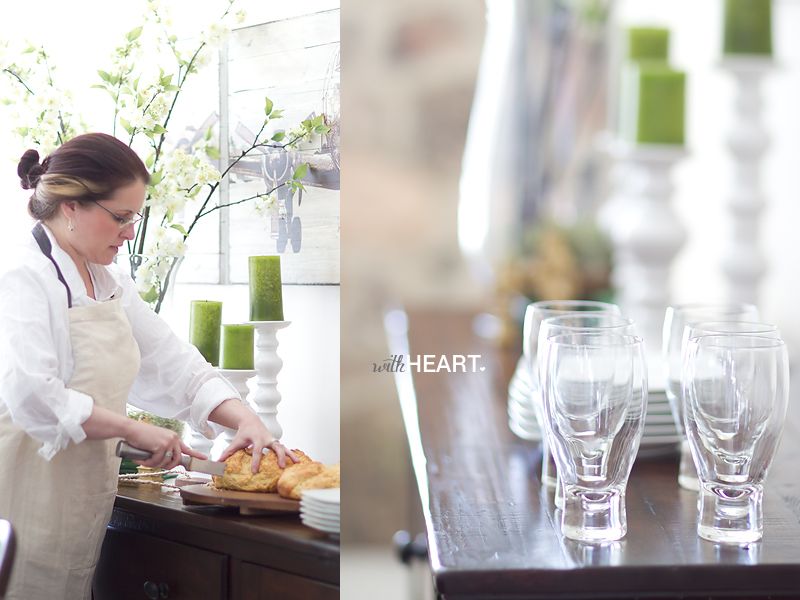 Next, Melissa served individual sized Shepherd's Pies. Not only was it delicious, but we all agreed anything individual or mini is just so darn cute!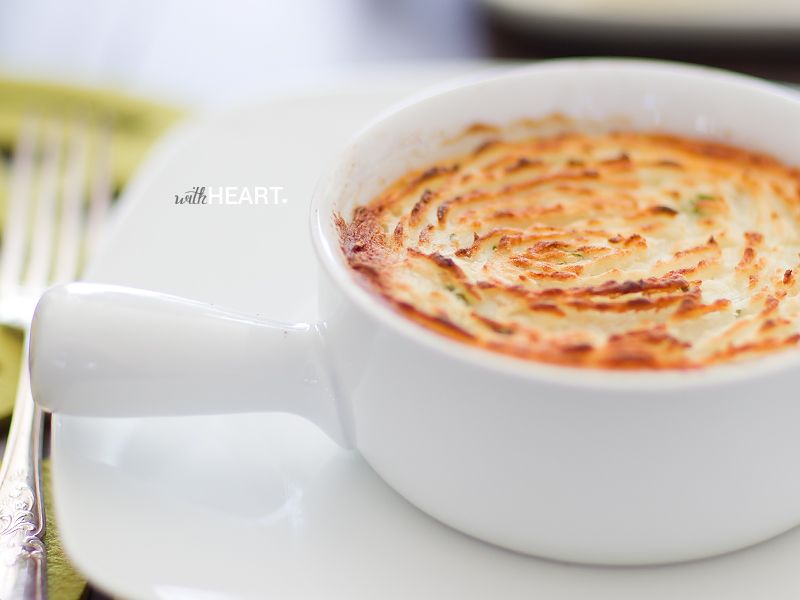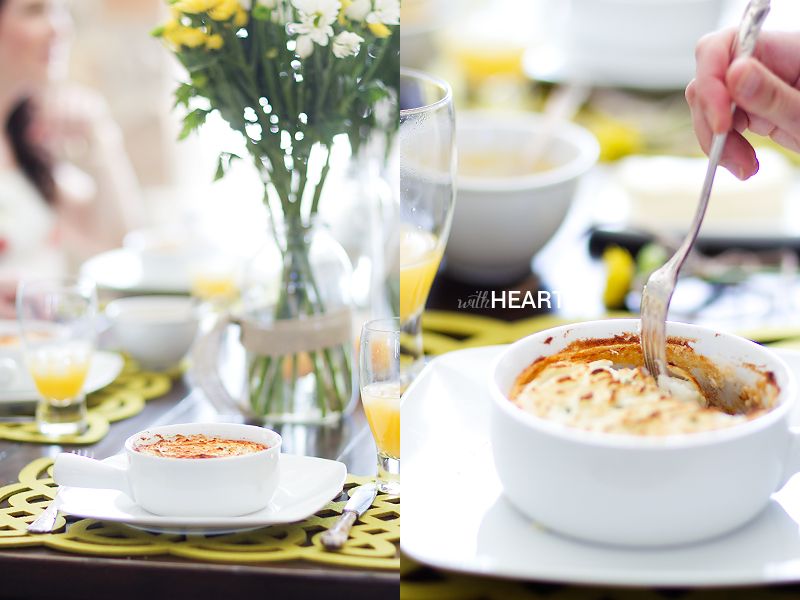 Wendy threw together an original drink creation– homemade orange soda with real clementines. Mmmmmmm.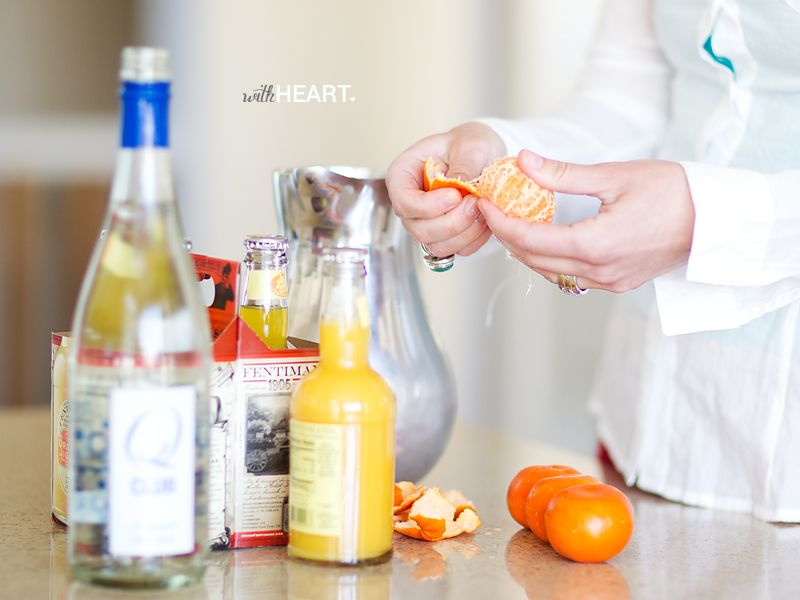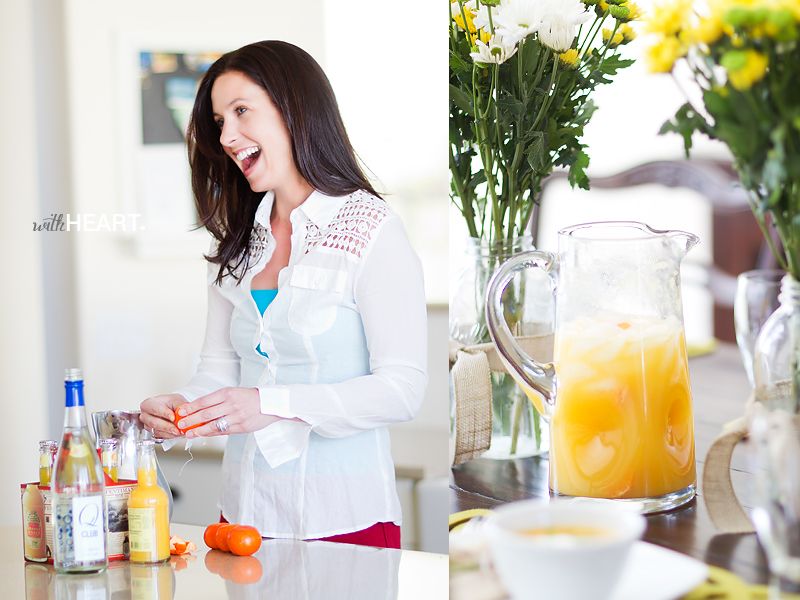 Melissa topped us off with an amazing pear/apple citrus crumble (recipe here) served with vanilla bean ice cream.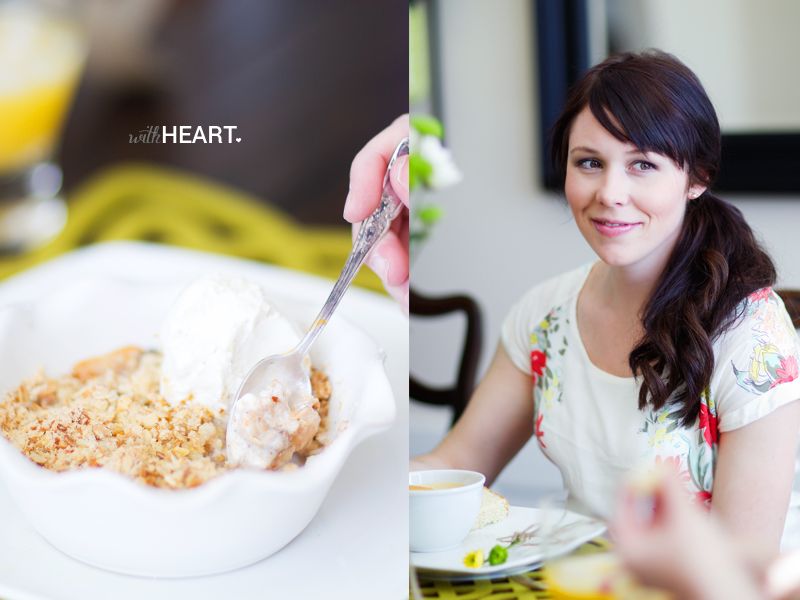 The food felt like we were in a restaurant, the atmosphere was refreshing, and the conversation was fun.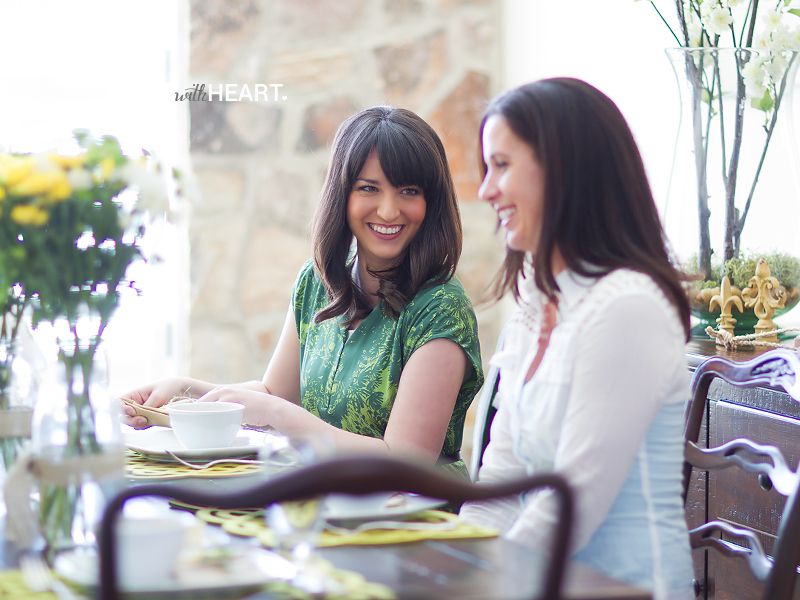 Watch for more recipes from this lovely luncheon soon on withHEART!
Also today, we're so excited to be featured on the online magazine, Wet Paint ! I'm sharing party tips and more about how to plan a great get together, no matter the purpose.  And you can learn a bit more about our party here.  Click on over!
Happy St. Patrick's Day! And may you have the luck of the Irish…
Photos by Veronica Reeve
Details:  Similar dishes here and here | Burlap napkins here and here | Similar flatware here and here | Glasses here | Cutting board here | Loving the placemats here, here and here | Candles here | Similar pillars here | Oversized Mason Jars here | Similar pitcher here