Classic, modern, versatile clothing that can go from the playgroup to an interview with a few swaps and switches.  That is my quest.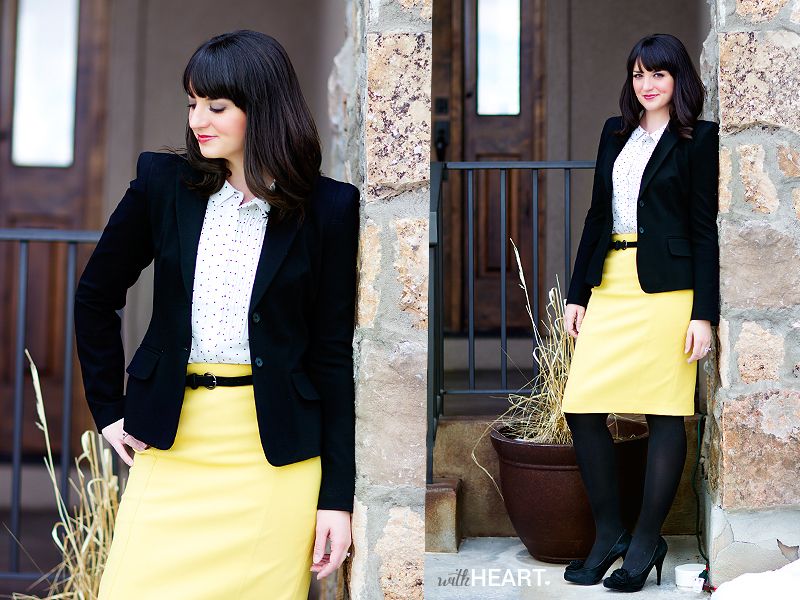 skirt Halogen
(yellow back in stock!); blouse Halogen (old) similar style here and here; blazer Ann Taylor; belt Ann Taylor; tights DKNY; lips NARS All Night Long
I am not a model (as if you needed that explanation).  I'm not a 22-year-old, rail thin, gorgeous college student who can wear a sweater with a chicken on it, a plaid shirt, and a floral skirt and pull it off.  I praise the girls who can, but that time in my life has passed and I'm proud to say as I enter my thirties, I am more comfortable with my style than ever before.
I am a professional.  I am a mother.  I am a real woman who loves classic, timeless, modest fashion with a dash of trend and modern style thrown in.  I prefer investment pieces to the latest craze, and my clothing has to go from a playgroup to an interview with a few minor changes.  Function and fashion should go together in my opinion.
I often get asked how I put outfits together, where I buy my clothes and accessories, and about my beauty and hair regime.  (In fact I get asked about my hair more than anything else.  More on that in an upcoming post.)  In this section I'll post my looks, favorite beauty products and must haves, and tips and tricks from myself and experts.
So here's to confidence, finding your own personal style, and looking (and feeling) great!
Photos by Veronica Reeve