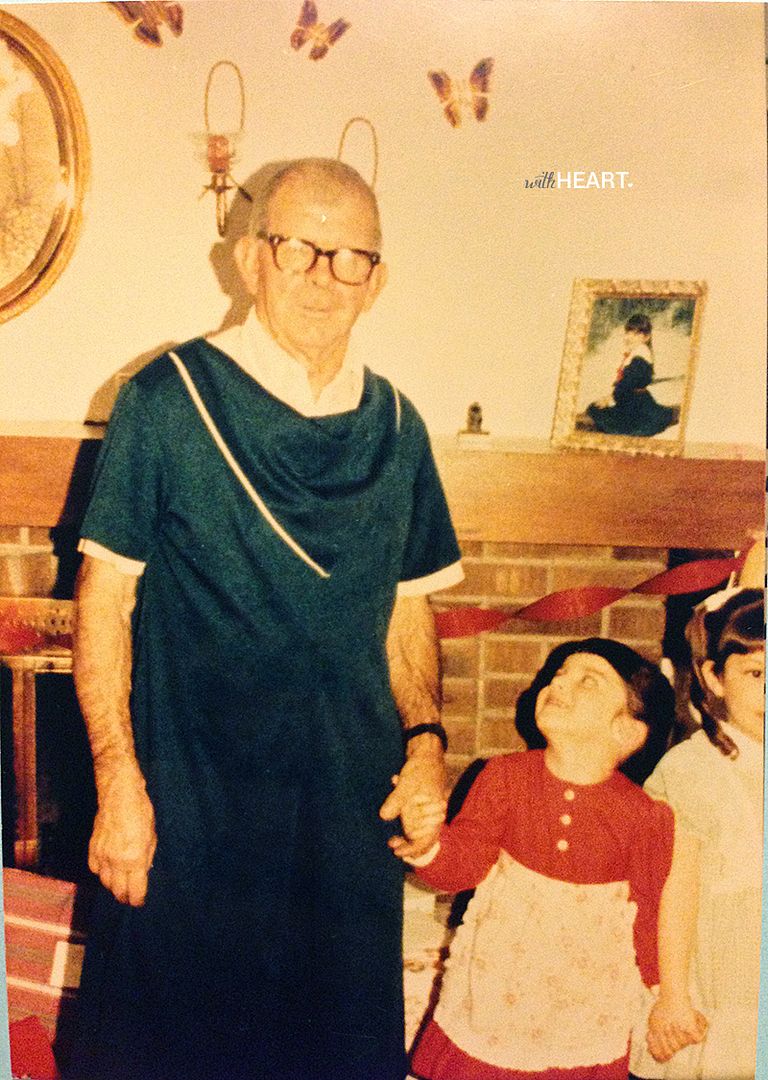 This is my grandfather.  That's me, holding his hand and gazing up at him with complete adoration.  He is wearing a dress.  There are several things about this old photograph that raise some questions.  Let's start first with the occasion.  This is a snapshot of my 4th birthday party and in a very matter of fact manner, I had informed all men who had planned on attending that only girls in party dresses were allowed inside.  So naturally, moments later my grandpa returned in one of my grandmother's dresses ready to par-tay.  I already loved my grandfather very, very much, but this small and silly act of donning a dress for his granddaughter's birthday made him my hero.  It showed me that a 4-year-old's tea party wasn't above him, and it made me feel like the most special little girl in the world.  He was, of course, granted access to the event and spent the afternoon as the sole knight in attendance surrounded by a group of giggling princesses.
A grownup who is willing to step out of the adult world and into the whimsy and wonder of a child is able to connect with them on a different level.  In those moments of play, magic is created.  And the main man in a little lady's life here in Utah can make her dreams come true by doing just that.  The Utah Valley Convention and Visitors Bureau is hosting a video contest.  They're asking dads to create videos for a chance to escort their little princesses to the 2013 Princess Festival's 2013 Princesses of Everley Masquerade Ball on Saturday, June 29, at Thanksgiving Point.  Does that sound like every little girl's dream come true, or what?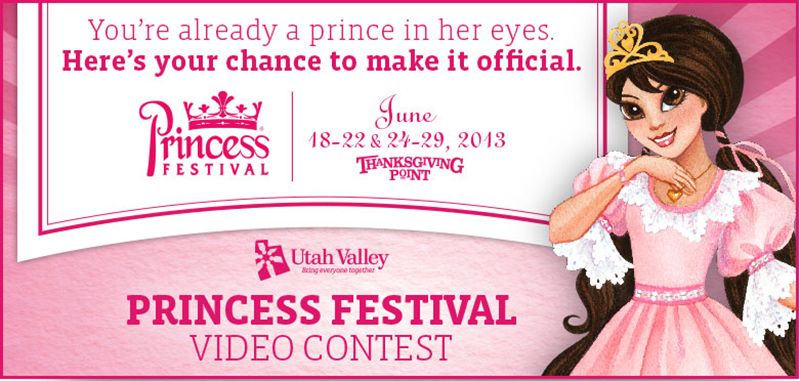 Here's how it works:
1)       Submit a two-minute, or shorter, video of you (Dad) and your daughter singing a song, dancing together or acting out a scene from her favorite movie. If your video gets the most votes, you'll be escorting your princess to her dream ball.
2)       Upload your video on Visit Utah Valley's Facebook app

3)       Like the Visit Utah Valley Facebook page.
4)       Share your video through Facebook and invite your friends to vote.
The video with the most votes will win grand prize tickets to the masquerade ball on June 29, and two lucky runner-ups will win tickets for one adult and one child to the Princess Festival held June 18 – 29.  I cannot wait to see what videos come in!  So moms, you and your daughters start recruiting your husbands to put together a video!  I promise it will be something you will never forget watch over and over for years to come.
My grandpa dressed in drag remains one of my most cherished memories of him and I can still hear his playful jokes, even though he died when I was 8.  I cannot wait to see the creativity that comes from this contest!

*This is a sponsored post, but all writing and opinions are my own