I would call myself a seasoned runner. I'm certainly no pro, but I've run two full marathons, more halfs than I can count, and through trial and error, I've collected some tried and true products. Think getting the right gear doesn't matter? That you can pull out some of your man's old basketball shorts, slap on a t-shirt and your favorite old tennies and hit the road? Think again. You'll end up overheated, full of blisters, and miserable. Having the right running gear can really make a difference in your experience.
These are some of my faves– "essentials," if you will. As we get closer to the RACE FOR THE CURE, you'll want to make sure you're set to have a great experience and it starts when you shimmy into your running capri's and lace up your shoes.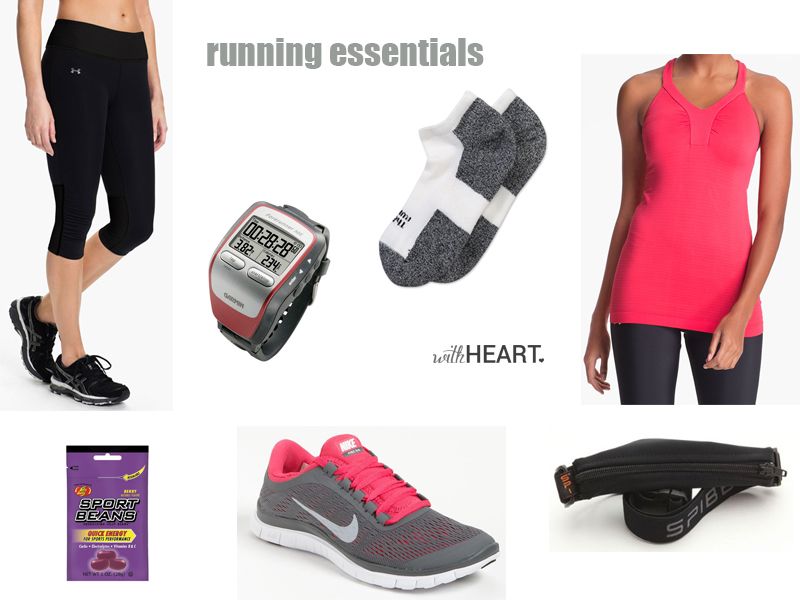 Under Armour Seamless Tank Holds you in, doesn't cut into your skin, tight enough the ladies don't bounce. Nothing worse than bouncy ladies.
Under Armour Capri I've tried many a running capri, and this is a contender for my favorite. pair. ever. They are thick to prevent any jiggling (which of course I have none. And I've never told a lie. Ever.) They are also slick, so your thighs don't get all stuck together when they swish (again, of course my thighs don't touch. Pshhhhh).
Nike Free Running Shoes I prefer a shoe on the minimalist side, which means it's not bulky or heavy. Nike just makes a great running shoe. It's lightweight, comfortable, and breathes well. Just be sure to get a running shoe a full size bigger than your regular shoe size. Your feet expand when you run. I learned this a way you don't ever want to learn it– I lost four toe nails when I started running distance races. I then had to paint my skin to make it look like a nail until they grew back. It was so very pretty. Not.
Thorlo Running Socks Non cotton, non cotton, non cotton. In your clothes, and your socks. Cotton gives you blisters, keeps the heat and sweat in, and makes you chafe. Everything should be cotton free. These are a great basic running sock.
Garmin Forerunner 305 I couldn't live without this thing. Keeps track of your distance, your pace, how many calories you burn (yahoo!), and can even keep track of your heartrate. Garmins are awesome, what else can I say?
SPI Belt I've tried keeping my keys/id everywhere you can think of, and this is the best workout belt I've found. It's thin and doesn't bounce too much.
Sport Beans I like to call these "magic beans." They give you a great little boost when you feel like you need it. Easy to keep in aforementioned pouch and taste like candy. All good things.
I could keep going on the gear favorites, but these are some great staples to get you going. Happy *running* trails!