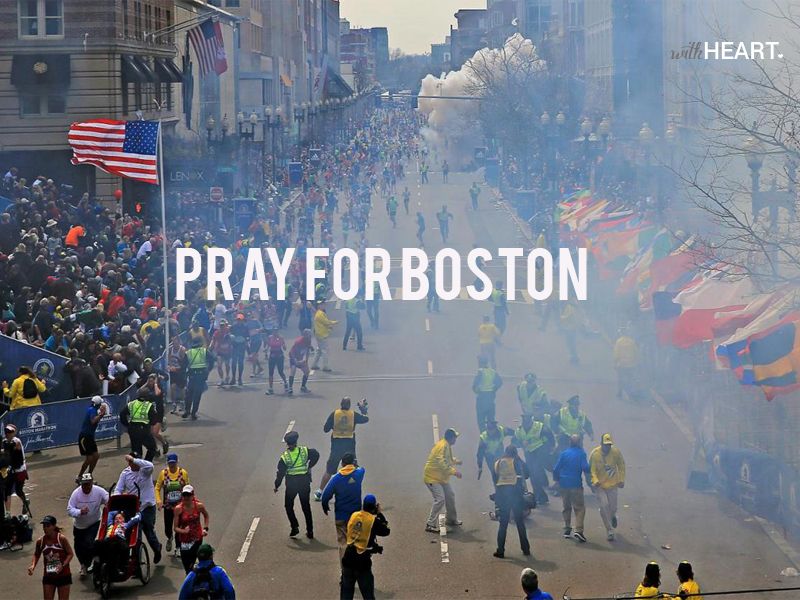 Photo credit: AP Photo/The Boston Globe, David L Ryan
I can only imagine the dedication, the pain, sacrifice, hard work, and dreams all destroyed in a matter of seconds.  With the finish line in sight and a great personal goal within reach, two bombs moments apart rocked the race course.  The Boston Marathon is more than just another race.  To run Boston is to reach a level of prestige and excellence few ever achieve.  It celebrates all that is good.  And now, it will forever be linked to all that is bad.
I spent my workday yesterday interviewing eyewitnesses over the phone and via Skype.  They were dazed, emotional, stunned, but mostly saddened by the horrific events.  Marathons are magical events where ordinary people become heroes and their loved ones become cheerleaders.
The person or people who detonated those bombs not only wanted to cause physical death and suffering, but also sought to kill the human spirit.  But that's where terrorists have it all wrong.  Yes, attacks cause pain and suffering of the worst kind, but they also stir a force so powerful, no amount of unwarranted hatred can touch it.  For in our darkest moments, we are strengthened by love and compassion and….hope.  We become stronger, more loving, more caring, more compassionate and giving, and those feelings spread faster than any amount of evil and hate.  The bad in turn creates good.
So to all those runners who were dedicated, and trained, overcame challenges to compete in this prestigious race: you will rise again.  You will have another shot.  There will be another race, running or otherwise, for you will overcome not only what you already have, but this as well.
Do you know what this act of violence and hate makes me want to do?  Run.  Take that, evil.
You can donate to the American Red Cross here.