Life is full of trials.  Parenthood is full of sacrifice.  For Liz Jensen, her faith was tested like never before while she was pregnant with twin girls but as she faced grim possibilities, she found comfort in her trust in God and that whatever may come, it was in the hands of a higher power.
Today I am so honored to share Liz's story.  She has created the blog The Small Seed, dedicated to discussing faith in everyday settings (no matter your religious beliefs or backgrounds).  It's such a beautiful, happy space on the web.  And now, to the story of these two beautiful babies.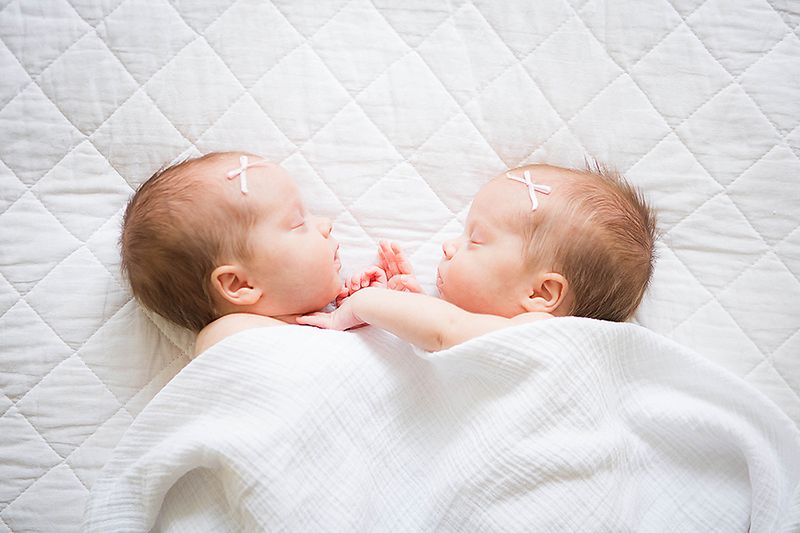 Q)  Please just tell me about your story and how you got to the place you are now.
A)  It took my husband and me about a year to get pregnant with our first baby, our daughter we named Tillie Rose. Although that's not such a long time, it was long enough for us to get a little nervous that any subsequent children may take a while as well. So we decided that we would just let the next child come when "it was time", with a belief that God's hand was involved and we would be taken care of.
About 10 months later I started to have food aversions, and noticed that my stomach was a little softer than normal, but without the morning sickness I had with Tillie I thought it was unlikely we could really be pregnant. Nevertheless I had to take a pregnancy test (or 4) just to be sure. As each one turned out positive, I almost couldn't let myself believe that we could really be pregnant again this quickly. I surprised my husband over our Valentines Day dinner (a night I'll never forget) with the news, and he was as happily surprised as I was.
I scheduled an appointment for the following week for an ultrasound to determine how far along the baby was. As my appointment was an hour away I didn't want my husband to have to miss work so I went alone with Tillie Rose. As the ultrasound tech turned out the lights and squirted the warm blue gel on my belly I quickly asked her to please let me know as soon as she detected a heartbeat, still not wanting to get my hopes up that everything was really going to be so easy.
The tech quickly found the heartbeat and said, "there it is," but quickly followed it with, "and there is another one!" My own heart leapt and without thinking I replied, "I knew it." And though I was surprised I responded that way, something within me wasn't surprised at the news. She then told me that we were already 10 weeks along.
But before I could get too excited something else inside of me, and on the face of the ultrasound tech, told me that everything wasn't going to be so easy. She quietly told me she needed to see the specialist to just have him check something, and as the specialist returned it was obvious something wasn't right. The specialist looked himself for what seemed an eternity, put away the ultrasound equipment and said we needed to talk. He then explained to me that it looked like there was no separating membrane between our twins, and so they were were sharing both a placenta and an amniotic sac which is extremely rare and only found in 1% of all identical twins (which is already only 3% of all births). This type of twins is called monochorionic monoamniotic or mono-mono twins, and meant that our twins were at high risk for having their cords cross and potentially knot and cut off blood supply, or entangle one another. There was only a 50% chance of the babies surviving to the age of viability (24 weeks), and even if they did I would then need to be hospitalized at 24 so that the babies could be monitored full time 24/7 until they either made it to 32 weeks, or there was an emergency c-section delivery if their heart rates dropped or slowed. He followed this with telling me that many women in my shoes decide to abort, and that option was very much on the table. I quietly, but without hesitation, said that this wasn't an option for us, and we would take on whatever we needed to. And as I told him so a sweet calm rushed over me and remained with me the entire pregnancy, knowing that these twins had a chance and that if I did my part I could put the rest in God's hands.
Over the next 14 weeks we experienced a rollercoaster of emotions, with a staggering low the night before ultrasounds wondering whether we may find out we had lost one or both of our twins the next day. I would often be on my knees the night before, asking for the strength to accept whatever news we received.
Gratefully we made it to week 24, and I checked into the Yale hospital in New Haven. After 30 minutes or so of settling some clothes, family pictures, books and my laptop in the hospital room, the nurse came in and asked whether I was ready to begin the monitoring. She then brought out two wide ultrasound dopplers which she secured around my stomach with two elastic fabric bands and then moved each of them individually across my pregnant stomach until she could pick up two separate heartbeats. For the next 8 weeks, unless I was taking a shower, the bands and dopplers were a part of me. Those bands were a part of me while watching the 4th of July fireworks from my hospital window, missing trips and vacations, and most of all yearning to be back with my family. Monitoring required that I keep my lower body fairly motionless in bed, and because the babies would move frequently the nurses would often be in and out of my room to readjust the monitors. It was emotionally and spiritually demanding. But we were blessed, and at week 32, the week medical experts felt was the safest point for delivering these types of twins, our daughters Jane Elizabeth, and Clara Mae were born via c-section. Although the both required oxygen and feeding tubes, their NICU stay was relatively smooth and finally 6 weeks later we were able to bring them home.
From the day I found out about our twins, to the day our two daughters came home healthy, I saw God working an even greater miracle in my heart and in our home. I knew without a doubt that God was in control and recognized how he had prepared us for, and was getting us through, what for us was a trial. The ways we saw God bless us through the trial were many including the fact that my sister Sarah was willing and had a perfect window before her mission to come watch our oldest daughter while I was in the hospital, that fact that my husband Dave doesn't typically have to travel through the summer so could visit me and help at home, that I was prompted months before to start a blog about faith that became an outlet to me and a tool through which I was able to talk about faith with my doctors and nurses and readers, the fact that we live close to Yale which is arguably the best hospital equipped for this complication and even had a beautiful view from my hospital room of the harbor, that we have a cousin that lives in New Haven who brought another priesthood holder weekly to come administer the sacrament to me, and last but not least, the many visitors, meals, phone calls, packages, and prayers. We were humbled and overwhelmed by the gratitude of so many who stepped in to help. Truly God prepared a way for us to get through our trial.
While I believe I could have, and possibly should have been depressed and anxious, because of God's mercy and the prayers of so many, I wasn't. I instead felt hope and peace. I had many special moments in that little hospital room, a place that has become sacred to me because of how I was blessed in it and came to know God more fully there. Today just 8 months after finding out we were having twins we have at home two healthy two-month-olds, and perhaps as importantly we have come to know God and trust in him more deeply, and hopefully become more of who he would have us be.
Looking back now it's hard for me to believe that I didn't go a little crazy in that hospital room. I spent the entire summer in that room, watching the 4th of July fireworks, watching the sail boats, and dreaming of summer vacations and sun. But I know that there were so many that were praying and thinking of us, and that this is what kept me sane and buoyed me up at times when I should have been struggling. I had incredible nurses and friends that went above and beyond, and served me in ways that I only hope I can pay forward someday.
Week 32 came, and at 11:17 our daughters, Jane Elizabeth and Clara Mae were delivered via c-section.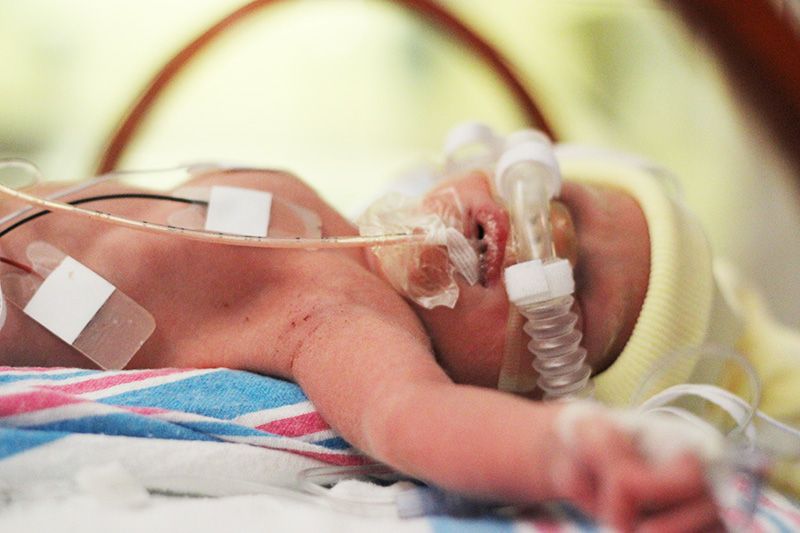 They both spent over a month in the NICU, but as far as we know don't suffer any lasting complications. They are both plumping up and starting to come out of the sleepy newborn stage.
Q)  What range of emotions did you go through?

A)  The whole experience was really such an emotional rollercoaster-knowing that at any appointment there was a 50/50 chance we wouldn't hear the heartbeats. We were so excited when we found out we were expecting, quickly followed by anxiety, but somehow never fear. After we were diagnosed I felt a peace come over me and our family, and somehow I knew we would be ok no matter what happened.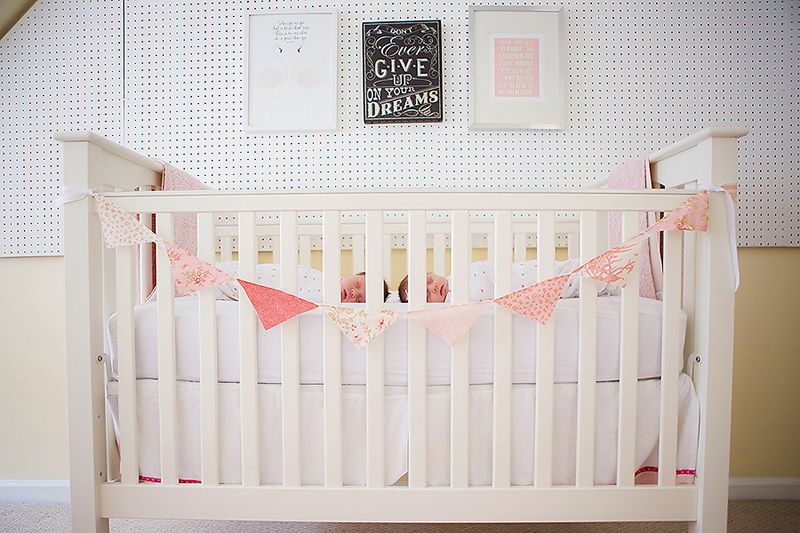 3)  What is your goal now, and how are you working to achieve it?
A)  Getting a good schedule with the girls, getting some muscle back and full recovery from the c-section—there isn't much that feels better than having healthy babies and getting back into shape:)  More than anything we are just feeling blessed we are where we are.
I also hope to share our story as I believe it was a miracle, to inspire others to trust, not just because the outcome was that our girls were safe, but because of the peace that it brought me throughout the whole trial.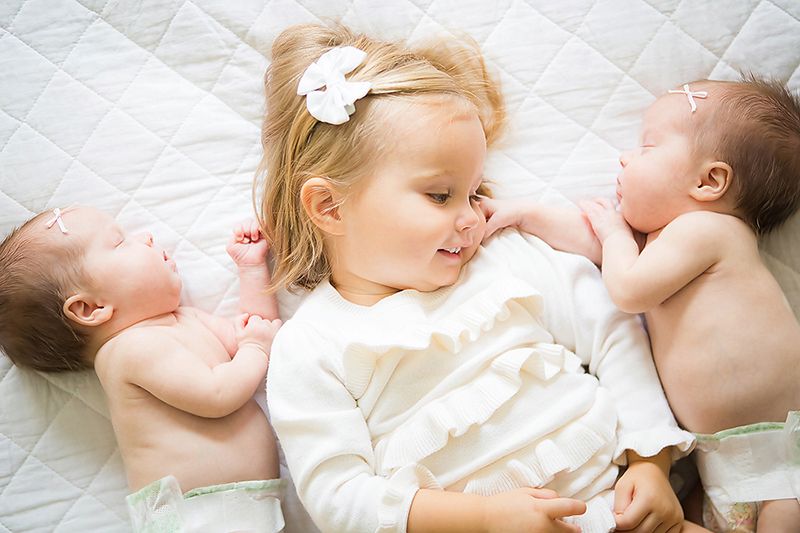 Q)  Tell me what you hope happens next.
A)  That I'm able to sleep through the night! That I'll survive a little bit of a circus right now until they are all a bit older. Most of all I hope I'll be able to be the mother 3 daughters need, a good example, focused on what is most important, and their friend.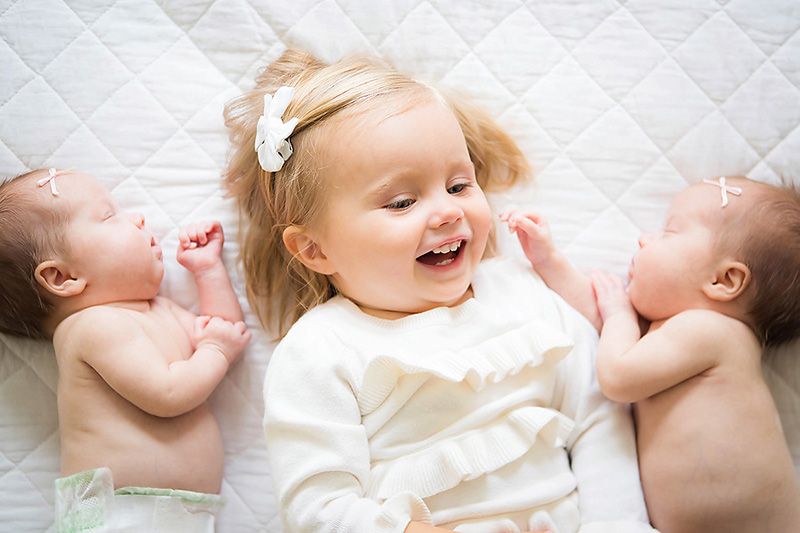 Q)  How can people help your cause?

A)  More than how others can help, I hope that I can remember all the service offered to our family and return that to others in need!
Q)  What do you hope people take away from your story?

A)  Perspective on how blessed we are when pregnancy's go well, inspiration that good things do happen, and hope that peace can come in scary times.
Q)  How has this experience changed you as a woman and mother?
A)  It's helped me see how good God is, and that I am stronger than I imagined. It has taught me that I can do hard things. It has inspired me to look out more for the needs of others and serve. It gave me perspective on what is most important-the relationships we have with those we love. It taught me to take time to listen and talk to people– as that is all I did in the hospital and was so happy because of it.
Pregnancy truly is such a selfless journey, isn't it?  Thank you, Liz, for sharing your beautiful story.  And can we just talk about those gorgeous children?  I die.  You can read more inspiring words from Liz on The Small Seed.
Happy weekend.  Hope you get to spend it with those you love.  Coming up Monday– such a great, inexpensive DIY!
xx,