Every woman is beautiful.  That's the beauty philosophy of Kelly Kren of
Chic Saturday
.  She believes women in all shapes, sizes, colors, and ethnicities are to be celebrated (and I whole heartedly agree!).
"
I feel it's so important to embrace your natural beauty and work with nature rather than against it," Kelly said.  "Love who you are because you are beautiful!"
On that note, Kelly is taking us inside her BEAUTY BAG.  It's filled with both old reliables and new favorites, and a lot of products I can't wait to try.  She uses a variety of lines, rather than sticking with one brand.  And this girl knows her products.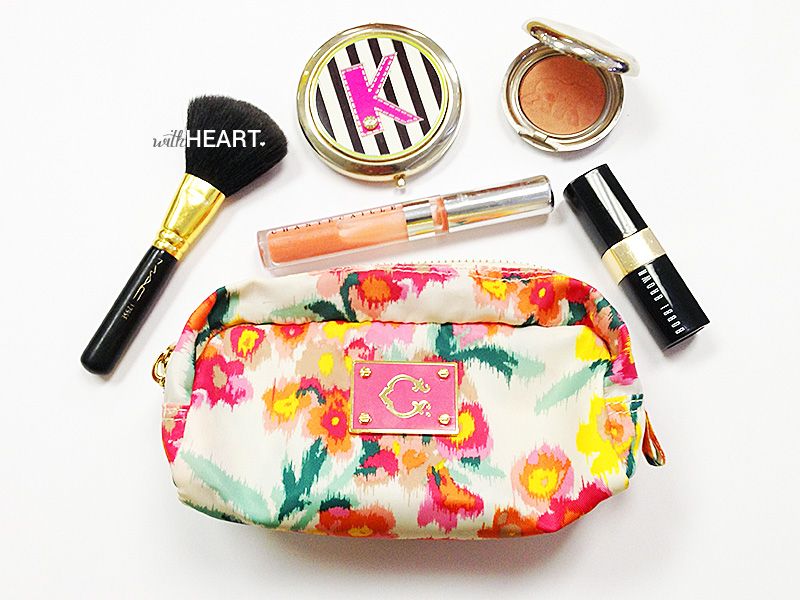 Q)  Do you have a set routine, or do you switch it up everyday?

 
A)  I do have a set routine in terms of which steps I like to include but I do switch out products from time to time, simply because there are so many wonderful options and my skin's needs change from season to season.  The three things I always include on a daily basis are products that repair, prevent and protect.  Basically, that means a peptide rich serum, an antioxidant cream and SPF during the day (yes, even on cloudy days).  At night I use a retinol serum, an essential oil hydrator and a lipid replenishing cream.  
Kelly's Beauty Bag:
6)  Lipgloss/lipstick:
Bobbi Brown (she can seriously do no wrong!)
Her must-have-can't-live-without product is a hydrating SPF like
this one
.
"As beautiful as it is, the sunshine can truly wreak havoc on your skin," Kelly said.
Her best kept beauty secret?  Love and laughter.
"They truly bring out the beauty in us all…keep smiling."
Great advice from someone who knows her way around a cosmetics counter!